It was never close, and there was never a doubt Tuesday – or all season – who the best team in the Shelby County League would be come title, or tournament time.  Anna left no doubt of it Tuesday with a reminding win over Russia.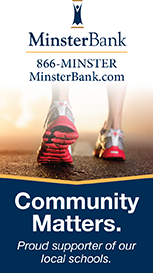 Russia –  It was, in fact, never close.  And for that fact it's not easy writing something interesting about a basketball game – even a Shelby County League basketball game – that was 24-12 at the end of the first quarter, and 44-28 at the end of the half.
Because, for a while it looked like the Anna Rockets (20-2, 11-1 in SCL) might score a hundred on the Russia Raiders (14-8, 7-5 in SCL) Tuesday…if they had wanted to.  They played as they had played all year – pressure defense, caused turnovers, scored in transition off those turnovers, and took good shots when forced to play in the half court.  They shot a high percentage and made the opposition match it.
It's worked on 20 of 22 nights, exactly 91% of the time.  Their two losses have come to Jackson Center, on the road, and to Minster last Saturday…likewise, on the road.
And it worked again Tuesday in a makeup game rescheduled from early in the season when the lights failed to come on in Claire Naveau gym.  This time the lights were on, but the way Anna played it could well have been played back in January.  The Rockets didn't need much light.
Give it to Russia, though, they never quit and did cut the final margin to Anna 82, Raiders 66, but it wasn't that close.  The margin for most of the second half hovered around 24 points.
For Anna, senior Griffin Doseck scored a game-high 22 points, while teammates Bart Bixler had 18, Riley Huelskamp had 13, Justin Murray had 10, Isaac Lininger had 9, Carter Elliott had 5, Ben Kovacs had 3, and Kamren Steward had 2.  They spread it around, like they do on most nights.
For Russia, Jordan York led the Raiders with 15, while Mason Dapore had 14, Will Sherman and Carter Francis had 8 each, Evan Monnier and Dan Kearns had 7 each, and Michael York had 2.
Anna, of course, had wrapped up the outright league title, so Tuesday night's game was for the schedule, the scouts who came for tournament information…and frankly, it was a final tune-up before the Division III tournament opens for Anna (versus Carlisle, 5-16) later next week.
It was also a good opportunity to talk with Rockets coach Nate Barhorst, who took the time for 'Q' and 'A' outside his team's locker room afterwards.
"We played tonight pretty much like we played all year,"  said Barhorst.  "We never let up, and we tried to play like we were behind.  I thought we did that pretty much, and the kids responded."
They are the outright champions, and proudly so in Barhorst's words.
"They deserved it,"  he said matter-of-factly.  "And tonight we kinda' came out and put our stamp on it, even though the standings were decided last week.  Now it's tournament time, and if we want to make a run it's going to take the same kind of effort you just saw from us tonight.  It's gonna' take kids steppin' it, it's gonna' take great guard play, good decisions, movement with the basketball…everything that you saw there tonight."
When I last talked to Barhorst back in January, he mentioned then that he'd like to see a bigger body of work before he talked more about just good, and how deep the #1-seed Rockets might go in the Division III brackets.  After Tuesday, there is no bigger body of work, and he comfortably opened up about their chances.  Specifically, was there anything then, or now, that he doesn't know about his basketball team…that he'd like to know?

"Well, every team you see now is going to be different, their personnel is going to be different, and we're going to have to adapt to that.  It's not like playing Russia, because we know them and they know us so well.  Now you're dealing with the unknown, and we know that Carlisle plays a lot of zone so we're going to have to work zone, zone, zone.  We play 'em at Northmont on Saturday and there's always some team that'll have something up their sleeve that's going to try and stop you.  Our kids are going to have to deal with that.
"But what you saw tonight has been what we are all season.  Everybody played as one.  Nobody played selfishly.  Everyone fit their role perfectly.  And as long as our guys stick to those rules I think we an be pretty effective."
Even coaches like Jackson Center's Scott Elchert, one of the two in the area to beat Anna this season, have gone on record (and early) to say that come tournament time Anna would be a handful.
"They have the personnel and the style of play to make a deep run in March,"  said Elchert back in the fall.  And on most nights their style of play is going to do them well.  But as Barhorst alludes to, this is the time of year when everyone has some idea of how to stop you.  So does he have options beyond pressure defense and points in transition?
"We have some different offenses that we can run if things aren't going well for us,"  he answered Tuesday.  "A lot of that has to do with personnel.  Obviously if we're bigger we're going to look to go inside more.  If we're more guard-heavy and we match up well with a team we're going to be more of a dribble-drive and penetrate and finish team.  But I think we can adapt with our personnel to what we see out there, and that's unique, because it seems like we've had success with whatever style we've played.  What we have to continue to do is move the ball, and share the ball."
So the body of work is complete, and now it's one-and-done time where what you know about not only your team, but are quick to recognize about another, means how long you have left to play.  For the Anna Rockets, 20-2 says a lot among area teams, by far the best record in the SCL, the CCC, or the MAC (with the exception of St. Henry).  Tested by the best of those three leagues, Barhorst and the Rockets would like to validate their 20 wins now against teams he doesn't know so well.
He like to validate Scott Elchert, in fact.  He and everyone else…in Anna.