No one in Big Ten baseball has had  better opening weekend as the Buckeyes fly home later today to repack, regroup, and reload for week 2.  What they've seen so far has almost been too good to be true.
Fort Myers, FLA – Except for Illinois, Michigan, and the Penn State Nittany Lions, no Big Ten team has had a better opening weekend of baseball thus far than the Ohio State Buckeyes.
All four have gone 3-0, but in the Buckeyes' case, they've done it while holding their breath.
You see, Illinois and Michigan are teams with a lot of veteran influence.
And Penn State is going through some massive makeovers following last year's league-worst 15-34 record.  There was no place to go but up.
But Ohio State, frankly, came to Florida this weekend with a lot of speculation about their inexperienced pitching.  Normally, it's different when you go outside for the first time against someone wearing a different uniform, but thus far there's been little difference.  At least…against teams wearing blue (get it?).
Sophomore Seth Lonsway was sparkling in his six-inning debut on Friday.
Freshman Garrett Burhenn was even better in his eight innings of one-hit baseball on Saturday.
And junior Jake Vance pitched according to his script with five innings of two-run, five-hit baseball on Sunday.
Only a projected start later today by another soph, Griffan Smith, against Florida Gulf Coast University, stands between "good" and "you ain't gonna' believe how good" this opening weekend has been so far for the scarlet and gray.
But the one thing that keeps creeping into the conversations with Greg Beals is the term, "clean baseball".  That is, their ability in three games to support good pitching with sound, predictable defense, something they could not muster by any means last year, committing a league-high 94 errors in sixty games.
That ignominious fact had a lot to do with an average ERA of 4.68 by their three principle starters (Ryan Feltner, Adam Niemeyer and Connor Curlis) and it more than taught the lesson throughout the season that it's hard to beat even poor teams when you give them four outs in an inning.
But contrast that to now, as through three games the Buckeyes sit second in Big Ten fielding (.982), having committed just two errors.  Only Illinois is ahead of them (.991), with one in three games, and the Illini are one of the four unbeatens we mentioned at the beginning.  Michigan and Penn State, by the way, have had just three errors in their three wins, an average of one per game.

"We busted tail during the off-season to play this way,"  said Beals following Sunday's sweep of Seton Hall.  "We tried to prepare our young pitching by impressing the importance of throwing strikes.  And they have thrown strikes.  But we also had to support that pitching by playing sound defense behind them.
"Friday we didn't have any errors.  Saturday we only had one and gave up just the one hit, so that's two bases we surrendered.  And Sunday we gave up some hits but we didn't walk anyone and had just the one error.  We limited the number of bases they didn't earn.  That's 'clean' baseball."
And yes, Virginia, it's early.  Too early to get too high about the fool's gold success of three wins in three days.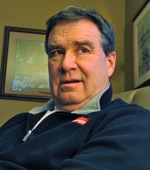 But it's the way they've won, of course, that bodes hope for more days just like these three, given that all these young pitchers continue to throw…STRIKES!  Count 'em:  Thus far, Lonsway, Burhenn, Vance, Smith, Will Pfennig, Mitch Milheim, Thomas Waning and Andrew Magno have struck out a total of 25, and walked…THREE!  And Burhenn, Vance, Smith, Pfennig, Milheim, Waning and Magno haven't walked…ANYONE!
So regardless of what happens later today against FGCU (and they're going to be a bit greedy), they're going home with a broad smile.  They had hoped to win, but they didn't expect to win with the kind of efficiency they've shown so far.  Leopards just don't change their spots that quickly.
But apparently you can…when you play 'clean' baseball!