Just one day into the season, some thoughts about prioritizing most important revelations of opening weekend.
Port Charlotte, FLA – Without a doubt, of the two hundred or so Buckeye baseball fans that came to Friday's opening win over Seton Hall on the west coast of Florida, the number one priority was to see how sophomore starter Seth Lonsway would fare.
Would he be as good as the Cincinnati Reds gambled on, selecting him in the 19th round of the 2017 draft?  Would he be rusty after missing his freshman year entirely?  Would he proves to be the kind of weekend anchor of the pitching staff that OSU Coach Greg Beals and his staff desperately need?
Those familiar with the statistics from a year ago must have been curious as to the retooling of the defense, a unit that collectively topped the Big Ten in errors committed.
Others might have simply been curious to see the continued development of Dom Canzone, Conner Pohl, and Dillon Dingler, a trio that promises impressive firepower in 2019.  How many hits, how many homers, and how many RBIs might be generated by these three?
For one day, at least, Lonsway lived up to expectations scattering three hits over six innings while striking out nine.
And it's hard to ask more improvement of the defense – no errors in a 4-3 win with highlight plays at short (Noah West), second (Kobie Foppe), center field (Malik Jones) and right (Canzone).
So my gut feeling is…that if I were in Greg Beals' shoes, Lonsway, Canzone, Pohl, and Dingler were soothing, but not a revelation.  As he's said since October, "We've recruited talented baseball players to come here and compete – to help us win."  I think he expected good days from each of those four before Friday.
But if there is a weekend checklist (and I'm sure there is), I'm guessing that before they get on the plane to go home Monday they want to see each of the bullpen candidates, including freshmen, who are subject to auditioning for what's arguably the six most important positions on a baseball team.
Where do I get this hunch?
Well two weeks ago when I sat in his office Greg Beals looked at me and said, "There's a lot of games won or lost over the last twelve outs (the sixth inning on).  We need to find out who those people are."
Which tells me that he might have looked harder at Thomas Waning and Griffan Smith on Friday than he did at Canzone and Pohl.  As much as he appreciated the day that West had at shortstop, or Lonsway had on the mound, what Waning and Smith did more to magnify the meaning of his statement about the final twelve outs.
Waning pitched a scoreless seventh, though he did give up a couple of hard-hit balls and pair of base hits.
Smith recorded his first collegiate save, pitching the final two innings, but he inherited a 4-1 lead and gave up a pair of runs before he recorded an out in the eighth inning.
Unquestionably, both are talented, and have experience.  And yes, it was their first appearance of the season.
"In Griff's case, his ninth inning was the way we envisioned him pitching,"  said Beals afterwards.  "I think he was a little amped up when he came out, probably over-pitching a little bit, and that's not his style.  He settled in for the ninth really well, and I think you can say that for Thomas, as well.  He might have over-thrown a couple of fastballs and had them flatten out.  But then he made a couple of big pitches, sunk the fastball, and that's when he's at his best."
But over the course of the next three days…some notes on the checklist for those remaining positions of confidence, from Andrew Magno, Bayden Root, Jonathan Jahn, Mitch Milheim, Will Pfennig, TJ Brock, Cole Niekamp, et. al. – anyone who can come into a baseball game and throw strikes under duress with an air of confidence.  What will they do when asked to preserve a win over those final twelve outs?   It might be the biggest impression made here this weekend.
Other notes: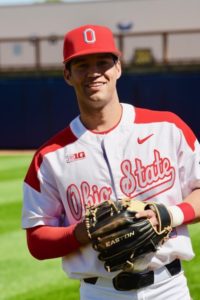 The biggest 'feel good' of Friday's win might well have been junior Noah West, who flashed plenty of leather at shortstop while going 3 for 4 at the plate, including a double in the fifth inning.  After battling back from a serious knee injury last year, the Westerville native hit just .223 while starting in 39 of the team's 60 games.
"Noah is just playing baseball,"  said Beals after Friday's game.  "We've got him in a comfort zone defensively, and that's fueling him as an offensive player, as well.  He's just comfortable playing baseball and real fun to watch."
The one freshman who did get his feet wet Friday was third baseman Zach Dezenzo, who went hitless in four trips to the plate, but handled himself confidently at third base.
"Zach didn't have any hits today, but he had a couple of eight or nine pitch at bats,"  added Beals.  "For a freshman to battle like that…he's gonna' grow.  Those at bats are building blocks for a young man."
His is also a position that saw plenty of candidates over the last two seasons, so it's very likely that the 6'4″ youngster from Alliance will get plenty of opportunity to make the 'hot corner' his home.
Freshman Garrett Burhenn and junior Jake Vance will get at least two of the remaining three starts on the mound before going back to Columbus on Monday.  Burhenn distinguished himself as the most ready of the freshmen pitchers during fall baseball…and Vance is being counted on to take the next step in his maturity as a Division I college pitcher.
"It's time," said Beals of Vance last week.  "He's matured and he knows how to get guys out."