St. Henry outlasted Minster in a physical MAC showdown to claim at least a share of the conference title on Friday night.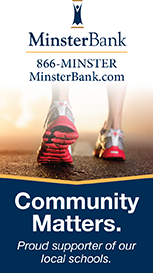 Minster – The battle in the paint between St. Henry's 6-foot-7 Caden Niekamp and Minster's 6-9 Jarod Schulze capsulized the Midwest Athletic Conference showdown between the two teams.
It was physical. It was scrappy. It was intense. And it was entertaining right down to the end.
In a game that saw 14 lead changes – including 11 in the third quarter – St. Henry claimed the final one to hold off Minster 54-52 to win no less than a share of the MAC championship. The Redskins can win it outright with a win against St. John's next Friday.
"The first thing Caden Niekamp said in the locker room was, 'Let's not share this,'" St. Henry coach Eric Rosenbeck said. "I think our guys are tuned in and very aware of what we need to do to be outright MAC champs. And that's to get ourselves engaged with Delphos St. John's and protect our home floor on Senior Night."
St. Henry (18-3 overall, 7-1 MAC) holds a one-game lead over both Marion Local (13-7, 6-2) and St. John's (15-6, 6-2). Marion Local entered Friday tied with St. Henry atop the MAC but dropped out of the lead after Coldwater (11-9, 5-3) pulled off the 52-42 upset.
St. Henry, ranked No. 4 in the final Division IV state poll, nearly knew the feeling against Minster (13-7, 5-3).
The Redskins, who sprinted to a 15-6 lead in the first quarter, went cold in the second. The Wildcats took advantage by attacking the rim and rattling off a 13-2 run for their first lead, 19-17, midway through the second quarter.
The lead changed 11 times in the third as neither team led by more than three points. It was tied 36-36 entering the fourth quarter, where both teams has chances to win.
St. Henry led 51-47 with 1:26 left on a pair of Ethan Thieman free throws.
On Minster's next possession Jack Heitbrink drove the lane looking to draw contact but got no call. St. Henry grabbed the rebound with 1:05 left and Riley Link was fouled. He missed the bonus free throw but in the battle for the rebound the ball went out of bounds to St. Henry. Link was fouled again and this time hit both with 59 seconds left for the 53-47 lead.
Minster's Mike Ketner knocked down a 3-pointer with 34 seconds left, cutting the deficit to 53-50. After St. Henry missed a free throw, Heitbrink made it 53-52 on his drive with 14 seconds remaining.
St. Henry's Sam Hartings hit one of two free throws for the 54-52 final, but not before teammate Jay Knapke blocked Minster's final drive down the lane with two seconds left. The ball went to Minster, but the Wildcats threw it away into the backcourt on the inbounds and didn't get off a final shot.
"Jay Knapke is the epitome of St. Henry basketball. He represents everything we want it to be: hard work, discipline, mental toughness, defensive minded," Rosenbeck said. "For him to make the game-saving block – just like he made the game-saving bucket against St. Marys – speaks volumes about who he is as a player and a person."
Schulze scored a game-high 20 points on a variety of post moves and finished with 10 rebounds. Niekamp, who fouled out with 2:09 remaining, scored a team-high 11 points and had two rebounds.
"Jared battled hard," Minster coach Mike McClurg said. "Caden is a big guy. He's got quick feet and does a nice job. He hit some shots on us. But it was what we expected. It was a war down there in the middle. Ultimately it wasn't a war we were able to win. It's disappointing, but at the same time I'm proud of our guys."
Minster outrebounded St. Henry 36-30 behind Schulze, Cody Frericks (11 rebounds) and Heitbrink (eight). St. Henry won the turnover battle 9-4 and forced seven steals against the Wildcats.
Zach Niekamp tied Caden with a team-high 11 points and Knapke added 10.
"Our seniors have just been unbelievable," Rosenbeck said of Hartings, Knapke, Thieman and the Niekamps. "Our underclassmen have stepped up in ways I can't even begin to describe. The whole team has been phenomenal. If a team has ever earned a MAC championship, this group has.
"It's the (seniors') team. They're mentally tough young men and they proved it in a very tough environment tonight."
Heitbrink added 14 points and five assists for Minster. It was his energy that helped the 'Cats nearly scratch out a win against the rival Redskins.
"Jack, there couldn't be a guy we have more locked in to what we are trying to accomplish," McClurg said. "Yesterday I walk in here before practice and he is walking down the hallway, you can tell a lot about a kid by how they walk, and he's almost in a sprint and smiling almost ear to ear. He's ready to go to practice and ready to go to work. That's the energy and the attitude he's brought to us this year. It's showing on the court."
Minster's final lead came at 41-39 with 6:10 left in the fourth on a Schulze basket in the paint. The Wildcats stayed in contention but little things like losing shooters coming off screens and not coming up with loose balls hurt in the end.

"I think we can compete with any team in the state. I do," McClurg said. "But I think there are some details we have to clean up over the next couple weeks. It comes down to – I know it sounds cliché – but it comes down to us being good in practice. It's got to be the mindset.
"I told the boys I thought we played hard. We battled. We scrapped. We did the things we needed to do to put ourselves in position to win. Ultimately, we didn't execute down the stretch. I think we know how good we are … or we can be. It's just those little details we have to clean up."