They combined outstanding starting pitching from sophomore Seth Lonsway, tight defense, and timely hitting.  OSU posts an impressive opening day win in Port Charlotte over the Seton Hall Pirates.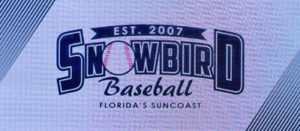 Port Charlotte, FLA – There's a lot of superlatives one could use to describe the Ohio State Buckeyes' opening day 4-3 win Friday over the Seton Hall Pirates.
You could say it was 'anticipated', given that everyone had hoped sophomore lefthander Seth Lonsway would be impressive in his collegiate debut.  He was, scattering three hits over six innings while striking out nine and walking three to gain his first college win.
You could say it was 'climactic', as the Bucks got big hits at big times during the course of their three scoring innings – the third, the fifth, and the seventh.  The guys they're counting on to produce – Dom Canzone and Conner Pohl – came through in spades, going 2 for 5, collectively, with 4 RBIs.
You could say it was 'breath-taking', given the bullpen was wobbly, a little less than efficient – Thomas Waning and Griffin Smith pitching the final three innings, giving up 2 runs on 5 hits.  It wasn't exactly clean, but both threw strikes and didn't walk anybody!
And, you could say it was an 'improvement on last year', given that the defense made one big play after another – Noah West, Kobie Foppe, Malik Jones, and Dom Canzone providing the highlights.  Collectively, they played error-free baseball over nine innings.
You could take the pragmatic view and say it's a team a year older, wiser, and better positioned for success.  You could echo what Greg Beals has said since the end of fall baseball.  "We brought these guys here because they had the talent to play and compete – to help us win."
Or, you could just back off a bit and say…it's just one day, and one game of 56.  But what a way to start!
It was, in fact, a sparkling debut for the re-made Buckeyes and sophomore Seth Lonsway, who struck out the first four collegiate hitters he faced, hitting the radar gun consistently at 93 miles per hour and mixing in a devastating overhand curve.
"It really felt good to start this way,"  Lonsway said, post-game.  "I've waited so long for this day to get here.  It was an amazing feeling.  My curve was working really well, I was able to spot my fastball, and it was an amazing feeling to get through the first inning like I did.  I had a lot of fun today."
Greg Beals had to have felt like he'd hit triple 7's on a slot machine.  After waiting so long for his prize lefthander to actually take the mound, the Celina native more than made the wait worthwhile.
"It's always good to come out and pitch good baseball,"  said Beals with a chuckle.  "But what a great first collegiate start for Seth.  This was the kind of vision we had for him and he brought it today.
"But we were good all over the field today.  We had great defense.  Kobie Foppe made a play, we had two diving catches in the outfield, Noah West was solid at short – something that we've worked really hard on was to be better defensively, and we showed that today.
"We're going to bang it around the ballpark offensively better at times than we did today,"  he added.   "But if we can pitch and play defense like we did today…we have a chance to win a bunch of ballgames."
They "banged" it around the ballpark enough, scoring the first run of the season in the third on a West single, a walk to Malik Jones, a sacrifice bunt by Foppe, and a groundout by Canzone to short to drive in West from third.
Seton Hall tied the game against Lonsway in the fourth, his only tough inning, when right fielder Christian Del Castillo lined a double off the top of the right field fence.  Lonsway then walked a pair to load the bases, then allowed Del Castillo to score on a wide pitch that caromed away from catcher Dillon Dingler.
The Buckeyes retook the lead in the fifth with one out, against Seton Hall reliever Blake Espinal, a hard-throwing lefthander, when Dom Canzone crushed the first home run of the season, driving the ball against the walkway that spans above the home bullpen in right field – an estimated 420 feet.
In the seventh they tacked up a pair of insurance runs when Canzone was hit by a pitch with one out and catcher Brent Todys (who took over behind the plate for Dingler after the sixth) lined a double to the gap in right-center.  With runners at second and third, up comes Conner Pohl looking for his first hit of the season…and he lined a shot down the right field line to score both Canzone and Todys.
"He (Espinal) was missing a lot arm-side with the slider,"  said Pohl.  "And I was looking for him to come back with the fastball.  I pulled one foul that went out of the park, and then he came in again and I pulled it down the line.  I just tried to be smooth and not swing at it as hard as I did sometimes last year."
Lonsway's day was done after six innings, as senior righthander Thomas Waning came on in the seventh.  Waning gave up a pair of hits and some hard-hit balls, but he threw a lot of strikes in his 15 pitches and retired the side with no damage.
Griffan Smith, so much a part of the 'anticipation' on the mound, either as a starter or out of the 'pen, came on in the eighth and struggled, giving up a double to Pirate left fielder Nick Dabrio, and then a home run to right center by first baseman Matt Toke before retiring the next three hitters.  The score stood 4-3, OSU, as the game moved to the ninth.
Smith came back in the ninth and retired the side in order on a grounder to short, a fly ball to Canzone in right…and then impressively froze Del Castillo with his best fastball of the outing to record strike three for the game's final out – his first collegiate save.
It was, for those who followed the fortunes of this club (good and bad) last year as good a win as you could ask for on an opening day.
West went three for four at the plate and played sparkling defense.
Freshman Zach Dezenzo didn't hit in his Buckeye debut, but looked comfortable at third base.
Brady Cherry, playing left field, rapped the first hit of the season, a ringing double to right in the second inning.
Brent Todys, so much a part of the pre-season narrative because of his ability to spell Dillon Dinger behind the plate – to free Dingler to play in the outfield if needed – had a big double in the seventh to account for the eventual winning run.
And then, of course, Lonsway's debut on the mound, for which he gave ample credit to Dingler behind the plate, and the seven position players behind him.
"I just wanted to control my adrenalin…because it was such a big moment for me,"  he said.  "And the defense today was amazing.  They made plays in the infield, the outfield, plays all around the field.  And Dillon was amazing behind the plate for me.  He blocked the ball and kept balls in front of him…it was just an amazing job by everyone, all around."
But of course…it's just one game out of 56.  And a Seton Hall team that lost a lot of firepower from both its pitching and offense last year, showed to be a very formidable opponent on opening day.  They outhit the Buckeyes, 8 to 7, and their returning #1 starter, Ricky DeVito, was superb for the first four innings, giving up just one run on three hits.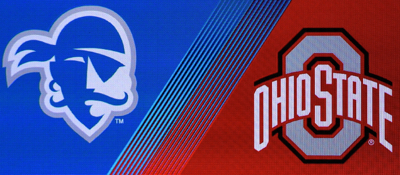 The final line:
The Buckeyes won it with 4 runs on 7 hits and committed no errors.
Seton Hall lost it with their 3 runs on 8 hits and no errors.
The weekend is all about debuts, and there'll be more tomorrow as the two teams hook up again at 2 pm.  It's anticipated that freshman Garrett Burhenn will get the start on the mound, and frankly, regardless of the outcome Greg Beals would take another early-season performance just like today.
Because……
When you pitch and play defense like they did on Friday, in his words…you gotta' chance to win a whole lot of ballgames!