In a game of ebbs and flows, and unexpected swings, Vandalia Butler simply played better down the stretch to beat Sidney for the GWOC North boys basketball crown.
Sidney – Where do you start?
How do you describe the manner in which Sidney (17-4, 11-3 in GWOC) lost its GWOC North showdown Tuesday night with Vandalia Butler;  and likewise, how do you describe the manner in which Butler won it…after letting an incredible advantage at the game's start get away?
However you describe it,  it was Butler (19-2, 12-2 in GWOC) who overcame a remarkable Sidney first half comeback to ultimately win the conference crown 49-41, before a packed and raucous home crowd that while disappointed at the end…could say it got its money's worth.
But for Sidney's sake, let's start here.  Butler got off in a manner that no one would have believed imaginable, a 15-0 first quarter advantage that saw Sidney dig itself a hole that ultimately cost them on all fronts.  They trailed 15-2 at the end of the first quarter because they couldn't buy a basket of any kind, and for the fact of missing six of eight free throw attempts.
And yet, John Willoughby's unpredictable team proved predictable in their usual manner. They never quit, and what they did next was go on a 16-0 run of their own – a 22-6 run before the end of the half and held a halftime advantage, 22-21.
Butler regrouped during the ten minute intermission, came out in a 2-3 zone, and changed the complexion of the game for the next sixteen minutes.  They denied Sidney it's running game and the ability to create turnovers and score on dunks and transition baskets.  They forced Sidney to beat them, if they could, with their perimeter shooting.
"We wanted to control tempo, and we wanted to pack it inside,"  said Butler coach D.J. Wyrick.
His ploy worked to perfection.  It became a game of possessions, and what you did with those possessions.  They limited Andre Gordon's impact, despite him scoring a team-high 16 points for the game, while Butler's Braedon Norman, the GWOC's best three-point shooter answered, and answered big. Norman made a pair of huge three-pointers in the third quarter as a reminder to Sidney that the 'zone' is going to be there when you have the ball; and when we have it we can shoot over anything you show.
The game began to drag in tempo, playing into Butler's hands.  22-21 at the half, it was Butler that held a 34-32 lead at the end of the third quarter.
Sidney would tie it in the fourth, but that 15-0 deficit at the beginning began to wear on the 'Jackets physically, as Butler's ability to control the ball, work the clock, and cash in at the free throw line began to wear on them mentally.  Butler wouldn't go away, and when senior Bryant Johnson added a comfortable dunk as a punctuation in the final thirty seconds…and Tyler Montague ran out for an uncontested layup…the Aviators stretched the winning margin to the game's biggest deficit, 49-41.
You can point to a number of issues that hurt Sidney.
One, it's really hard to come back from 15-0, despite Sidney's ability to turn the tables on Butler in the manner they did.  "You use so much energy that you need late in the game," Willoughby would say later.
Two, they missed too many wide open looks at the basket, either layups, stickbacks, or just point-blank duds – 11 of them for the game – and they spread it around.  Gordon had a couple, Ratez Roberts had a couple, Keith Lee had a couple, Lathan Jones, et. al – 22 lost points that would come back to haunt them.
"I couldn't believe it,"  said John Willoughby.  "You can say what you want about our three-point shooting, but we shoot in the high 50% range on two-point shots.  I don't think it was a matter of us being tight, I didn't sense us being nervous, but I do wonder if we weren't too hyped up, a little too amped. Energy's not bad, but you've got to control it.  And if you don't it controls you.  We had a lot of power shots that we usually make, and tonight we didn't."
Three, the missed free throws at the beginning of the game.  They did finish having hit 8 of 14 for the game, but the six they missed all came in the first quarter, aiding Butler's 15-0 opening surge.
Four, while the 'Jackets showed good poise and patience against Butler's zone in the second half, it changed the way they had to play.  They couldn't run, score in transition, and in the end they didn't shoot well enough from the perimeter to match Butler's shooting at the other end.
"We just can't get a consistent shooter,"  said Willoughby.  "That kills you, man, and they have three or four guys that can shoot the ball from out there.  If we can get to that, holy smokes, but I guess that's not our makeup."
On the other hand…Butler proved that it had the kind of makeup that could withstand blowing a 15-0 lead, maintaining the mental toughness to hang around and ultimately impose its will, as it did, on Sidney.
"We knew they were going to take their punch,"  said Braedon Norman.  "There's going to be runs during a game like this.  But you just gotta' get back, play some 'D', make some shots and keep playing hard.  You hope things turn out in your favor."
"I told them before that it would be a game of runs,"  said D.J. Wyrick.  "But we're a veteran team and I told them that the team that handles handles that adversity the best is going to win the game.  Teams that get rattled usually lose, and I never felt we got rattled, even during that horrible stretch in the second quarter.  We still had guys picking each other up."
They made shots – big shots.  Braedon Norman would lead all scorers with 18 points for the game, but his three made three-pointers always came at times that kept Sidney at arm's length, or killed would-be momentum, or emphasized Butler's advantage in perimeter shooting.  Anybody can hit three-pointers when they're up 12, but Norman proved again and again he was as big as the biggest moment on Tuesday.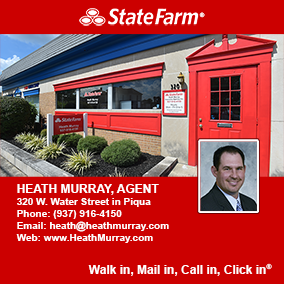 "The good thing about this team is when you're feeling it you're going to get the ball, no matter what,"  he said with a sheepish grin.  "I gotta' thank my teammates for getting me the ball so I could knock some shots down for 'em."
And, they did what so many teams can't do, or haven't done, in controlling Andre Gordon's impact on the game.  Gordon would finish with 16 points, but he never got the crowd into the game with his play above the rim…and in the fourth quarter, when he so often takes matters into his own hands, he could score just 2 points.
"We embrace defense,"  added Wyrick.  "Our kids really get mad when they get scored on, and I thought BJ (Bryant Johnson) did a great job on Andre early, and later when we got into the zone we had two guys on him when he got his hands on the ball.  It forced them to play differently on the backside.  The zone was a good thing for us."
Norman led all scorers with 18, while Ryan Wertz had 9, Quentin Glover had 8, Johnson had 6, and Tyler Montague finished with 4 points.
Andre Gordon led Sidney with his 16, of course, but didn't get near enough help.  Ratez Roberts had 10, but Keith Lee, Darren Taborn, and Lathan Jones all had just 2 points apiece.  Josiah Hudgins had 5, and Trey Werntz had 3.
In the end, the outcome stood as a classic example of what you do to win, as opposed what you don't do when you don't win.  And as he considered how it ended, John Willoughby was asked about a 'mulligan', a do-over if he could, in a game that started so unpredictably, and finished with his athletic offense bottled up and unable to crack Butler's defensive code.
"At the three-minute mark I wish now that I had taken a timeout,"  he answered, shaking his head.  "We weren't getting much out of our offense, and we were either down two, or tied, and we just weren't smooth.  I thought at that point it was going to be a close game and that I'd need the timeouts all the way to the end.  And that would be my mulligan.  I should have burned one there to try and get us into something more positive."

As it turned out…Butler took the GWOC North crown, again, and did it on the road.  As unpredictable as the start of the game, and the rest of the inexplicables, it marked the sixth consecutive time in the Butler-Sidney series when the visiting team has won.
And strangely enough, Butler won in a manner that kind of resembled how Sidney won as the visiting team in the first game, back in December.  Then it was Sidney who overcame a huge Butler advantage to win in overtime.  And Wyrick and Willoughby said a lot of the same things afterwards, only with flipped perspective.
How to win, and how not.  Go figure!