They got together Saturday morning for a day of competition to decide the official 'unofficial' champions of MAC bowling.  And like everything else, it turned out to be highly competitive.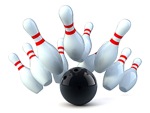 Minster – One coach Saturday called it the 'unofficial' league tournament to decide the 'unofficial' league champion of MAC bowling.
"It's really not a league sport yet,"  said Versailles coach Tyler Phlipot.  And that comes as a surprise, because when you throw Coldwater, St. Henry, Marion, Minster, Versailles, New Bremen, Recovery and Parkway together in a bowling alley together it pretty much feels the same as Friday night lights in September.  But in bowling, it's not official…yet!
"A couple of schools don't have bowling at all,"  said Phlipot.  "And St. Henry doesn't have a girls team yet.  So right now it's still in the discussion stage."
Someone else mentioned the term "Title IX", the great postulate of justice and equality.  They haven't played Big Ten baseball at the University of Wisconsin since 1991 because there was no women's softball team back then – and never had been.  So for the sake of correctness they set out to fix things, and today they've played softball for decades, but there's no baseball team.  Whatever!
But none of that mattered, officially or unofficially, as they gathered Saturday at Community Lanes to determine a pecking order, and bragging rights.  They bowled a qualifying round of three games, in which Coldwater's Michael Schoenherr stole individual honors for the day with a 669 series (209, 236, and 224), and then paired off in a semi-final round of the top four teams (Coldwater, Fort Recovery, St. Henry, and Versailles) in a best of five 'Baker' series.  The two winners would meet for the league tournament title in another best of five 'Baker' series.
In one of the 'Baker' semi-finals, St. Henry dispatched Versailles in three straight games, with Noah Stammen, Matt Mescher, and Jordan Thomas leading the way.
In the other semi-final series it wasn't so cut and dry, with Coldwater and Recovery battling for five games before Coldwater's Schoenherr and teammate Derek Siefring finally sealed things – Siefring striking out in the tenth!
It was a LONG day of bowling, competition, stress, and will.  And in the end St. Henry captured the league 'honors' over Coldwater by taking three straight games in the final best of five.
Other high individual marks for the day, besides those of Michael Schoenherr:
Jordan Thomas (St. Henry) with a 225 and 216.  Matt Mescher (St. Henry) with 208 and 201.  Michael Gelhaus (St. Henry) with a 241.  Peyton Thomas (St. Henry) with 203 and a 246, the high game of the day.
Isaac Osterfeld (Coldwater) carded a 222.
Alex Heuker, of Minster, had a 203.
Kendall Bruns, of Marion Local, bowled a 205 and a 212.
New Bremen's Spencer Alig had a 201, 201, and 229.
Fort Recovery's Elijah Stammen had a 230.
Versailles Matt Francis had a 215;  and teammate Landon Henry had a 205.
And because of the length of the boys competition the girls were about 90 minutes late in starting, so their results were not available to us as a result of time restraints.
But the impressive thing was the matter of competition, and the endurance necessary to maintain a competitive edge from 8 in the morning until matters were settled, long after 1 pm in the afternoon.
And while there was nothing official about any of this, the photos of the St. Henry boys certainly had a relevance of their own.
"Fun,"  said one of them, while waiting to bowl Coldwater in the finals.
Simple as that.  Fun.  And they say that's the goal of competition.  Winning is nice, but the object of any sport is to do your best and enjoy the moment.  Observe the intensity in the photos and read between the lines.  It won't be long.
Soon, it's bound to be "official".