Sidney's Andre Gordon entertained the crowd with seven dunks, but Piqua freshman Elise Cox stole the show – and brought the rivals to their feet – as the Yellow Jackets' swept the Indians on Friday night.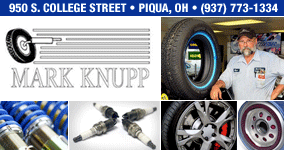 Piqua – On the schedule it looked like a mismatch. And on the court it was once it reached the second half.
But, still, there were plenty of moments that brought the fans from both Sidney and Piqua to their feet during the Yellow Jackets' 72-41 victory that earned them a season sweep on Friday.
There was Andre Gordon's seven dunks. The Sidney senior opened the game with a dunk after driving the baseline. He added two alley-oop dunks, a sensational 360-spin after a steal and capped his game-high 28 points with a posterizing dunk in the fourth quarter
There was some NBA-caliber three-pointers from Piqua senior Mick Karn and junior Iverson Ventura. And Indians senior Qurri Tucker had some nice drives to the basket for a few of his 15 points.
And, when heated rivals get together no matter the sport, there's almost always – ahem – friendly conversation on the court and give-and-take between the student sections.

The biggest moment on the court, the one that brought both sides to their feet in a show of united support, came when Piqua freshman Elise Cox made a surprise visit at halftime. Four weeks ago Cox underwent surgery in an attempt to aleve her chronic pancreatic pain. Her most recent surgery – she's had more than 25 surgeries in 12 years – has been performed just 50 times and Cincinnati Children's Hospital is one of two hospitals in the United States that performs the procedure.
Cox was released from the hospital to attend Friday's game. She received a standing ovation with her surprise entrance that left more than a few spectators from both sides wiping their eyes.
Back on the court, Sidney came out in the second half energized. They turned a 33-25 halftime lead into a 56-35 advantage by the end of the quarter. Gordon dropped in 14 points on a variety of shots including a jumper off the glass, a couple three-pointers, an alley-oop dunk, a slam off a steal and a baseline drive.
As good as Gordon is offensively for the Yellow Jackets, senior teammate Josiah Hudgins is the equivalent on defense. Hudgins clamped down on Tucker, who had four of his 15 points in the second half.
"That was a big turnaround in the second half the way Josiah held Tucker," Sidney coach John Willoughby said. "He's able to do that. He loves doing that."
Hudgins added some instant offense in the fourth quarter, too. He scored consecutive baskets early in the fourth quarter and nearly joined Gordon, Ratez Roberts and Lathan Jones as Yellow Jackets who have dunked in regular season games. Hudgins, who does it routinely in practice, had a fastbreak but appeared to briefly lose his grip on the ball in what looked like it could have been a dunk attempt.
"He's been trying. I thought he was going to get one tonight," Willoughby said.
Added Gordon: "Everyone tries to dunk after practice. Everyone is getting it. We're waiting for everyone other than me, Ratez and Lathan to get one. … He can dunk. He'll get it off."
Gordon set the game's tone with the game's first points on a dunk 20 seconds in. He scored on a rain drop jumper a minute later, causing some jawing between Gordon and the Indians. Gordon was hit with a technical foul.
"They talked to me a little bit. I got out of hand for probably the first time since I was a freshman," said a repentant Gordon.
"They had a crazy crowd. Kids talking, chanting, yelling names and numbers. It was fun. It's always fun coming here to play."
Sidney's win was the seventh straight over Piqua. Piqua's last win was 86-84 back on Dec. 18, 2015. The Indians played some inspired basketball against their rival, but it's typically not a good sign when a student section starts chanting "Let's play football" in the first quarter. That's more of a fourth-quarter response to an imminent loss in basketball.
For the record, Piqua beat Sidney 14-12 in the fall. Gordon was attending Huntington Prep in the fall and didn't play in the game. That gave him added motivation for Friday night.
"This is my last time probably playing Piqua. I looked at it as I had to show Piqua what I was about, what everyone is about," Gordon said. "(Ratez), the same way with him. He's going to come out and play as hard as he can. Everyone is coming out with a chip on their shoulder and ready to get the win against a rivalry team."
The Yellow Jackets improved to 17-3 overall and 11-2 in the Greater Western Ohio Conference's American North Division. Piqua dropped to 6-14 and 3-11.
"It's pretty big," Hudgins said of beating the rival Indians no matter the sport. "It's been going on for awhile so it's always nice coming out here and beat them. … Coach told us to come out and play as hard as we can. We did that and we came out with the W."
With the boys sectional tournament draw on Sunday, the Yellow Jackets' goal was not to stumble. Sidney is in contention for the top seed along with teams like Butler, Centerville, Springfield and Fairmont.
"You still want to win and look good doing it," Willoughby said. "We don't want teams to think Sidney can't put people away. Piqua, they always scare me. The way we were playing in the second half we went a little bit longer with our players because we need to get that fire and that fight back a little bit. We needed to get that back to get ready for Tuesday."
Sidney hosts Butler (18-2, 11-2) on Tuesday in what should determine the division title. Sidney beat Butler 51-46 in December, but the teams have had a recent history of trading wins on each other's home courts.
In addition to Gordon's offense (he also had seven assists) and Hudgins' defense, Jones gave Sidney a rebounding boost in the second half. He finished with a team-high seven rebounds and added 10 points coming off the bench. Roberts contributed eight points, six rebounds and six steals.

"When we feel we're battling on the boards and not getting the defensive rebounds Lathan comes in and helps us out quite a bit," Willoughby said. "Lathan has played well for a number of games and he's a big part of what we do from here on out."