Area girls teams have their seeds and first round opponents after Sunday's tournament draw…The boys draw is Sunday and every area conference is still up for grabs…and we preview the big games of the week.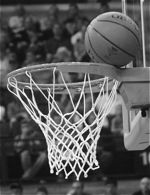 Welcome to This Week in Basketball, Volume Ten. Our effort is once again sponsored by Buschur Home Improvement, in Dayton.

Hey, we made it to double figures! While the girls season is beginning to wind down, there is still much to be decided on the boys side.
The Anna Rockets were in firm control of the Shelby County League race, until Jackson Center rolled into town Friday Night and handed the Rockets their first loss of the season. The Rockets, who bounced back Saturday night with a win over Versailles, will take the always tough trip to Fort Loramie Friday night. Jackson Center, now 13-4 on the season and a game back of the Rockets, will play three games in four days, starting Friday with Botkins. Lehman visits Saturday and Marion Local comes calling for a makeup game next Monday.
The Sidney Yellowjackets won 4 games in 6 days last week, and has another makeup game Monday with Lehman. Andre Gordon, who became the Jackets all-time leading scorer last week, needs 174 points for 2,000 for his career, The Jackets remain tied with Butler atop the GWOC North, and will travel to Piqua Friday night. The Aviators host Versailles Tuesday and visit Troy on Friday, with the division title game next Tuesday @ Sidney.
Five teams are within a game of the lead in the MAC. St Henry and Marion Local share the lead at 5-1, while St John's, Minster and Coldwater are all 4-2. St Henry goes to Fort Recovery Friday night, while Marion, winners of 5 straight, hosts New Bremen.
Twin Valley South and National Trail continue to run 1-2 in the Cross County Conference. South is 15-2, winners of 10 straight, and will play three games in four days beginning Friday against Bradford. Bethel visits Saturday, and state ranked Brookville comes to town Monday,
Trail, also 15-2, is a game behind South in the league race. The Blazers have also won 10 straight heading to Newton Tuesday. Mississinawa Valley will visit Trail Friday night.
On the girls side, congratulations to Fort Loramie, Minster and Tri-Village, who all received number 1 seeds yesterday. Those three teams are A COMBINED 57-3, and it would surprise no one if all thee advanced to the D-IV regional in early March.
The Redskins and Patriots wrapped up conference titles last week, and Minster stopped Versailles to take a one game lead in the MAC with two games remaining. If the 18-1 Wildcats hold serve, it will be Minster's third title in four years.
The Wildcats nhave an interesting week coming up, traveling to Ottoville Monday for a rematch of last seasons' state title game, hosts New Knoxville Thursday, then travels to state ranked Carroll Saturday. The game, rescheduled from Flyin' ton the hoop last month, pits the second ranked Wildcats against the once-beaten Patriots, number 2 in Division Two.
Versailles, a game back in the MAC race, hosts Arcanum Tuesday, travels to Coldwater Thursday And visits Jackson Center Saturday to wrap up the regular season.
Finally,there are a couple of attractive matchups in Miami County this week. 14-5 Tippecanoe entertains 14-6 Miami East Monday night, then Troy visits the Red Devils Wednesday night in GWOC action. Tipp beat Troy by a basket in December, and the Trojans have won 7 of their last 9 games.
That's it for this week. Enjoy the spring weather, and we will see you at the gym!