The result was not unexpected, but the margin certainly was. Fort Loramie used lights-out three point shooting, unselfish ball-handling and suffocating defense to rout Anna and claim yet another Shelby County League Championship.
Fort Loramie – Saturday's Shelby County League showdown started out like a typical Fort Loramie-Anna get-together. Then suddenly, it wasn't.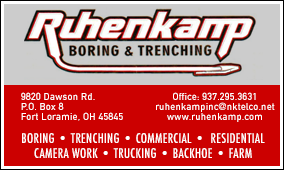 The big crowd that filed into the gym at Fort Loramie high school had every right to expect a back and forth, down to the wire thriller. Anna came into the game 15-3, with solid wins over Russia and Jackson Center earlier in the week. Fort Loramie came in 18-1, winners of 14 straight, and ranked number #1 in the state in this week's Division Four ratings.
Also, when the teams played at Anna back on January 3rd, the Redskins pulled away in the final minutes for a 43-35 win. Both teams had stayed unbeaten in league play since, making Saturday's contest for the Shelby County League title.
For a few minutes Saturday, another defensive battle appeared likely. Michaela Ambos and Lauren Barhorst scored to give Anna the early lead–but that was the only bright spot of the day for the Lady Rockets.
Kennedi Gephart hit back to back threes, and Taylor Raterman drilled the first of her three triples to fuel a 13-0 run for the Redskins that gave Loramie a 15-4 lead after the first quarter. The state's top ranked team was never challenged after that, rolling to a 59-19 win that clinched the 2019 SCL title.
The Redskins can score from anywhere, and get contributions from anyone that gets on the floor. Coach Carla Siegel substituted multiple players at once several times throughout the game, and the 'Skins never missed a beat. Ten players scored, and 21 of Loramie's 59 points came from the bench, which also contributed 11 assists.
"I can't say enough about our starters for setting the tone early," said Siegel after her 403rd career win. "Our plan was to wear them out, and when I put four subs in at about the four minute mark, they just kept it going. We were nine deep through the first three quarters, and that is a luxury that a lot of coaches don't have."
The Redskins can get after it defensively as well, and Anna never had a chance. The Rockets shot just 27% on the afternoon, and 10 first half turnovers doomed the Rockets, who trailed 34-12 at the break.
Given that, a better effort was expected from the Rockets after intermission, but it didn't happen. Anna was just 2 of 13 from the floor in the second half, and scored just 7 points. The Rockets did not make a field goal in the fourth quarter.
Gephart and Raterman led the way for Fort Loramie with 13 points apiece. Kenzie Hoelscher had 8, Jadyn Puthoff hit a pair of threes and finished with 7, Corynn Heitkamp and Macy Imwalle added 5, and Riley Heitkamp,Caitlyn Gasson, Dana Rose and Marrissa Meiring each scored 2.
Only three Rockets scored. Lauren Barhorst scored 8 of her 10 points in the first half, Kiplyn Rowland had 7 and Ambos had 2.
Earlier this season, the Redskins set a school record with 12 three pointers in a blowout win over Russia. For a while, it looked like they would break that record before settling for 10 made on 18 attempts for 56% behind the arc. Overall the Redskins were 20 of 46 for 43%.
"Early in the season, we were not known as a three point shooting team," explained Siegel. "We have a lot of youth (no seniors) and sometimes it takes shooting a while to come around. It's a confidence thing and it definitely helps our inside game. What is remarkable is the number of players that can shoot the three. That is something we have not had before and is a definite positive for us.

"The game plan is to keep getting better. We struggled last Saturday (a 46-43 overtime win over Miami East) but I thought the girls responded well on Tuesday (a lopsided win over New Knoxville). Today we were really locked in both defensively and offensively and that is all a coach can ask."
The Redskins only loss was a 44-43 decision to 16-3 West Liberty-Salem back on December 10th. Siegel said the team's chemistry, on and off the court, has been a key to that success.
"I don't have seniors, but I can't say enough about our juniors. They do such a good job of including everybody and making everyone feel important. Our chemistry on this team is so good, and that is what makes your team successful. Everybody buys into the team being first and individuals being second. That's what you saw today with the way we passed the ball. They do a great job of finding the open player."
The tournament draw is Sunday and the Redskins are a lock as the number one seed in the Sidney Sectional. While Siegel is happy with where her team is, she knows that tournament time is different from the regular season.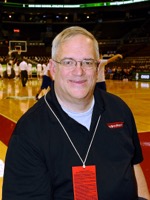 "We have to be focused every time we play in the tournament. We can't rest on what we have done. I don't think this team will do that because our leadership is so phenomenal. When we lose focus, things like last Saturday happen, where it took us the whole game to get going. This team is better than that and is capable of doing great things."
Finally, the Redskins clinched their second straight league championship with the win, and their ninth outright title since 2003. Winning the league still means a lot in Fort Loramie.
"It's fantastic," Siegel said with a smile. "Our league is tough. You always have to be ready to play, regardless of who it is. You win our league, it's a big thing. This is a good thing for our group. They are happy about it. They were in the locker room celebrating. We don't take anything for granted. We work hard and are very excited to win the league this year."