Jackson Center prevented Anna from clinching the SCAL title Friday night, handing the Rockets their first setback of the season 51-47.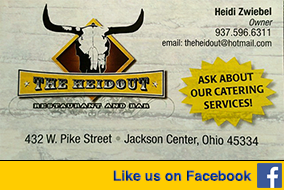 Anna – What happened at Anna High School on Friday night resulted in a significant impact on the Shelby County Athletic Conference championship and the Division III state rankings.
But for Jackson Center – after a jubilant but brief celebration after the final buzzer – it was just another win. And down the hall in Anna's hushed locker room, it was just a loss.
With one swoop – coming in the form of a 51-47 victory – Jackson Center ended Anna's bid for an undefeated season, prevented the Rockets from clinching the SCAL title and likely dropped them down the rankings of the D-III state poll.
It was a watershed moment for the Tigers' season, for sure. But Jackson Center coach Scott Elchert doesn't want this to be the high-water mark for his team.

"It's a big win, but it's one of those things you use as a momentum builder," said Elchert, whose team lost to Anna 65-48 on Dec. 21. "At this stage of the season you try not to put too much stock in any one win. It's definitely big to be able to come over here and knock a team off that's undefeated and playing as well as probably any team in the state.
"I think it's important for us to understand moving forward this can't be the defining moment of our season. It can be another stepping stone."
Anna (15-1 overall, 9-1 SCAL) can still be that team. And the Rockets can still win the SCAL. Anna leads Jackson Center (13-3, 8-2 SCAL) by one game with two games remaining. Anna can clinch at least a share of the SCAL title with a win over either Fort Loramie on Friday or against Russia in the regular-season finale on Feb. 19. The Rockets can still win the title outright by winning both.
As for Jackson Center, league games with Botkins on Friday and Fairlawn on Feb. 15 remain. The rest of the SCAL has been eliminated from title contention.
"For us it's a wake-up call," Anna coach Nate Barhorst said. "(Jackson Center) came out with a lot of intensity. A lot of purpose. Our kids played with a lot of effort as well, but simply put, our shots didn't fall. Jackson Center's defense in the half court … we have to be able to knock down shots. They did a great job of keeping hands in our line of vision and boxing us out. We didn't execute the way we normally do down the stretch."
Jackson Center jumped on Anna early with a 6-2 lead and played a role in Anna missing its first eight shots. Though the Rockets rattled off a 9-0 run from there, too many other shots rattled on and around the rim and fell away.
The Tigers led 20-17 at halftime and extended their advantage to a game-high nine points (31-22) on Jerron Reese's baseline drive with 3:55 left in the third quarter. The Tigers led by nine three times in the game, the final with 3:42 remaining in the fourth after a pair of Trent Platfoot free throws.

Anna's Griffin Doseck cut the deficit to 47-42 on a spinning drive down the lane with 2:39 to play. The Rockets could have cut it again 25 seconds later when Carter Elliott as fouled on a three-point attempt. He converted one of the three free-throw attempts.
A Jackson Center turnover led to a pair of Doseck free throws with 1:18 left to pull Anna within 47-45. Platfoot responded with two of his own with 56 to play, pushing the lead to 49-45.
Jackson Center's Garrett Heitkamp made a free throw to lead 50-45 with 40 seconds left and Anna's Riley Huelskamp knocked down a pair with 36 left to make it 50-47. Jackson Center missed a pair of free throws with 17 seconds left to give Anna an opening.
Anna missed a three-pointer with seven seconds left and Reese was fouled on the rebound. He made one of two tosses for the final score.
"We knew they were going to be relentless with their pressure," Elchert said of Anna's full-court pressure. "They got us a few times but overall we did a great job knowing it was coming for 32 minutes. What we didn't allow was one of those runs where they get two or three straight turnovers."
Unofficially, Jackson Center finished with 11 turnovers. Anna also had 11. The Tigers controlled the backboard with 23 rebounds overall, including 17 defensive. Anna finished with 20 rebounds (12 defensive).
"They did a great job of protecting the basketball. Last time we got a few transition baskets against them with some steals," Barhorst said. "That didn't happen tonight. They did a great job sinking down on Doseck and giving him some fits down low."
Aidan Reichert scored a game-high 20 points to lead the upset. Platfoot added 12 and Reese seven for the Tigers. Those contributions were big. And so was the unsung effort of the Tigers' Orange team that Elchert praised after the win.
The Orange team – the end-of-the bench varsity players and a few junior varsity players – serves as the scout team against Jackson Center's top seven players in practice. It was their effort this week that prepped the Tigers for what they faced Friday.
"Quite honestly, this win is a tribute to what we call our Orange team or our scout team," Elchert said. "They're the guys you don't see on the floor playing, but they deserve to have their names mentioned for the way they prepare our six to seven top guys for the week. That is a true luxury. To me the majority of the credit goes to our Orange team and assistant coaches."
For Anna, Doseck led the way with 16 points. Elliott added eight and Isaac Lininger seven.
The Rockets entered Friday's game ranked No. 3 in the D-III state poll, and received three No. 1 votes, too. That's no the team's focus, but the team can still prove they deserve to be counted among the state's best with a strong finish to the season.
Friday's loss can help that effort.
"As teen-age boys I'm sure they're thinking undefeated season," Barhorst said. "But it's a monkey off their back. Now we have to come with a desire and effort they've never had before. Hopefully we'll see that from here on out.
"It's disappointing and hopefully it leaves a sour taste in their mouth. I hope it leaves a hunger and a drive to want to finish the season on a very good note. You can't hang your heads very long. … You have to give it to Jackson the way they came out and played. Tonight wasn't our night."