After a closely-contested first half, Minster turned on the jets and played its best basketball long enough in the second half to put away Versailles in Thursday's anticipated MAC matchup.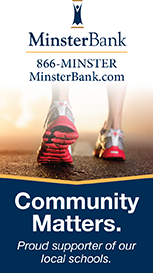 Minster – It was by no means as anticipated as last year's Minster-Versailles game, when both teams met ranked #1 in their respective divisions.  That night saw Versailles turn up the pressure on defense and take Minster out of its game, to win 46-39.
Later, Minster coach Mike Wiss would shrug and say it was a good experience, a reminder to keep working, and…that no one died.  He was right.  The Wildcats would go on to win the Division IV championship eight weeks later.
And to be frank, Thursday night's annual rematch of MAC powers in women's basketball started out much the same before Minster stepped on the gas in the second half to roll to an eventual 52-30 win.  But in a ragged, sometimes rough-and-tumble first half, Versailles scratched and clawed and made Minster stop and take notice of their effort, at least, if not their efficiency.
Because Jacki Stonebraker's team (13-5, 7-1 in the MAC) entered the game undefeated in league play, yes, but without two key components from last year's Division III runner-up team – two players that wrought havoc in last January's win.  One was post player, Danielle Winner.  The other was point guard, Kami McEldowney.  McEldowney was a wizard with the ball in her hands, masterful against pressure defense as well as the pressure of a tight game.  And there had to be a time Thursday when Stonebraker wished McEldowney was playing for the Tigers again, instead of Urbana University.

And yet, Versailles slugged it out for sixteen minutes, trailing 22-19 at the half as Kelsey Custenborder and Lindsey Winner scored 10 of their 19 points from close range.  However, that many more would-be points frustratingly rolled off the rim.  Woulda', coulda', shoulda'!
Minster, (17-1, 7-0 in the MAC) was hardly automatic on offense, either, as the inside presence of the 6'2″ winner stymied Minster's own 6'2″ post, Courtney Prenger, holding her to just 8 first half points.  The Cats' Demaris Wolf, however, made up for some of the slack with a pair of made three-pointers…and teammate Ivy Wolf chipped in 6 first half points of her own, including another three-pointer.
Versailles came out in the third, determined to defend and take whatever it could salvage on offense, and when Liz Ording scored from point-blank range at the 4:12 mark of the quarter the Tigers finally took a 25-24 lead, their first of the game since 2-0.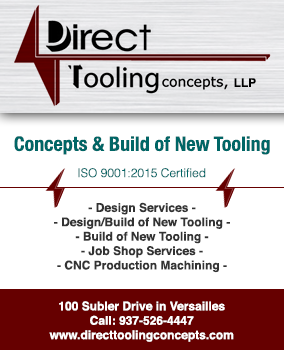 But Courtney Prenger became more involved, scoring a quick bucket of her own to retake the lead at 26-25;  and moments later after a Versailles turnover (a recurring problem), Janae Hoying buried her only three-pointer of the game to extend the lead to 29-25.  From that point on – for the next four-plus minutes – Versailles would not score while Minster went on an 18-0 run, extending their advantage to 42-25…and it was game, set, and match.
How did they do it?
Well, Courtney Prenger, for one.  Prenger would score 14 of her game-high 27 points in that fateful third quarter, and simply took over the game at both ends.  Defensively, she and the 'Cats held Lindsey Winner and Caitlyn McEldowney to just 4 points apiece.
"We made a couple of adjustments to run an open post offense,"  said Minster coach Mike Wiss.  "And it was a big swing in the third quarter when we went on our run.  I think this run was just a little bit bigger than what Versailles might have wanted.  But honestly, for our defensive purpose, to come out and hold those two players to four points apiece speaks volumes to what we try to do defensively.  We outscored them 32-11 in the second half.
"Courtney Prenger really played well in the second half, against girls with longer arms and that were taller than her. And our bench contributed a lot tonight because Karly Richard was able to come in for a minute and a half and get two steals, and Courtney Ernst gave us a lift.  Those one and two-minute windows that your bench can give you are so important."
But to the bigger issue of Minster's defense…it forced Versailles into 21 turnovers for the game, and 35 deflections – opportunity for momentum and points in transition.  Minster lives on those two elements, and they were more than highlighted in the four fateful minutes of the third quarter and the beginning of the fourth.
"We just lost control of things,"  admitted Stonebraker, speaking of the 18-0 run.  "And we didn't have anyone to step up and take the reins and bring us back into control.  We're down a guard who can handle the ball, and until we can find that player who can step in and take some of the pressure off it's going to be a struggle.  I think it's there, we just have to put 'em in the right spots."
Minster won it with Prenger's season-high 27 points.  Ivy Wolf had 12, Demaris Wolf had 6, and Janae Hoying's lone three-pointer made a big impact.
Versailles lost it with Liz Ording scoring a team-high 9 points.  Winner and McEldowney had 4 points each, Kelsey Custenborder had 8, and Savannah Toner and Hannah Barga had 2 each.
"It was a very similar game to what we had with them last year,"  said Wiss, as he prepared to close up shop for the night. "But last year most of the kids who played tonight were freshman and juniors.  Now we have seniors and two sophomores, and they were ready for this one."
And yes, they remember.  Thursday marked the first conference loss for Versailles, as last year's loss was the first for Minster in league play.  And both teams would go on last year to hone their game for an extended run in the post-season.  "No one died that night,"  Wiss would infamously say at the time.
In fact, they both lived to come home as champion and runner-up in Divisions IV and III.  A fateful four minutes on Thursday?  There's really no telling how far fate can take you.
Mike Wiss and Jacki Stonebraker would both take a replay of last year's February;  and then take their chances!