If you've never taken the time to read, there's a baseball legacy associated with tiny Lucasville, Ohio that few communities anywhere can match.  The hometown of the man whose vision it was to break the color line in the major leagues, there's still plenty to learn about Branch Rickey…if you know who to ask.

At the invitation of a gentleman named William McKinley I took a trip on a cold Tuesday this week to Lucasville, Ohio, to brush up on some baseball.
Not the modern game of baseball as we know it, you see.  My interest in Lucasville goes back much farther, to 1947, and the year that Branch Rickey, then general manager and president of the Brooklyn Dodgers, brought Jackie Robinson to the major leagues – the first African-American to break baseball's color line.
Branch Rickey was born and raised in nearby Stockdale, five miles west of Lucasville, and would spend his life making a mark on baseball with the St. Louis Cardinals, the Dodgers, and the Pittsburgh Pirates, serving as president and general manager, or consultant.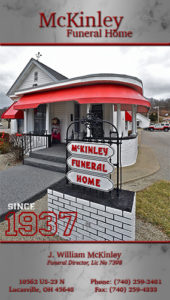 And to add more flavor to Lucasville's legacy, more than a half dozen former major leaguers grew up in the tiny communities around Scioto County, including Gene Tenace, Al Oliver, Larry Hisle, Johnny Lemaster, Pat Borders, Don Gullett, umpires Greg Gibson and Charlie Reliford (from Ashland, Kentucky), and of course, Branch Rickey.
"If you want to know more about Mr. Rickey come down and I'll introduce you to his nephew,"  said McKinley at the recent Portsmouth baseball murals banquet.  The flood walls between Portsmouth and the Ohio River are painted with the likenesses of all the famous baseball personalities that hail from, or near, Scioto County.  And his nephew (great nephew, in fact) turned out to be one Chris Cobb, who met me Tuesday afternoon at the McKinley Funeral Home, which William McKinley has operated for the past 45 years.
McKinley is a big baseball fan, a Reds season ticket holder for decades, and rarely misses an Ohio State football or basketball game.  His funeral home decor is all scarlet and gray with a giant Brutus Buckeye out front, and the walls are adorned with various photos of baseball and Buckeyes' legends.
Chris Cobb, in fact, is the grandson of Branch Rickey's brother, Frank, who worked as a scout for years, for the Cardinals, Dodgers, Pirates and New York Giants, signing many of the notable players associated with the great Brooklyn and St. Louis teams, and lived in Lucasville up until the time of his death in 1953.
Branch Rickey would die of a heart attack twelve years later, on December 10, 1965, while making a speech in Columbia, Missouri on the occasion of his being inducted into the Missouri Sports Hall of Fame.
"I never got to spend that much time with Uncle Branch, as we called him, because he was gone so much,"  said Cobb, whose brother Ricky was a member of the 1966 Ohio State Buckeyes NCAA championship team.  "He was always working, and of course he lived in St. Louis for a long time, then New York, and Pittsburgh.  But when those teams would come to Cincinnati to play the Reds we always got great tickets from him to go and watch the games.  Uncle Branch never went to the ballparks on Sunday because he once promised his mother, my grandmother, that he wouldn't work in baseball on Sundays.  She was a strict Methodist and those were her rules.  So he'd leave his tickets for the family to come to the games on Sunday."
His grandfather Frank, of course, was another story.
"There were always baseballs and bats at his house,"  smiles Cobb.  "And the neighborhood boys would go over there to play baseball because there was this big open field.  Boxes of baseballs…we always got to play with NEW baseballs with Ford Frick's signature on them (Frick was the president of the National League from 1934 to '51 during much of the Rickey family's baseball tenure).
As a scout Frank Rickey was responsible for the scouting and signing of players like Johnny Mize, Enos Slaughter, Preacher Roe, Roger Craig, Sal Maglie, and a guy who would go on to managerial fame, Walter Alston.
"And one thing I learned about Uncle Branch from my grandfather was that when players wanted more money, he got rid of them,"  laughed Cobb.  "I think he was pretty tight with money."
And in fact as a baseball executive Rickey was known for developing young talent, aggressive to get to the major leagues.
"He always stressed speed,"  says Cobb.  "He always believed that you could teach the other things – hitting and fielding – but you couldn't teach speed.  When you look at the list of players he signed and developed, a lot of them could run."
Jackie Robinson came to the major leagues in the spring of 1947, and baseball was forever changed.  His emergence opened the door for many other talented African-American and Latin players to follow, including Larry Doby, who came to the Cleveland Indians just two months after Jackie Robinson, in the summer of '47.
"He never talked about Jackie Robinson as I remember,"  says Cobb.  "He never really talked about business.  And the irony of Larry Doby was that he actually had a longer, and better, career than Robinson, but never got the attention as the first black player in the American League…because Robinson came first.  His name was never brought up."
By comparison, Robinson was out of baseball by the end of the 1956 with a lifetime average of .311, 137 home runs, and 734 RBIs.
Larry Doby, in thirteen major seasons with Cleveland, the White Sox, and the Detroit Tigers, would hit for less average (.283), but clubbed 253 home runs with 970 RBIs.
After a short trip to the Rush Township cemetery, where Branch Rickey and Frank Rickey are buried side by side, we retired to the funeral home to talk about Rickey's portrayal in the well-acclaimed movie, '42', that documented the relationship between Branch Rickey and Jackie Robinson – the support Rickey showed Robinson as he endured the hardships of being the first black player in the major leagues.
"I thought the movie was good,"  said Chris Cobb.  "And Harrison Ford (who played Rickey in the movie) looked an awful lot like Uncle Branch.  In fact, the two actors they considered for the role were Ford and Robert Redford, and they picked Ford because they liked his personality better."
Surprisingly, Branch Rickey's gravesite is quite modest, and frankly, in need of some work.  His headstone is stained with algae and looks neglected, the by-product of history and time.  But by all accounts Branch Rickey was a pretty simple man.  He was principled, as demonstrated by his vision to integrate baseball, but hardly extravagant.  His one vice, as far as anyone knows, was the constant comfort of a cigar.
With appreciation to Chris Cobb, I found him fascinating for his command of the facts surrounding Lucasville's best-kept secret, now 54 years after the death of the man who arguably did more to change baseball than anyone before, or since.
"Mr. Rickey,"  as Jackie Robinson oftened referred to him, with admiration and respect.
Mr. Rickey, from Lucasville, Ohio…with the most unlikely baseball legacy imaginable.