We are a week away from the girls tournament draw, and none of the area league races have been decided…there are key games scheduled almost every night this week…and Anna's unbeaten roll with get a strong test this week.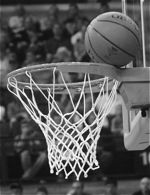 Welcome to This Week in Basketball, Volume Nine. All season long, our efforts are brought to you by Buschur Home Improvement and Richard Perkins. As the weather turns bitterly cold this week, the action is heating up all around the area.
It is often said that the high school basketball season is not a sprint, it's a marathon…but this season is flying by. There are just 3 weeks remaining in the girls regular season, with the tournament draw next Sunday, while the boys have four weeks left with their draw to take place February 10th.
If the weather doesn't intervene, this is going to be a fun week, starting Monday night in Sidney. The 11-3 Jackets have dropped 2 of their last 3 games, and start a four game week at home against 11-4 Wapakoneta. Losing to a 10 win Fairborn club and top ranked Trotwood is no reason to hit the panic button, but the Jackets will be tested by the Redskins .
Consider this…in John Willoughby's two-plus seasons as Jackets coach, Sidney is a sparkling 47-16,and has averaged just under 64 points a game in those contests. Against Wapakoneta, it's been a completely different story…Sidney is 0-2 and has scored just 38 and 40 points in those games. After their high-flying battle with Trotwood Friday, playing the deliberate Redskins, who took St Henry to the wire Saturday, will be a challenge. The rest of the week should be less challenging for Sidney: home to Tippecanoe Tuesday, Troy Friday and at St Marys Saturday.
The Anna Rockets could become the first area team to clinch a league title Friday night when they host Jackson Center. The 12-3 Tigers are the only Shelby County League team remaining with a chance to catch the unbeaten Rockets, who were ranked third in last week's Division three state poll. Anna won the first meeting 65-48, but you can expect Scott Elchert to have a different defensive gameplan this time around. Both teams have tough road assignments Saturday night, as Anna goes to Versailles, while Jackson ventures to Minster.
There is still a logjam atop the MAC, as five teams have one or two losses. St Henry, Marion Local and Minster share the lead at 4-1, while Delphos St John's and Coldwater are both 3-2. Minster, which has won 7 of its last 9 games, travels to Versailles Friday night, while Marion looks for it's fourth straight win, hosting Fort Recovery. St Henry tries to maintain it's share of the lead, hosting suddenly rejuvenated Parkway.
Twin Valley South and National Trail have established themselves as the cream of the crop in the Cross County Conference. Both are 13-2, but there is unfortunately no late season showdown to look forward to, as the two have already split a pair of early season decisions. The Panthers have been under the radar most of the season, but that could change Wednesday night when they host 6th ranked Brookville. Twin Valley South takes an 8 game winning streak into that showdown. The Panthers host Mississinawa Valley in league play Friday night.
Trail had its own showdown with Brookville postponed last week. The Blazers, a game back of the Panthers, will host Tri-Village Friday before traveling to Eaton on Saturday.
It really is big game week in girls basketball, with first place battles in the MAC, Shelby County League, and Cross County Conference.
Versailles and Minster will finally decide first place in the MAC Thursday night when the once beaten Wildcats play host to the Tigers. Versailles ended Minster's 30 game conference winning streak last season, after which the Wildcats went on to win the D-IV state title. Minster had won 25 straight until losing to Fort Loramie in double overtime earlier this month, and has won 29 of its last 30 games overall. Versailles lost 3 of four against Fort Loramie, Anna and Tippecanoe, but has since won three straight. Versailles has a tough non-league assignment Tuesday at 13-3 West Liberty-Salem; that's the same West Liberty team that beat both Fort Loramie and Anna in the same week in December.
Speaking of the Redskins and Rockets, round two of their rivalry is Saturday at Fort Loramie. Loramie won the first meeting 43-35 on January 3rd, and were ranked #1 in last week's Division IV poll. The 17-1 Redskins also secured coach Carla Siegel's 400th career victory last week. The Rockets are 13-3 after losing to Minster Saturday, and have league assignments at home against Jackson Center Tuesday and Russia Thursday before they can turn their focus to the rematch with the Redskins.
Four of the best teams in the area are located in the Cross County Conference. Tri-Village leads the way at 16-1 and 9-0 in conference play. Miami East is 13-5,9-1, Covington is 15-2,8-1, and Franklin Monroe is 14-2 and 8-2. Tri-Village, ranked 6th in last weeks Division IV poll, has won 15 straight since losing in overtime to Versailles. The Patriots are at Miami East on Tuesday.
The Vikings, who took top ranked Fort Loramie to overtime Saturday, will follow that up with a Thursday night trip to Covington. By the time that game is over, there could be a tie at the top, or the Patriots could be on the verge of a championship.
Keep your eye on Miami East come tournament time. The Vikings 5 losses have been to Olentangy in overtime in the opener, by 4 to Versailles, by 8 to Franklin Monroe and Anna, and by 3 to Loramie in overtime. They have a great scorer in Morgan Haney, who has twice set the single game scoring record and lit up Loramie's stellar defense for 29 points in that loss on Saturday. There are really good teams in Division Three (Versailles,Anna and unbeaten Waynesville come to mind) but it would be a mistake for any of them to overlook the Vikings.
Long live the streak…Tippecanoe finally lost an American Conference game in the GWOC, falling to Trotwood Thursday to snap a streak of 41 consecutive conference victories. Tipp still has a 2 game lead over Troy in the GWOC North, and plays Piqua at home Wednesday before traveling to Greenville Saturday. The Red Devils Beat Troy 45-43 last month and will host the rematch on February 6th.
That's it for this week. Bundle up…and we will see you at the gym!