It was a close for four quarters as a basketball game can be.  But down five points with less than two minutes, Jackson Center battled back to win on a last-second half-court shot from Trent Platfoot…that banked in!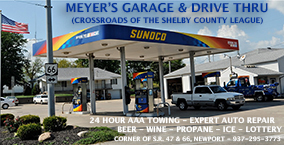 Jackson Center – They say a lot of things about unexpected shots that go in off the bankboard.  Like…it doesn't count if you don't call 'bank'.  Or in this case…the banks were open late Friday night in Jackson Center, Ohio.
Because…after 31 minutes and 59 seconds of hard-nosed, excruciating defensive basketball by two of the best practitioners in the area, that's how Jackson Center (11-3, 7-2 in SCL) knocked off league rival Fort Loramie (9-5, 5-4 in SCL).  It took a 45-foot desperation launch from senior Trent Platfoot, who had struggled early in the game to even get a shot, to cap a fantastic fourth quarter reprieve – a shot that BANKED in as the horn sounded – to give the Tigers a remarkable 39-36 win in front of the usual packed house at Jackson.
In a remarkable game that saw both teams slug it out defensively, and literally dare each other to score, it was the most unexpected finish imaginable.  A game where Jackson led at the end of the first quarter 11-6, and eight minutes later by 15-14 as the two teams went to the halftime locker room.  And Jackson had that lead only because sophomore forward Aidan Reichert opened the game by hitting three of his first four shots from the field, including a couple of deep three-pointers from the wing and the head of the key.
It was a game where the second half saw Loramie come out in the third and finally establish some offensive flow, taking advantage of what Jackson coach Scott Elchert called "a couple of defensive breakdowns", and capitalize on those mistakes with Nate Raterman and Nick Brandewie scoring 9 of their 13 points in the quarter – their biggest by-quarter output of the game.  They led at the end of the quarter, 27-22.
And, it was a game that in the fourth quarter saw Jackson battle back three times from five points down – a quarter that would ultimately see four lead changes and five ties – to close to within one point on a Christopher Elchert driving layup with four minutes remaining.  But Loramie would answer, as the two teams swept back and forth towards the finish.
Then with seventeen seconds remaining, Platfoot, working on an eight-point quarter, drove the baseline to make an acrobatic, twisting layup while he drew a foul…and converted the three-point play with 15 seconds remaining to give Jackson Center its first lead since the start of the half, 36-35.
But Loramie had those 15 seconds to get the ball upcourt and score, and after a timeout Eli Rosengarten tried to drive the baseline for a backdoor layup, only to be fouled by who else…Trent Platfoot.  Rosengarten went to the line with an opportunity to retake the lead shooting the double bonus.  He missed the first as the crowd roared.  But then he brought it to a deadly hush as he made the second and tied the game at 36-36.
Now it was Jackson Center's turn to call time and figure out how to handle what was almost certain to be full-court pressure from Loramie.  They got the ball into the hands of Platfoot on the second pass and he brought the ball to the time line while hounded by the Redskins' Nick Brandewie.  Brandewie had had a great night on both ends of the court, scoring 11 points for Loramie, while playing his heart out on defense.  And as Platfoot crossed the midcourt line he was in good position to challenge the shot attempt.  But Platfoot stopped suddenly, giving himself just enough room to avoid Brandewie's block attempt…and let it fly.

Forty five feet from the rim the ball took a high trajectory to get over Brandewie's lunge, and because of that it carried about two feet beyond the front of the rim.  It hit the bankboard squarely in the middle of the box…and ricocheted down through the net as the horn sounded.  Jackson Center 39…Fort Loramie 36!
The gym went nuts.  His teammates poured out onto the court to mob Trent Platfoot, who for a second seemed lost in the moment, as if he didn't understand what had just happened.  It was, in a season of hard knocks and hard wins, the high point, and typical of how Jackson Center wins basketball games.  Like John Houseman used to say in the Smith Barney ads, "They earned it."
In his office minutes later, Elchert shook his head over the outcome and the way they had done it.
"I just told the kids that it was a great win for us, but this time of the year you can't put too much stock in a win, or a loss,"  he opined.  "It is the grinder of the month, and it's just one more game that helps prepare you for what's down the road in March."
There were ironies at hand, as there usually are in games of this type and magnitude.  For instance, Jackson had its opportunity earlier in the game to have had the game in hand at the end…had they made some free throws.  They missed five of eight in the third period.
Loramie, on the other hand, hit eight of nine in that third quarter to help build those five-point leads, but then missed four of seven in the fourth when they could have put the game away.
"Credit Jackson, because they made a heckuva' shot at the end,"  said Redskins coach Corey Britton, bluntly.  "But we put ourselves in a bad position when we don't hit free throws in the fourth quarter.  Simple as that."
But was it?  Is it ever that simple when two teams play as well defensively as Jackson Center and Loramie did – when offensive opportunities are that rare and precious?
"We had a good defensive effort," said Elchert.  "But because we knew it was going to be that low scoring there wasn't much margin for error.  And we had a couple of breakdowns that really hurt us.  And I try to tell the kids we don't have that luxury in a game like this.
"And there's no doubt that their defense put us in tough spots that wore on our kids.  They challenged everything and made it very tough to make shots.  So a lot of credit goes to them because our decision making at times wasn't very good, but that's a tribute to the fact of Loramie relentless effort on defense."
Trent Platfoot…who came off a disappointing start (just three points in the first half) exploded in the fourth to finish with 16 points.  Aidan Reichert…who had the fantastic start and 10 first half points, reprised that effort with 9 more tough points to finish with a game-high 19.  Between them, they scored 35 of Jackson's 39 points.  Christopher Elchert (2) and Garrett Heitkamp (2) had the other four.
For Loramie…Nick Brandewie had a team-high 11, while Rosengarten added 8, Nate Raterman had 7, Mason Kemper had 4, and Jake Ratermann and Nate Meyer had 3 each.
"I'm really happy for Trent because he just kept plugging away,"  said Elchert of his senior guard's fourth quarter.  "I'm sure he felt he didn't have the game he intended to have early, but in the fourth quarter we made a couple of tweaks that opened things up for him and Aidan and they were able to get to the rim.  And give them credit, they made good decisions with the basketball.  Aidan Reichert was a dual threat for us because he can post up inside, he can shoot the three, and he can handle the basketball.  His best basketball is still ahead of him."
And…if you believe in omens.  In the final minute and a half of the JV game, a game that Loramie led by 15 points, Jackson JV coach Aaron Klopfenstein inserted sophomore Tommy Massengale into the lineup.  Massengale the prototypical last man on the bench, who rarely gets a scoring opportunity, made the most of it.  On his second touch of the ball he let go with a high heave from the right wing, about five feet behind the three-point line.  And sonuva' gun…it went in, his first three-pointer.  And like Trent Platfoot at the end of the varsity game, he BANKED it in.  The crowd roared, came to its feet, and gave Massengale such an ovation one might have expected that he'd won a new car.
"Everyone loves Tommy,"  Scott Elchert admitted after the game.  "He's one of those kids who doesn't get to play much, but he just loves to be a part of the team and he's a kid you just want to wrap your arms around.  You want him on the team because he has such an overachieving spirit."
And on a night when shots and points came so hard, Elchert flashed a satisfied smile over Massengale's big moment.  "You know, he might be playing varsity tomorrow night."
The game tomorrow is at New Bremen.  But one wonders if the banks in Jackson Center won't be open late again.  And no need to call it ahead.