The smallest kid on his high school team, and perhaps the entire Western Ohio High School Bowling Conference, Versailles' Jay Mumaw has used technique, and mind over matter to make bowling his sport of choice, and success.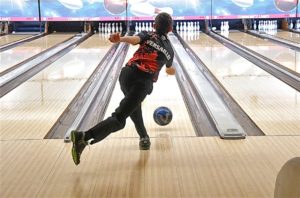 Versailles – Versailles freshman Jay Mumaw is about 5'6″ inches tall, and 'might' weigh 120 pounds, wringing wet.  And there is some question as to both.
Still, being from a school with the athletic pedigree of Versailles, there is that itch to belong, to compete, and to succeed in the manner in which football players, basketball players, track and cross country kids have made their mark for decades.
But if you check, there's never been a running back or linebacker at Versailles that weighed 120 pounds who's distinguished himself.
There's never been a power forward, or even guard, on the basketball team that's 5'6″, 120 pounds, and memorable.
Track and field, or cross country?  Sure, but different tracks for different horses, they say, and Jay Mumaw prefers that different track offered to him and hundreds others across the rapidly increasing landscape of OHSAA bowling.
"It gives me a chance to show that football and basketball aren't our only sports,"  he says.  "Football's not the only sport you play to be recognized, or good.  Anyone can be good at anything if you just do what you do.  Bowling isn't the most popular sport out there, or lucrative.  In the NFL they're making millions per week, where in the PBA (Professional Bowlers Association) they make $50,000 for winning a tournament.  So it's not the most popular, but it's the one that I enjoy and I hope to keep going with it."
He's personable, introspective, and he's been around bowling for a long time, relative to his age.  His mother's family (McConaha) is the 'Mc' in the McBo's bowling alley in Versailles.  So, bowling is a tradition among the McConahas and the Mumaws – a family affair.
"He got his interest in bowling when he was two years old,"  says mom, Molly, who's a regular at the WOHSBC Saturday morning matches.  "He and his dad would watch the pro bowlers on TV after church on Sundays.  And Jay would mimic the form of the bowlers that he watched on TV.  Then we had him down at McBo's, actually bowling, when he was four.  He's loved it ever since.  He enjoys it, he enjoys the cameraderie of the guys he bowls with, he likes his coaches, and this environment."
At 5'6″ and 120, his is not a power game.  Rather, Mumaw relies on form, mechanics, angles and consistency to score, and has a high career game of 268 (last year at McBo's) to his credit.
"I grew up watching Parker Bohn III,"  he says.  "He's a lefthander, like my dad, but anyone who was on TV I'd watch it."
"He's easy to coach and he has a lot of knowledge about the game because of how he grew up,"  says Versailles bowling coach, Tyler Phlipot.  "He understands the equipment, he understands the lanes, and he works at being consistent.  So it's easy for him to make the right adjustments to the conditions from lane to lane and house to house."
And the best thing about the growing relationship between OHSAA bowling and kids like Jay Mumaw is the providing of a competitive outlet for what commissioner Jerry Snodgrass calls, "another level of athlete."
"It good for a kid like Jay because he learns to compete in a sport where size is no issue,"  adds Phlipot.  "It gives him the opportunity to learn the same life lessons that you learn from other sports.  It's not always easy.  It happens all the time…you throw good shots and you don't get rewarded for it.  And in life you make some good decisions and you're not rewarded for them, either.  All in all, bowling provides the longer life lesson that what you get you have to work for, and that's what Jay has done."
Mumaw was reminded of that life lesson on Satuday morning, bowling against the team from Fort Loramie.  He threw a lot of good first balls that found the 1-3 pocket, only to leave the 7, the 10, and the occasional 4-10 split.  Frustrated, he continued to work, compete, and finished his two individual games with scores of 192 and 152.
Afterwards he talked about competing – one of the best-spoken athletes you run into with any sport, and at any age.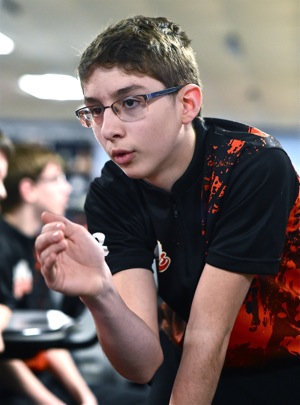 "Today wasn't my best day,"  he admitted.  "But my goal by the end of high school is to bowl a 300 game.  That's my main goal and to stay within the top five on our varsity team."
And, he admits, he doesn't worry about size, or working out, lifting weights, or the impression that his lack of size is an impediment of any kind.  He throws a 15-pound ball (the standard at all levels of bowling), and he just practices.
His grade point average is 3.6 (on a scale of 4), and interested in computers he sees his future in the engineering field…or in game design.
"I'm in some engineering classes at school and we do 3-D models of things and create code.  So I like computers and see myself doing something in that field when I'm out of school."
But for now he's one of Versailles' most consistent bowlers and it's pretty much a sure thing that he's going to get significantly better with time and maturity.  He's enjoying the obstacles that come with competition, relying on his ability of cognitive adjustment…over the temptation to just throw it harder.  Jay Mumaw has figured out how to make the sport of bowling work for him.
And the life lessons that come later – that his coach talks about…should be no problem at all.