They opened rivalry week between Minster and New Bremen on Thursday with an eye-opener. Minster left little doubt that they are the league standard in a 31-point win.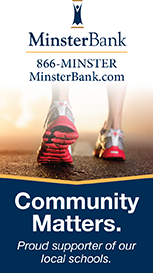 New Bremen – In the wake of Thursday night's 57-26 Minster (15-1, 6-0 in MAC) win over the New Bremen Cardinals, neither Minster coach Mike Wiss, or New Bremen coach Chris Burden, was talking X's and O's – strategy or turning points in the game.
When it's 21-3 (Minster) at the end of the first period, and 37 to 9 at the end of the half; when it's 54-17 at the end of three quarters…well, there's not much to talk about.
Officially, Ivy Wolf led the #2-ranked Wildcats with a game-high 17 points, while teammate Demaris Wolf joined her in double figures with 11 points – Janae Joying, Courtney Prenger and Courtney Ernst each had 6 points, Jess Falk had 7, Danielle Barhorst had 4, and Karly Richard chipped in 2 points.
For New Bremen, Kelly Naylor had 9, Madison Cordonnier had 8, Erin Smith had 5, and Kira Bertke and Abbi Thieman each had 2.
It's rivalry weekend between the two schools, as the boys teams play on Friday, but neither Wiss or Burden was talking school pride, or spirit, after the game. After all, what's there to say over an outcome that at one point favored Minster by as much as 42 points?

Rather, both took the time to answer the question: Win or lose, what do you learn from a 59-26 game?
"I want this to come out the right way," said Wiss, after considering the question for a moment. "But at the end of the first quarter, when we were up 21-3, I told the girls in the huddle…'Don't quit playing. Play to our advantage and keep the pressure on. Play the way we practice and prepare all week, and we had a good week of practice. You respect your opponent, yes. But you also respect the game and how it's to be played, regardless of the score. That's what I take away from a game like tonight.
"This was not the New Bremen team that you see on an average night. They're a good ballclub. We just happened to shoot well tonight and our defense played the way we prepared to play. I'm sure when they (Bremen) play again you'll see a different team than you saw tonight. I would expect that."
At the other end of the hallway Chris Burden was gracious to take some time of his own to consider what his team (11-5, 3-3 in MAC) had just experienced – what they might have learned.
"First of all, credit Minster," Burden said with a modest smile. "But we learned that we need to do a better job, overall, from the top down, starting with me. We need to come in with a better game plan. They (Minster) are awfully good. They have the inside, they have the outside game, and our goal tonight was like it is every night. We wanted to force jump shots, and they hit those open jump shots. A team is tough to beat when they can hit open shots like they hit tonight.
"Minster had a good plan against us, and we kinda' got frustrated. We have to do a better job of taking care of the ball. But we didn't quit, and we played hard in the second half (New Bremen outscored Minster's bench 9-5 in the fourth quarter). But you just don't see many girls teams that committed to playing defense the way they play," added Burden. "They do a good job of preaching that, and we preach it, too. But the number one thing is you gotta' give effort on every possession, every play. And sometimes you run into buzz saws like we ran into tonight."
Abe Lemons, the former hall of fame coach at Texas was famous for his funny quotes, and he once said, "I'd rather lose by 50 than 5, because 50 is more motivation to get better."
He also said, "One day of practice is like one day of clean living. It doesn't do you any good."
And this: "There are really only two plays. One is Romeo and Juliet, and the other is put the damn ball in the basket."
Chris Burden understood full well what comes next for his basketball team.
"We've got to be ready to play again on Saturday (against Waynesfield-Goshen)," he said Thursday. "So at least we don't have to wait a week to play again. We have two days to change our mindset. Tonight happened, we've gotta' move on, and we have to go out and be better ourselves."
And that's what you learn from 59-26.