They got balanced scoring, played aggressive defense, and with a youthful energy that portends great things ahead for the Botkins Trojans.  The question is…who will want to play them in the sectional tournament?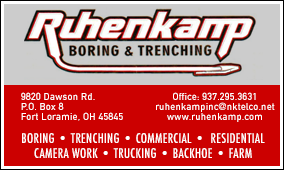 Botkins –  It was our first time in Botkins' gym in nearly a decade.  The word was…you've got to go see the young Trojans because they're going to be good, and that soon.
So, Tuesday we went to Botkins (8-7, 3-5 SCL) to catch Zane Paul, Jayden Priddy, Jacob Pleiman, Jaydon Wendel, et. al.  And within four minutes of the first quarter we saw what others were talking about, and why no fewer than three future opponents were there to scout.  Not so long ago it wasn't that necessary, but you see…the times they are a changin' in Botkins.
They actually lost their first five games of the season, to the likes of Anna, Minster, and league rival Russia.  And yes, one of those five losses was to a different Fairlawn team than the one they played on Tuesday.  But since that loss to Russia on December 14, they had won seven of their nine outings, and they had more than a little revenge motivation going for them when they took the court against the Jets.

They wanted to avenge that earlier 64-59 loss in December, and within a scant few possessions of the opening tip it was clear they would.  They played fast on both ends, attacking the rim on offense and attacking Fairlawn's backcourt on defense, making it impossible for the Jets to get into any kind of offense.  And it's true that Fairlawn was missing its point guard, Drew Maddy, and star front court player Ashton Piper, both out with injuries.  But Botkins showed no remorse, or mercy.  They went for the jugular, ran out to a 22-5 first quarter lead, and by halftime led by 30…39-9.
They scored in transition and shot the three-ball efficiently from their half court offense.  Paul, Wendel, and Tyler Free between them hit five threes for the half;  and Jayden Priddy continually slashed to the rim for ten points.  The matter was decided by halftime, despite the fact of Fairlawn playing better in the second half…but not well enough to escape a 70-37 loss, their seventh (4-7) of the season, and their sixth loss (2-6) in SCL play.  Botkins, true to those who steered us, was as good as advertised.
They're being taught by first-year coach Sean Powell, who played at Lima Shawnee, then later coached at Lima Perry.  During the days he builds engines in the Ford plant in Lima, but it's the engine he's tuned since December the 14 that has people talking basketball again in Botkins.
They're young…seven sophomores on the roster – Denton Homan, Zack Ware, Zane Paul, Jayden Priddy, Parker Gei, Tyler Free, and Conner Smock.  There are only two seniors – Josh Madden, Spencer Heuker, and Bryce Metz.  And two of their more energizing players are freshmen – Jacob Pleiman and Jaydon Wendel.  Remember the names, because it's likely you're going to hear them again over the next three years.

They're talented…the best collection of talent at Botkins in recent memory.
And, they're a unit.  "They've grown up together, they've played together for a while, and they play the game the right way. They're unselfish.  They don't care who scores,"  says Sean Powell, who witnessed the fast-paced style of play, and its impact, during his time at Perry.  "These kids are together on and off the court."
But Powell is just as impressive, the first African-American to coach basketball in the Shelby County League, and perfectly in tune with what winning basketball would mean to a school that's played second fiddle to Anna, Loramie, and Russia for the past decade.  They barely lost to Russia in their first meeting back in December (65-60), and just eighteen days ago beat Fort Loramie, in Loramie, 60-57.
"That was a big win for us,"  admitted Powell on Tuesday.  "Youth kinda' hurt us early in the season when we started off 0-5, but as the year's progressed we've grown up a little bit.  We're started to mesh, we still have a few holes on defense, but come tournament time we hope to be even better.
"We're young now, as I said before, but we are talented.  These kids play all summer, we have a lot of sophomores, and my son came over here (Jayden Priddy) during the summer…and they were able to gel quickly.  My first day of workouts I noticed how together they were.  They're either here in the gym, or they're all at someone's house together.  That's important and it carries over onto the court.  I know, because I grew up in Lima, went to college in Dearborn Michigan, which is largely Arab, then transferred to a school in the mountains of West Virginia.  So I've seen it all, I've lived it all, and it hasn't bothered me at all.  I've coached at Shawnee, my next stop was Perry, and I was delighted to have the Botkins opportunity.  I just like to coach."
He likes to coach, and he likes defense.  The young Trojans played with relentless energy Tuesday, harrassing the undermanned Fairlawn Jets, turning them over and scoring 14 of their 70 points off turnovers in transition.
"I brought defense with me to teach, and I let them figure things out on the offensive end," says Powell.  "On offense we emphasize pace, space, and attack.  And that's it.  For the first six weeks we stayed on the defensive end and tried to perfect defense.  If you get stops you can play offense.  If we see zone it's the same thing – pace, space, and attack.  We like to get the ball up the floor as fast as we can.  I believe that if you can get the ball up the floor, with post entry or a swing pass, within nine seconds you have a great opportunity for a good look at the basket."
Simple as that, and effective.  It's true they've lost to Anna twice, who's unbeaten, and they yet have to play Loramie, Russia , and Jackson Center (their other league loss) for the second time.  But they improved to 8-7, overall, with Tuesday's win, and their style of play is reminiscent of those Perry teams of the past three years.  Like sharks when they smell blood, they play with a lot of excitement.
Freshman Jacob Pleiman led them with 17 points, while Paul had 13, Priddy had 12, Wendel and Spencer Heuker each had 7, Parker Geis and Tyler Free had five each, and Denton Homan had 4.

For Fairlawn, they rebounded in the second half – sophomore Skyler Piper had a good half to finish with a team-high 11, Jackson Jones had 7, Kyle Peters and Lane Greiwe each had 4, Dominic Davis, Garrett Kramer, and Isaac Ambos each had 3, and Jonah Brautigam had 2.
But winning eight of their last ten is just the overture to a much bigger tune they hope to play between now and March.
"I really don't know much about the Piqua sectional tournament,"  admitted Powell.  "But we hope to be playing good basketball by the time it comes around."
And it's not hard to figure this much out.  With the way they're playing now, they're bound to get a different respect come the tournament draw for the first time in years.
The Trojans' time is either at hand…or not far away!