Fort Loramie's balanced attack paces the Redskins to a season sweep of Russia in another close finish.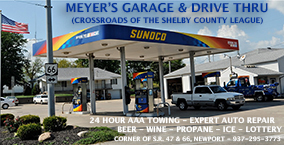 Russia – What transpired inside Clair C. Naveau Gymnasium was as entertaining as reading how Russia Local Schools re-acquired the Old Schoolhouse Bell, which rests just outside of the gym.
Both stories had their twists and turns.
The second meeting between Fort Loramie and Russia featured two ties and four lead changes, and the game stayed within six points the entire second half. It wasn't decided – 54-48 in Fort Loramie's favor – until the Redskins survived a 4-for-10 effort from the free-throw line in the final 1:09.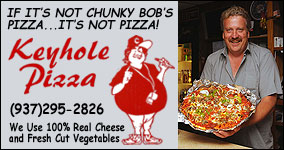 As for the bell, Arthur Netzley of Pleasant Hill – after hounding Russia's Forrest Grillot to sell him the bell – finally obtained it by trading a lamb. Forrest Grillot reportedly said he got the better of the deal because the bell had a crack. Arthur Netzley responded he won the trade because the lamb – which he transported from Pleasant Hill to Russia in the back of his 1950 Chevrolet convertible – had worms. They were both kidding, the story goes.
Just like that swap, both Fort Loramie and Russia gained something from Loramie's six-point victory.
The Redskins (8-4 overall, 4-3 Shelby County Athletic League) gained another boost of confidence following their fifth straight victory, which has followed a 3-4 start.
The Raiders (8-4, 4-3 SCAL) gained the knowledge they can play with the area's best if they execute. Russia lost to Jackson Center by four points and to Fort Loramie twice by two points in double overtime and now Friday's defeat.
"The season is a journey," Russia coach Dave Borchers said. "People get hot. People make mistakes. You just have to keep battling through it. Am I down on these guys? Not at all. They came out and played hard. That's all I can ask."
Fort Loramie took a 2-0 lead on Mason Kemper's jumper 57 seconds into the game. The Redskins went the next 8:03 until their next one.
Russia built a 10-5 lead when Nathan Raterman and Jake Ratermann knocked down consecutive three-pointers to start the second quarter. That put Loramie up 11-10 and started a back-and-forth battle, ending with Loramie's 24-21 halftime lead.
Russia never led in the second half, though Evan Monnier's three-pointer to open the third quarter tied the game 24-24. Fort Loramie's Eli Rosengarten scored on consecutive baskets, including a three-pointer, while Raterman (3) and Kemper (6) combined for nine points to give Loramie a 38-32 lead entering the fourth.
Three times Russia pulled within one point in the final quarter, only to see Fort Loramie answer.
Mason Dapore cut the deficit to 38-37 with 6:58 remaining. Loramie's Rosengarten scored 18 seconds later to make it 40-37.
Mason Dapore's two free throws with 6:06 to play made it 40-39. Loramie's Nick Brandewie scored on a reverse layup with 5:10 remaining to make it 42-39.
And for the final time, Kearns hit two free throws with 2:18 left to pull within 47-46. Loramie's Ratermann hit his third 3-pointer of the game for the 50-46 advantage with 2:00 to play.
Russia had an uncharacteristic two turnovers in the final 49 seconds and ended another possession on a scrum for a rebound. Raterman, meanwhile, scored the Redskins' final four points from the free-throw line.
"That was a whale of effort by our kids tonight," Fort Loramie coach Corey Britton said. "Just the way we fought. We play so hard it's so much fun to watch our kids.
"I think the biggest thing is they're playing with confidence. I think our kids from the beginning have sort of heard Fort Loramie is going to be down this year because we lost so much from last year. I told our kids from Day 1 we can be a good basketball team if we go to work every day. Our kids are starting to see that."
It was an exciting finish for those still around to see it.
The Old Schoolhouse Bell was donated back to the district by John and Valerie Francis in 2010. It now sits silent in a Russia hallway. And on Friday, the Fort Loramie student section was requested to do the same – or at the very least not boo when Kearns touched the ball. The moment dates back to last season when Kearns – with no malicious intent – appeared to tap Fort Loramie's Tyler Siegel on a layup in the final minute of the Redskins' win at Russia. Siegel landed awkwardly and injured his wrist. Kearns was booed.
The incident prompted Britton to defend Kearns, saying after last season's game: "There was no intent behind that. It was a basketball play. Both players were playing hard. Daniel Kearns didn't deserve what he got at the end of the game. I wish that hadn't happened."
The Shelby County Athletic League is known as much for its basketball as it is its energetic student sections. The Redskins' students were told prior to the game by Russia staff not to boo Kearns or they would be removed from the gym.
As many as five students were kicked out by a Shelby County Deputy Sheriff. At one point it appeared the student section might be cleared out as fast as the bread aisle before a winter storm. Most of the Redskins' student section — which cheered, jeered and celebrated but never approached anything resembling rowdy during the game — left the gym with 10 seconds remaining.
"It's Russia vs. Fort Loramie," Britton said Friday night, referring to the on-court game and not the off-court ejections. "It's always a rivalry, but so is every game in the county this year. You look at the standings and the scores after every Friday night and they're dog fights. It was a good win tonight but we're going back to work (Saturday morning)."

Nine different players scored for the Redskins, led by Raterman with 10 points. Ratermann added nine, Rosengarten and Kemper eight each, Grant Albers six, Nolan Berning five, Brandewie four, Nate Meyer three and Collin Moore one.
Like Russia, Fort Loramie knows something about close losses, too. Loramie's losses have come to Jackson Center (by six points), St. Henry (three points), Anna (eighth points) and Botkins (three points).
"Everybody was getting into their roles early in the year. But there are no excuses," Britton said. "We should have found ways to win those games. Credit to the teams we were playing. They made plays to beat us. But we're starting to get a little bit better. Our kids don't care what they score is, they just fight.
"I thought offensively our spacing was fantastic. We shared the basketball. We attacked. We passed and we played as a team. That's the best part about us: one through five everybody contributes."
Mason Dapore led Russia with 17 points and was followed by JordanYork (13), Kearns (6), Monnier (5), Carter Francis (3), and Adam Dapore (2) and Will Sherman (2).
"I don't know how much I go for the momentum thing from game to game because each opponent is different," Borchers said of staying hot after last Friday's victory over Jackson Center. "We've been shooting it fairly well. We didn't shoot that well today. Partly because Loramie plays good pressure defense and they had a hand in our face when we were shooting.
"I thought our kids still got after it. I'm proud of how our guys got after it. Fort Loramie made less mistakes than we did and came out on top."