They got their house back in order in the manner in which they meant to play in Saturday's loss to Loramie.  Minster rebounded Thursday with a thorough win over the Marion Local Flyers.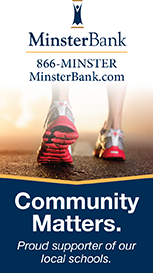 Minster – In a manner of speaking the Minster girls basketball team got their house in order on Thursday night, beating Marion Local 46-37 before a couple hundred brave souls who already had their milk and bread set aside for the weekend's impending weather disaster.
In their first action since last Saturday's devastating loss to Fort Loramie, Mike Wiss's Wildcats (14-1, 7-0 in MAC) did some cleaning and straightening, mindful of avenging the dirty house they left behind with that 56-48 double-overtime letdown.
Basics, is what it amounted to.  They played to a familiar pattern of pressure defense, creating confusion and turnovers in the open court…and then capitalize with points in transition.  When that doesn't work, be patient in the half-court offense and execute – get the shots you want and make 'em.  The homecoming worked to perfection!
Except for one eight-minute quarter, the first, in which Marion played its best basketball of the night and led by a point by period's end (16-15), Minster dictated terms completely for the rest of the game.  And in fact, it took a surprise shot out of the corner as time ran out in the first quarter – a long two pointer by Marion's Heidi Rethman – to salvage that one moment for the 7-7 Flyers (1-4 in MAC play).
For the second quarter belonged solely to Minster, as the 'Cats turned up their defense, created havoc with their full-court pressure, and outscored Marion 15-2 for the period…and lead 30-17 by the halftime break.
And credit senior Demaris Wolf, whose outside shooting gave them the kind of boost, and confidence, to put even the worst of weekend hangovers aside.  Wolf would score 10 points for the game…and all ten came in first quarter on a pair of wing three-pointers and a pair of slashes to the rim.  It was just the tonic they needed.
"It's uncustomary for us to give up 15 points in a quarter,"  Wiss would mention later.  "And I never mentioned it between quarters.  But in the second quarter we gave them just two points."
Get the point?  Call it muscle memory, or whatever.  Something familiar and something good took over once Demaris Wolf proved they were still the same team that garnered state-wide attention for the first five weeks of the season.  Courtney Prenger scored 6 in that second quarter, Courtney Ernst hit a 3, Jessica Falk hit a 3, Janaye Hoying and Lilly Pelletier got a bucket each.  Their house, or at least the living room, was on its way to being restored.
But the Marion girls don't discourage easily, and they promptly came out in the third quarter and held Minster scoreless for the first four minutes while cutting the halftime deficit to 30-23.  Wiss called a timeout…and addressed the rest of the house.
"I addressed the fact that we didn't bring any energy to the floor to start the third quarter," said Wiss.  "And it took a couple of timeouts to get back to who we are.  We got the ball back inside to Prenger, we got some good looks from the outside, and honest to God…we just played with a little more patience."
That's all it took….that, and a spate of turnovers that saw Marion's chance suddenly melt away as Minster quickly went on an 8-0 run, and led 42-25 by the end of the quarter.  And it was all Prenger, who scored 10 of her game-high 16 points in that eight-minute stretch.

"We say on a scale of 1 to 10 we want to be above 10 on defense, and below 5 on offense,"  added Wiss.  "And our decision-making in those full-court situations just has to be a little bit better."
Still, they were good enough to extend their lead by four points, and by two minutes into the fourth quarter the subs were in to rehang the drapes.  The scoring wasn't rampant, but it was decisive.  Prenger's 16, Demaris Wolf's 10, Ivy Wolf had 6, Courtney Ernst had 5, Hoying had 4, Falk had 3, and Pelletier had 2.  Given the effort on defense, it was more than enough.
"It was important for us to come back from the weekend and put that out of our minds,"  said Demaris Wolf, post-game.  Well-spoken and impressive for her maturity, the Wildcats' senior shared some team perspective.
"I actually think we needed what happened to us Saturday.  Sometimes it's easy to be satisfied with success.  And then you come and play a really good team, and they were, and you come away with a better sense of your weaknesses and what you need to work on.  It certainly brought back our focus, and it made us realize that our practices this week needed to mean more than usual.  It brought us back together.
"We've certainly worked a lot of shooting free throws,"  she added, smiling.
Basketball, in Minster terms, isn't tough to figure out.  It boils down to a couple of things.  Play terrific defense and make an opponent give you some easy points, and then capitalize on that defense. Score in transition and execute your offense, when it's time, against an unsettled opponent.
"And you have to do that with great energy,"  added Wiss.  "Kids like Courtney Ernst brought great energy off our bench tonight.  Giving up 15 in the first quarter might have awakened us a bit, gave us the shot we needed to get back to who we are.  And some of it is senior leadership – Demaris, Courtney Prenger, Danielle Barhorst, Jessica Falk, and Courtney Ernst.  Those seniors continue to be vocal and it's their team.  I'm a big believer that you're only as good as your seniors."
Marion finished with a pair of 10-point scorers – Natalie and Heidi Rethman – while Alana Pohlman and Sammy Hoelscher had 6 and 5 points, respectively.
Whatever house-cleaning Minster did will get tested severely on Saturday (weather permitting) when they meet #1-ranked Dayton Carroll in Kettering, and it's a test that they welcome, given Wiss's theory that regardless of how you shoot, defense always travels.
Or as it worked out on Thursday – on a scale of 1 to 10 on defense they were off the scale.  And if they were indeed below a 5 on offense, it was more than enough.  Just keep working on the free throws!