On the dreariest night possible, Covington overcame spotty offense and the toughest of emotional hurdles to play their best defensive game of the year, and beat one of their toughest non-conference opponents.
Covington – Covington women's coach Jim Meyer didn't mince words.  He seldom does.
In light of his team's 49-38 non-conference win Tuesday night over Russia (9-4), and on a night when buckets seemed to come painfully hard – on a night when the game had little or no flow for either team – no, Jim Meyer was satisfied to win like Clint Eastwood did in his old movie, Any Which Way You Can.
It was ragged, a grind, for Meyer's Buccaneers all night, who in winning their 13th game of the season (13-2, 7-1 in CCC play) had to admit that at least in part it was due to Russia being a very good, if not physically sound, basketball team.  Raiders coach Andy Timmerman has been managing the injury bug.
And if not physically ragged, it was emotionally draining for the fact that Covington senior forward Lilli Hamilton had lost her father just twenty four hours earlier from an apparent heart attack.  Hamilton, however, showed the courage of Old Testament David, insisting that she wanted to play.  And as it turned out, she was a defensive force.
Covington's mojo largely revolves around senior all-state candidate Sammi Whiteman, who averages in the mid-20s.  And she got her 20 on Tuesday (21, in fact), but had to take a ton of shots to get 'em.  Like the title reads…it was basketball at its hardest.
Covington overcame Russia's height advantage inside with 6'1″ Laurissa Poling to edge out to an 9-4 first quarter lead, and extended that margin slightly by halftime, 18-8.  Whiteman had 9 first half points, while teammate Morgan Kimmel threw in a three-pointer for 12 of their 18 points.
But more importantly, perhaps, the Buccaneers limited guard Jenna Cordonnier to just 2 points, and Poling was held scoreless by a scrappy, physical defensive effort…an effort that included Lilli Hamilton.  Hamilton only scored 2 points for the entire game, had three blocked shots that altered Russia's inside confidence.
"She insisted she wanted to play,"  said Meyer, who also serves as the district's school psychologist.  "And tonight she got up and really had some key blocks for us.  Sometimes those are fouls, and sometime they're clean blocks, and tonight they were clean and that was really big for us on the inside."
The game had no flow, and neither team was able to score in transition, settling for the methodical half-court style of offense, lots of screens, missed shots, and stickbacks off offensive rebounds.  Whiteman was able to resurrect her game somewhat in the second half, scoring on four field goals and four made free throws to eventually finish with a game-high 21 points.  Teammate Mackenzee Maschino helped her out with 10 of her own, while Morgan Kimmel had 7, and Lauren Christian had 4.  Freshman Claudia Harrington, who has been bulls-eye so often from three-point range, had just a lone two-pointer for the night.
Both teams ground out 11 points in the third quarter, Covington leading 29-19 as they went to the fourth, and at times that lead seemed in jeopardy, as Russia's Ashley Scott and Olivia Moorman somehow found the range twice from behind the 3-point line…and the pair threw in three more treys in the fourth quarter when Russia cut the lead at one point down to seven points.
But Mackenzee Maschino, the player you might least suspect, literally took the game over, scoring all ten of her points in the fourth, while Whiteman kicked in five more, to secure the final margin of 49-38.
"Well, we were certainly excited to beat Russia,"  said Meyer, admitting afterwards that on a night like Tuesday, yes…give me all the Clint Eastwood story line I can get.  "They're a great program, they're a great opponent because of their league competition, and Andy does a great job coaching them.  They're very skilled and technically sound.  But I felt our defense did a great job tonight – we did some diamond-and-one on the Cordonnier girl, thinking if we could take her out of the flow a little bit.  They got two baskets and four free throws in the first half and that was a tremendous half for us.
"But we did struggle offensively, because we got snowed out on Saturday and you lose a little bit of your rhythm.  And then we practiced light last night because we knew we had to play today…a lot of what we did was scouting report and film study.  But the kids came out, and again, they knew what they had to do to play Russia – some big shots, some big steals, and big putbacks when we needed them."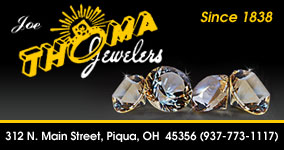 A struggle to win, certainly.  The figures don't lie.  Covington shot 41%, and Russia just 38%.  Ashley Scott and Poling led the Raiders with 9 points each, while Olivia Moorman had 8, and Jenna Cordonnier finished with 6.
But that pales in comparison to the struggle for Lilli Hamilton just to play, given her emotional burden.
"We didn't say a whole lot to Lilli before the game, although we had thought about some things to do for her,"  added Meyer.  "But she's a kid that wants things to be as normal as possible.  So we just went about our business last night, and tonight, and we substituted like we normally do – we played like we normally play.
"And I'm so proud of her,"  he continued, with obvious emotion in his voice.  "That she was even able to come to the game.  We were on the verge of postponing it, and I talked about it with her and the other three seniors.  And she insisted that she wanted to play…'I want to do this'.  And I'm really, really proud of her for playing, and the way her teammates rallied around her.  This is a group of kids that take care of each other, protect each other, and love each other.  And I'm so proud of how they were able to show up and play, and for what they did."
There are nights in basketball when the rim shrinks.  We all know that.  And there are nights in basketball when heads and minds shrink.  But it wasn't a matter of a shrinkage of rims and minds Tuesday in Covington.
Rather, it was the enlarging of the heart that seemed to pull them through, when by all accounts there was nothing else that would do – when you're playing the hardest basketball possible.  And win or lose, due to the back story – the circumstance – you had to be proud of the human spirit.
There'll be other nights…for better basketball.