Both Fort Loramie teams made big statements last week…the Piqua Lady Indians are having, for them, a one of a kind season…the Anna Rockets remain the only unbeaten team in the area heading into the week…and the Tippecanoe Lady Red Devils get the toughest challenge of the season to their conference unbeaten streak.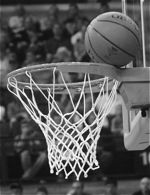 Welcome to a snowed in edition of This Week in Basketball, Volume 7. As always, our effort today is sponsored by the Buschur Home Improvement Company and Richard Perkins, in Dayton. Put the shovels down and read on!
It was quite a week of basketball in Fort Loramie. Corey Britton's Redskins and Carla Siegal's Lady Redskins went a combined 5-0 and both had to win a double overtime game to do it!
The boys had struggled through the first portion of the schedule, and after losing to Botkins at home stood just 3-4 on the season. The Redskins started their turnaround with a double overtime win against Russia, routed Fairlawn on Friday, then slipped by Minster in overtime Saturday. Loramie looks to continue that momentum this week, hosting Ponitz on Tuesday and traveling to New Knoxville on Saturday.
The Lady Redskins continue to be one of the stories of the season. Loramie doesn't have a senior on the roster, but doesn't seem to be fazed by anything. Having already won a league showdown at Anna, and handing Versailles its worst loss in 7 years, the Redskins survived every challenge by Minster Saturday to snap the Wildcats 25 game winning streak in double OT. It also snapped Loramie's four game losing streak to their State Route 66 rivals. The Redskins, who should be #1 in this week's Division IV state poll, have another big game on tap Thursday when they travel to Russia to meet the 9-3 Raiders.
Anna remains a game back in the Shelby County league race. The Rockets host Marion Local Tuesday and Fairlawn in league play Thursday.
In Piqua, the Lady Indians started the season with a new coach in Jon Dolph, and, to be honest, very little expectations. After all, its been 17 years since the Indians won as many as ten games in a season. When Piqua lost to Butler by 18, Tippecanoe by 29, and then at home to Fairlawn by 10, it looked like more of the same old story. Since the Fairlawn loss on December 10th, Piqua is 6-1 and has already secured it's first 10 win season since 200-2001. Tylah Yeomans is the only Indian in double figures, but four others average between 5 and 8 points a game. Piqua is in the midst of a ten-day break, and will travel to Fairborn Saturday.
The Tippecanoe Lady Red Devils start a challenging week with a record of 9-3. Tipp is on the road against unbeaten and top-ranked Carroll Monday night, then travels to Stebbins Wednesday and hosts Trotwood in conference play. Stebbins is just 3-9, but the 9-2 Rams will pose the biggest challenge of the season to the Red Devils 39 game conference winning streak, Trotwood is at Troy Wednesday and brings a 6 game winning streak into the week.
Versailles and Minster remain unbeaten in MAC play heading into the week. The Tigers have a huge conference game at home with St Henry Thursday night, then hosts a good Arcanum team Saturday.St Henry is 10-3 and just one game back in the MAC race.
Minster will look to bounce back against Marion Local Thursday, then meets the aforementioned Carroll Patriots Saturday in a feature game at Flyin' to the Hoop. The Minster-Versailles showdown is set for January 31st at Minster.
Tri-Village got the upper hand in the Cross County Conference last week with a 44-35 win over Covington. The Patriots travel to 9-3 Cedarville Tuesday, then host National Trail Thursday. Covington and Miami East are a game back…the Buccs host Russia on Tuesday and travel to Bethel Thursday, while East plays @ Ansonia Thursday in its only assignment of the week.
On the boys side…Anna is 10-0 heading into a three game week, and enjoys a two game Shelby County League lead after Russia knocked off Jackson Center in overtime. The Rockets are at 8-2 St.Henry Monday night in a makeup game from Saturday, then goes to Fairlawn Friday before hosting Miami East on Saturday. Jackson Center will try to stay in the race Friday at Houston, while Russia will host Fort Loramie as those teams meet for the second time in ten days.
The Sidney Yellow Jackets also have a busy week. The leaders of the GWOC North play at Northmont Tuesday, travel to a good Fairborn team on Friday, then host Lehman on Saturday. John Willoughby's club starts the week 9-1 and on an 8 game winning streak. FYI…mark Friday, January 25th on your calendar. That's the night the Jackets host high-flying Trotwood.
There is still no clear cut favorite in the MAC race. Delphos St John's and Marion Local share the lead at 3-0, but Minster,St Henry and Versailles are in hot pursuit with one loss. Key games Friday send Minster to Marion, and resurgent Versailles to St Henry. The 8-4 Tigers have won 5 straight after a 3-4 start.
Twin Valley South is the sole leader this week at 4-1 in the Cross County Conference. The Panthers are 9-2 and have a busy week, traveling to Dayton Christian Tuesday then hosting Tri-Village and Brookville over the weekend. National Trail, Bethel and Miami East have two league losses each… the 11-2 Blazers host the Bees Friday night.
Don't forget our high school basketball scoreboard, sponsored by the Moeller Beer Barn. We start posting scores as soon as we get them, 6 nights a week. If you are looking for a game or to see who your team plays, the entire schedule for the week will be posted every Sunday night.
That's it for this week. Get back to shoveling and we will see you at the gym!