It took a pair of overtimes to do it, and there was the matter of missed opportunities by both teams to win it in regulation, but a big three-pointer by Dana Rose helped Fort Loramie finally survive and hand Minster its first defeat.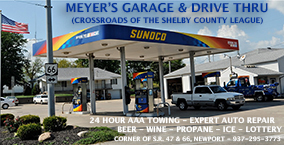 Fort Loramie –  Something I've learned over the years covering Minster – Fort Loramie basketball games.
One, always wear black, and never wear anything orange or red.  If you wear one or the other you leave yourself open to questions (serious, or otherwise).   And both teams wear black prominently as part of their color scheme.
And two, never question offense because the mantra of both teams is defense, defense, and more defense.  Scoring and shooting percentages are likely to be down when they play, but that doesn't matter.  As Minster coach Mike Wiss would put it, "You expect it to be low-scoring, so then it becomes a matter of making a basketball play to score."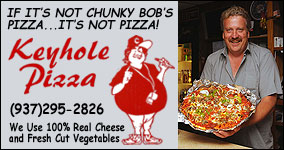 Loramie coach Carla Siegel puts it another way.  "I just tell my girls to win the moment."  Win enough moments, apparently, and you win the game.
That's exactly how it played out Saturday in a twisting, turning, gut-wrenching double-overtime affair that saw the score tied at 41-41 at the end of regulation…45-45 at the end of the first overtime…and eventually 56-48, as Loramie survived shooting woes by Minster to finally claim an exhausting win.
Neither team shot well from the field, or from the foul line.  Loramie hit 15 of 25 from the line (60%), which is nothing to write home about…except Minster shot 41% from the line (11 of 27), and that left plenty to write about.  Because, Minster had numerous opportunities in the second half – regulation and in the first overtime – to win the game from close range at the rim and at the foul line…and simply could not make a shot!
But, it was a game of moments, to use Siegel's vernacular.
Loramie held an 11-9 lead after the first quarter;  and went on a 7-0 run with three minutes left before halftime, anchored by a long three-pointer by sophomore guard Caitlyn Gasson that saw the Redskins extend their lead to 23-16 at the break.  It turned out to be Gasson's only bucket of the game!
But given ten minutes to regroup, Minster returned to form in the third quarter, as Karly Richard and Jessica Falk both hit key three-pointers to spur a 15-7 run that saw Minster take its first lead with Richard's bomb, 31-30.  From that point it became a game of ties, traded leads, and building pressure as both teams squandered opportunities to take control;  and Minster continued a game-long habit of missing layups and easy looks at point-blank range.
"You can talk about too many missed layups on our behalf, and very poor free throw shooting,"  Mike Wiss admitted afterwards.  Translation:  they didn't win those moments!

Minster took that 31-30 lead into the fourth and immediately gave it up on a Kennedi Gephart basket, then back and forth, and ties at 37 and 39, as Loramie freshman Ava Sholtis struck for a pair of buckets in close and sophomore Dana Rose launched and made a three-pointer from the wing.  Still, Minster's Jenaye Hoying went to the line with an opportunity to add a pair of points that would have secured the game in regulation, only to come up empty;  and the game did go to overtime tied at 41-41.
For Minster, the overtime periods could be characterized by two things – their continuing issues at the foul line, and point guard and game-high scorer Ivy Wolf fouling out in the waning moments of the first overtime.  However, on a drive to the rim with under five seconds remaining Hoying was fouled and sent to the line with another opportunity to ice the game with the score tied, 45-45.  With 1.4 seconds on the clock she missed both, again, and Loramie would have another chance.
For Loramie, the overtime periods could be summed up by one thing – a stunning three-point bomb by Dana Rose, again, to open the second overtime.  Not only did it give the Redskins a lead and some breathing room, but an air of confidence to play their game – defend, pressure, and score off mistakes and turnovers.  Gephart scored a pair of buckets, Rose joined her three with a pair of free throws, and another sophomore, Jadyn Puthoff, made a pair of free throws to outscore Minster 11-3 in the second overtime.
"First of all, what a great culture of basketball,"  said Wiss, afterwards.  "How many were here, 1,500 people?  And those two cultures witnessed two programs like this laying it on the line against each other.  We needed that, and they needed that, too.  I have tremendous respect for Carla and what they do.  And after a game like that I'm sure that goes likewise.
"It was a battle, a fight, and there's a bunch of girls in our locker room that are very accountable for how they play.  And I'm very sure they'll take this hard because we had a chance to win it.  It just didn't fall our way today."
Ivy Wolf's 17 points led all scorers, while Courtney Prenger had 10, Jessica Falk had 7, Karly Richard had 6, and Jenaye Hoying finished with 4 points.
For Loramie, Ava Sholtis led the 'Skins in scoring with 15, while Dana Rose had 13, Kennedi Gephart had 10, Jadyn Puthoff had 7, Taylor Ratermann 4, and Caitlyn Gasson finished with 3.
At the other end of the hallway Carla Siegel smiled the smile of having achieved her 397th career win,  and echoed much of Wiss's sentiments.
"Wow,"  she sighed.  "That's a great ballclub they have over there, and I thought we did a very poor job of rebounding in regulation.  We gave them a ton of offensive boards, put-backs, and chances at the foul line.  But I'm proud of the tenacity of our girls.  We could have wilted there in the fourth quarter after they took the lead for the first time.  We could have wilted in the overtimes after we got down by a couple of points.
"But, I'm so proud of our players today – Dana Rose hit a couple of threes like it was nothing, and Caitlyn Gasson hit that three in the second quarter, Taylor Ratermann didn't have a lot of points today, but she had a big bucket late in the game.  And Ava Sholtis.  What a great player as a freshman to lead our team in points.  A lot of girls stepped up today, and our saying for the day was… "Win the moment!"  When you're at the free throw line, win the moment.  When you're rebounding, win the moment.  We won some moments today.  This was a big win for our club."
And both coaches would agree that no amount of money could buy the kind of experience they gained against a quality opponent in a setting like Saturday's – experience that will pay huge dividends come tournament time.
'The atmosphere was great,"  added Siegel.  "And they get a lot of credit for their defense, and rightfully so because they play great defense.  But I told our girls before the game that we have to attack the rim to win, and I thought some of them did a great job with that.  Ava Sholtis attacked the rim every time she touched the ball."
It was just about everything you want in a memorable basketball game.  Pressure, big moments, high moments, low moments, and after it all…the kind of mutual respect and perspective that you'd expect from a state champion.
"No one died today,"  Mike Wiss said with a smile, reprising a comment he made last year when Minster lost in a similar scenario versus Versailles.
And that's true.  Fort Loramie just won the moment.