Jalen Cruther's transformation to a dependable scorer continued Sunday, with 19 points, in the Flyers' win over Massachusetts.
DAYTON — Jalen Crutcher stood erect and proudly in front of the media late Sunday afternoon, nervously fondling an ear ring in his left ear.
And another one glittered in his right ear.
He was asked if he wore them in the game, another diamond-studded performance by Crutcher for the University of Dayton during a challenging victory over the University of Massachusetts, 72-67.
"Trey Landers knew I'd be interviewed after the game and he told me I had look to good, so I had to put my ear rings in," said Crutcher.
Are they real diamonds?
"Nah, nah, nah," he said. "I ain't got that much money."
But he was diamond-studded on the court with naked ears. He and fellow guard Jordan Davis combined for 10 three-pointers and 40 points as the Flyers swooped to a 3-and-0 start in Atlantic 10 Conference play.
And it was Crutcher's clutch three in the last minute that broke a tie and carried the day over the Minutemen.
It was 67-all after UMass center Rashaan Holloway scored under the basket with 1:35 to play. Holloway is 6-foot-11, weighs 305 and his legs look as if they are tree trunks chopped off an oak tree on the campus and attached to his hips.
When he gets the ball under the basket, forget about it. UD's Trey Landers crashed into him once and staggered from the foul line to half court, his eyes spinning. It was Holloway's fifth shot and fifth basket. Over his last three games he has shot 25 times in his last five games and made 24.
It stayed tied only until Crutcher found himself open at the top of the lane with 56 seconds left. He let fly and barely disturbed the nets as the '3' went through to give the Flyers the lead they preserved to the end.
"We run that play a lot in practice," said Crutcher. "The defender went under the screen. We work on that in practice. If he goes under the screen, I shoot it. So I decided to shoot it."
It was a fun game for Crutcher because of his relationship with UMass coach Matt McCall. He was the head coach at the University of Chattanooga three years ago and targeted Crutcher as a recruit.
Crutcher committed to Chattanooga, but when McCal left to became the boss man at UMass, Crutcher changed his mind and signed with Dayton.
"McCall started recruiting me in the 10th grade," said Crutcher. "So we were really close. That's why I signed with Chattanooga. If he had stayed I'd be at Chattanooga right now."
Crutcher and McCall kept a running conversation between each other during the game.
"He was talking to me a lot during the game," said Crutcher. "So it felt good to beat him."
Once, with little more than three minutes to play and the score tied, 63-63, there was a scramble under the basket and UMass lost the ball out of bounds. As the referee made his call, Crutcher and McCall were chatting.
"He was telling the ref it was a foul on us and I was telling him, 'No, that wasn't a foul,'" Crutcher said with a laugh. "I was messing with him, joking with each other."
After the game, McCall stopped Crutcher during the congratulatory line between the two teams and gave him a hefty hug.
"He told me he was proud of me, proud of everything I'm doing," said Crutcher. "He told me good game."
Of his gutsy game-winning '3,' Crutcher said, "I'm real comfortable with the ball in my hands. The coach trusts me and my teammates trust me."
The guard combination of Crutcher and Jordan Davis buried UMass under an avalanche of three-pointers.
It was Davis who resurrected the Flyers from the funeral pyre on Wednesday at George Washington when UD trailed, 33-11 early in the second half.
He scored 20 of his 25 points in the second half and finished the game with seven three-pointers in 11 tries.

On Sunday, while Crutcher was making 4 of 5 from three-point real estate en route to 19 points, Davis air mailed six more three-pointers on eight tries on his way to 21 points.
That's 13 for 19 on his three-pointers the last two games after he shot 25.4 per cent in UD's first 13 games.
He began the season 2 for 2, then his performances were off-Broadway: 1 for 4, 0 for 4, 0 for 4, 1 for 3, 3 for 9, 0 for 2, 1 for 5, 2 for 6, 1 for 4, 0 for 1, 2 for 7, 3 for 8, 0 for 4.
It was time for some cinematography. The coaches sat him down and had him watch videotape of games last season when he was as accurate as a bomb sight.
"It helped a lot," he said. "I saw what I was doing last year and I just wanted to put it back into this year. It sure helped. At the beginning of this year I was just standing straight up. The past couple of games I was ready and quicker.
"Even when they weren't falling, I just kept my confidence up because I knew they'd start falling sometime. They showed confidence in me and told me to keep shooting the ball."
Crutcher laughed about the sudden success of Davis and said, "I told the team he was stealing my three-pointers because I was missing the last two games. I was 0 for 4 the last game, so I had to come out and make some threes.
"We had to keep Jordan's confidence up and tell him to keep shooting the ball," Crutcher added. "He has been working hard on his shot. Any time he's open I try t0 get him the ball because I know he'll shoot it when he's hot."
Davis, the strong silent type from Irmo, S.C., honed his game on a basket in his backyard, shooting with his father and older sister. "We shot for hours," he said. "My sister played in high school."
To say the Flyers lived by the three is to say a baby lives by milk. Every time UMass drew close or tied the game, the Flyers flipped in a three.
—UMass trailed, 40-38. Davis hit a three.
—UMass trailed, 45-43. Davis hit a three.
—UMass trailed, 50-49. Crutcher hit a three.
—UMass trailed, 53-52. Crutcher hit a three.
—UMass had it tied, 67-67. Crutcher hit the knife-insertion three.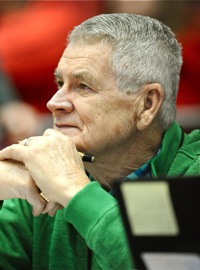 In addition to providing the most offense, Davis drew the defensive short straw. He was assigned to chase and harass UMass leading scoring Luwane Pipkins, averaging 19 a game. He led the Minutemen with 19 points, but needed 21 shots to make eight baskets and was 3 for 9 from three.
"What we asked from him, from a defensive standpoint,  was for 38 minutes to be the primary guy on defense," said coach Anthony Grant.
"And then to be able to go out and still produce on the offensive end is real growth and I am really proud of him."
Of his shooting woes, Grant said, "Even when Jordan wasn't making shots, he has been consistent as a player, getting into the gym, getting his shots up, working on his game. You need to see the ball go in the basket a few times to get your rhythm."
As Grant scanned the statistical sheet, he broke into a smile and was overjoyed to see that his team produced 18 assists on its 24 baskets and had only seven turnovers.