Raiders perfect from free-throw line in OT to avenge earlier loss to Tigers in another tough SCAL battle.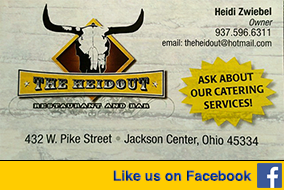 Jackson Center – Four lead changes and one tie in the final four minutes of the fourth quarter. Two rivals. One overtime.
Just another night in the fierce Shelby County Athletic League boys basketball season. And what a night it was for the Russia Raiders.
Russia overcame a nine-point deficit to start the fourth quarter, survived Jackson Center's bid for a last shot in regulation, then controlled overtime to win 60-53 Friday night on the road. The victory avenged a season-opening, 48-44 loss to Jackson Center on Nov. 30.
It also gave the Raiders a much needed confidence boost coming off a 60-58 double-overtime loss to Fort Loramie on Tuesday. Free throw shooting doomed the Raiders on Tuesday night after hitting just 2-of-7 attempts in OT. On Friday they were 8-for-8.
"We talked about that confidence," Russia coach Dave Borchers said of the importance of body language and positive thoughts. "You gotta know it's in when you go up there and not hope it's in. … You could see confidence before they even walked to the line. I'm happy with their approach."

And especially their follow through.
As for Jackson Center, the Tigers rallied from a 10-0 deficit to start the game and led 27-21 at halftime. They grabbed their largest lead, 43-34, to start the fourth on Trevor Platfoot's 3-pointer.
Despite Russia's surge, the Tigers still had a chance to win in regulation. Russia's Jordan York tied the game 48-48 on a drive to the basket with 1:41 left. Jackson Center worked the perimeter and the clock. It wasn't the original plan but with 50 seconds remaining Jackson Center coach Scott Elchert told his Tigers to play for the final shot.
The Tigers, though, couldn't penetrate down the lane in the final 10 seconds, lost the ball and failed to get a shot off.
"I felt like our decision making hurt us and our lack of execution down the stretch … we didn't get it done," Elchert said. "Once they hit those two buckets in overtime … "
The teams traded baskets to start overtime before Russia took the lead for good 52-50 on Daniel Kearns' score off a Carter Francis assist. Jackson Center missed its next shot with 1:09 remaining. A pair of Adam Dapore free throws pushed the lead to 54-50 with 54 seconds left.
Jackson Center's Platfoot was called for an offensive foul with 34 seconds left, erasing his jumper in the lane. After Mason Dapore hit a pair of bonus free throws for the 56-50 lead with 33 seconds left, Platfoot grabbed a loose ball heading out of bounds and threw up a prayer toward the rim that was answered with 11 seconds left.
With Jackson Center forced to foul to stop the clock, Russia took advantage as Carter and Mason Dapore scored the final four points from the free throw line.
"Every night out is a tough one," Borchers said. "That's what you get. Wow. … That's a pretty darn good team we got tonight."
Jackson Center knew the feeling.
The loss gave Anna – 10-0 overall and 6-0 in the league – a two-game advantage in the SCAL standings following the Rockets' 86-63 win against Botkins. Jackson Center dropped to 8-3 overall and 5-2 SCAL, while Russia remained in third at 8-3 and 4-2.
Anna, which already has a win over Jackson Center, plays Russia for the first time on Jan. 22.
"You know you're getting good games every time (in the league)," Borchers said. "I look forward to it. It's a good challenge and tonight we were up for it."

Unofficially, Russia outrebounded Jackson Center 24-18. The Raiders shot 22-of-42 from the field (52 percent) and finished 12-of-13 from the free-throw line. The Tigers shot 20-of-49 (40 percent) from the field and 7-of-12 at the line.
York – who fouled out with 3:22 left in the four-minute OT period – led the Raiders with 19 points. Mason Dapore added 16 with Kearns and Francis both scoring 10. TJ Esser scored 15 to lead Jackson Center, while Aidan Reichert added 13 and Platfoot 10.
After that rough start that saw Russia jump out to a 10-0 lead in the first five minutes of the game, Jackson Center responded by outscoring Russia 23-6 the rest of the first half. Russia's defenders started picking up Jackson Center in the backcourt in the third quarter to put some pressure on the Tigers. It continued into overtime.
"The fourth quarter we became a little more aggressive. We got after rebounds and loose balls just a little bit harder," Borchers said. "It sort of made a difference and got a spark going for us. We shared a ball on offense and got people in positions they could make a play.
"Jackson Center, man are they good defensively. They have great help defense and they try to take you out of your game. They did a pretty good job of doing that."
Jackson Center – and the rest of the SCAL field – needs help to catch Anna in the standings. But despite the uphill climb Elchert encouraged his team after the game to keep battling.
"It's still early in the year. It's January. We talk about January as being a grinder of a month," Elchert said. "You keep plugging away so by the time February rolls around you're playing your best basketball. … Give Russia credit. At this stage you learn from this and move on to tomorrow night."