It rained strikes at Sidney's Bel-Mar Lanes Thursday as Troy topped Sidney in GWOC bowling…and as the most unlikely story in the house took individual high honors for the day.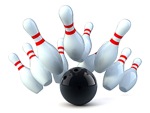 Sidney – Something in the air…something in the Gatorade, whatever.  No one could really explain why so many bowlers were throwing so many strikes and putting up such high scores at Sidney's Bel-Mar Lanes on Thursday afternoon.
For the match, Troy's boys team bested host Sidney by a total of 2,646 to 2,399.  But the bigger story was the number of 200 games bowled – and the upper reaches of 200 achieved by so many bowlers from both teams.
For Sidney it started with junior Jaxon Rickey, a two-sport athlete (baseball and bowling) who launched the Yellow Jackets' afternoon with an impressive 238…then followed that with a 215 to exceed his average of 220 (226 for the day).
Teammate Harrison Fisher was not far behind, rolling a 231 and a 213 for a match average of 222.
But for Troy, the former state champions in boys bowling in 2011, the numbers were even more stunning.
Drew Snurr rolled a 223, followed by a 233.  Teammate Jordan Fisher strung together a string of strikes to hit 255, and then followed that with a more modest 195.
Another Trojan, Preston Jackson warmed up with a 190…then topped that with a 239.

Pins were flying, scores were soaring, and the crowded onlookers were craning their necks in tiny Bel-Mar to keep up with who had the longest string of strikes.  And the one that caught the most attention was Troy senior, Preston Gambrell.
Gambrell opened his first game with a perfect 1-3 hit, but left a ten pin, which he easily converted for a spare.  Then…he proceeded throw ten straight crushing strikes, including the first ball of the tenth frame.  All eyes were on him to see just how high he could go.
But his second ball in the tenth struck a little high, leaving the 3-6-10 spare.  His concentration broken for the moment…he missed the spare to finish with a match-high 275.  Still, it set a new high in his short bowling career, but the story behind Preston Gambrell's 275 is even better.
"He's only bowled for three years,"  says his coach, Doug Stone.  "Preston started kind of late, but he's really worked hard over the summer to improve his game."
But if you bowl that well, why start so late?
"I quit another sport because I wanted to do something involved with school,"  says Gambrell, who would much rather bowl than talk.  "I thought I would try bowling because I like to do it anyway.  So I started three years ago and pretty much spent last summer in a bowling alley, practicing."
But the sport he gave up to bowl puts him in a company pretty much by himself.
"I gave up karate,"  Gambrell says.
After doing it for ten years, Preston Gambrell gave up karate – ala Ralph Macchio in the movie – to pursue bowling.
"I started karate when I was four years old, I got to my fourth degree black belt, and then I quit my freshman year to take up bowling.
"Bowling is like karate, it gets harder and harder as you get higher up.  But you can always get better, because obviously I'm not bowling perfect 300 games."
The house record at Bel-Mar is 856, which Gambrell noted before packing up to leave.  "That would be pretty difficult," he said with appreciation.  "Insane."
Sidney's Jaxon Rickey is an acknowledged story of consistency among GWOC North bowlers, whose average of 220 is impressive, and appreciated by teammates and opponents, alike.  And like most good bowlers, Rickey threw the ball better Thursday afternoon than his score might indicate, 238 notwithstanding.
A proponent of the growing two-handed style of throwing the ball, he creates tremendous spin on the ball which makes the pins explode upon contact.
"I started when I was five years old,"  Rickey said, post-match.  "And I like high school bowling because the atmosphere with it is really good.  There's always a lot of people here supporting you, yelling and chanting, and when you're doing good you're on top of the world."
Despite his 226 average for the match, it wasn't his best day, or by far his highest game.
"We really don't bowl here much, even though it's our home house,"  said Rickey.  "So sometimes it's hard to bowl here because we only see it six times a year.  We usually bowl at other houses."
And like Preston Gambrell, Jaxon Rickey wouldn't trade his skill in bowling for equal skill in any other sport.
"It means a lot to kids who do it because there's so many people that come to watch, and if you do good it really pumps you up.  It's nice that people come to support you, even though you don't get the crowds that come to see football and basketball.  I used to play basketball, but I had to make a decision and I chose bowling…because I was better at bowling."
Which begs the inevitable question at Sidney High School.  In a game of 'horse' with basketball phenom Andre Gordon, who would win?
"Andre would,"  says Rickey with a smile.
But head to head with Gordon in bowling, who would win?
"Oh, I'm winning that,"  he added with a laugh.
In girls action Thursday, Troy had another pair of top scorers, as the Trojans out-rolled Sidney, 2,150 to 1,539.  Senior Stephanie Crider had the top game of the match with a 225, and did it despite a horrible cold and sore throat.  She could barely talk.  Teammates Cassidy McMullen and Alyssa Shilt also sparkled, rolling games of 197 and 199, respectively.
Crider, who averages in the high 190s, also has some irony with her game.  A former cheerleader, she quit four years ago to pursue bowling.
"I liked it, and it gives me more opportunities,"  she says.  And those opportunities include money for college, as Crider recently signed a letter of intent to bowl with NAIA powerhouse, Pikeville University, in Kentucky.
And in matters of size, Cassidy McMullen was by far the smallest bowler in the house Thursday.  Yet, the little 'lefthander' averages 200 and like some of the boys at the other end of the alley, throws the ball with a good hook and a lot of impact.  And her impact, along with Crider's, has the Trojan girls atop the GWOC North standings.
They're a perfect 7-0 in conference, and 8-1 for the year.