In one of the area's best basketball games Friday, Minster showed flashes of how could they might yet be with an impressive decision over the stubborn Coldwater Cavaliers.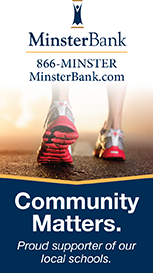 Minster – In PGA golf terms Minster coach Mike McClurg at least gave consideration that Friday's MAC showdown with visiting Coldwater was 'moving day' for his 7-3 (2-1 in MAC) Wildcats.
That is, it's that time of the season when you start making your move to be a contender.  On tour, it's Saturday.  You've made the cut, and now it's time to move up the boards.
But in high school basketball it's the month of January, where you take care of business to secure a better seed come tournament time.  And that time's a comin', and faster than you think.  Ten games into their schedule, it was time for highly-anticipated Minster – with size, experience, and a 6'9″ anchor in the post – to prove some things about their game.
And they did that Friday…about four shots better than Coldwater in a 51-42 win that was closer than the nine-point winning margin.
Four shots better?  Another golf reference?
Well it amounted to Minster's three-point shooting (7 of 17, 41%), and in particular a pair of them by point guard Mike Ketner to get the 'Cats out and running the first half…and two more by Jack Heitbrink and Noah Enneking in third quarter after Coldwater had made the halftime adjustments to keep a leash on Ketner.
"They've got such good balance,"  said Coldwater coach Nick Fisher.  "And they showed that tonight.  I thought we made a good adjustment at halftime to contain Ketner, and they have two different shooters step up and make big threes at critical points in the second half when we're competing for the lead."
But Minster showed more than just shooting balance…for the fact of their formidable size in side with 6'9″ Jarod Schulze, 6'6″ Cody Frericks, and and increasing contribution on a game-by-game basis by 6'3″ sophomore, Justin Nixon.  And their defense came up big when that kind of big was necessary, limiting Coldwater to just 14 second half points.  But for three quarters, the Cavaliers more than gave themselves a chance!
Trailing 16-11 after a quarter, Coldwater fought back in the second on the shooting of Ben Wenning and Cole Frilling to cut that deficit to 30-28 at halftime.  Pesky would describe the Cavs' effort, as they turned Minster over enough to pick up loose balls and score in transition, in addition to Frilling and Wenning each hitting three-point shots.
And they didn't go away.  The two teams played dead even in the third quarter, Minster holding a 41-39 advantage as they took things to the fourth, aided immeasurably by that pair of three-pointers by Heitbrink and Enneking.  And here's where more of Minster's balance paid off.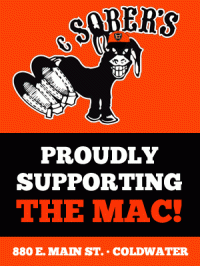 While Jarod Schulze got to the rim for eight points in the first half, Coldwater took that away in the second – Frilling and Noah Miller challenging the bigger Schulze at the rim, limiting the 'Cats' big man to just a pair of fourth quarter free throws.  And when necessity called, Cody Frericks responded.  Frericks scored 6 of his 8 points for the night in the final stanza (and 6 of Minster's 10 points for the quarter) while the 'Cats' defense limited Coldwater to just one made field goal (one for twelve shooting), and 3 points, for the final eight minutes – a three-pointer by Marcus Bruns.
"When we've scouted them it comes back that they're one of the most balanced teams in the area,"  Fisher reiterated.  "With the size they have inside and the way they can shoot the ball outside.  We made a good adjustment in the second half and they have someone different step up and make shots.  But I'm proud of our effort tonight, even though we didn't win.  We have kids that can shoot it – that can stroke it – but we're just not doing it right now, for whatever reason."
Mike Ketner would much rather play than talk about how well he played on Friday, because his four three pointers for the game (16 points), and overall play proved to be a dagger every time that Coldwater inched close, or took a short-lived lead.
"They were big shots, but it was just in the rhythm of things,"  said Ketner.  "I got 'em up and they felt good.  That's what I work on, consistency.  I try to do that every night."
But he had help on Friday – he and the 'Cats got by with a little help from his friends, Heitbrink (8 points), Enneking (5 points), and Frericks (8).
"We made some big shots,"  said Mike McClurg afterwards.  "But I was more proud of how we guarded in the second half – of the way Cody took charge inside.  We knew they had people that could shoot.  But man, we turned the ball over way too many times, and we're not going to be great if we do that.  It's good that Mike hit those three-pointers in the first half because that kept us in it.  We were giving them a lot of easy two-pointers."
The three-ball, as posed by one writer, turned out to be the equalizer, and hard to quantify because it came from so many different sources.

"We've talked about that before, because we get doubled in the post as much as we do,"  added McClurg.  "There's not many teams that can guard Jarod one-on-one.  He's big enough, he's skilled enough, and he's totally engaged right now.  So when he gets doubled it makes for a lot of open shots and we have to knock those down.   And that's why we had such a volume of threes tonight.  We weren't running plays to get threes…we're running plays to get the ball in the post and when they cover that up we get the kick-outs."
Minster shot a reasonable 42% from the field, overall, and 41% from behind the arc – Ketner leading all scorers with his 16 points.
Coldwater (4-7, 1-2 in MAC) pretty much matched them, with double-figure scoring from Marcus Bruns (13 points) and Cole Frilling (12 points), while Ben Wenning had 7, Noah Miller had 6, and Jacob Wenning had 4.
As to 'moving day', McClurg is one to insist that at this level of basketball your daily goal is simply improve, and if you're getting better with each passing game you take your chances with wins and losses.
"It's a good point in a lot of people's mind, but still, we need to focus daily on getting better,"  he said.  "And that's the truth…we need to clean some things up to be really good by tournament time.  And you've got to learn how to win, too, because St. Henry and Marion are going to be really tough, and we're going to see Marion next Friday."
It's safe to say that they gained on the field with Friday's win.  And you can easily make the point of them being four shots better.  Every time Coldwater made a run Mike Ketner, or Jack Heitbrink, or Noah Enneking, or Cody Frericks had an answer.  Their balance, in Nick Fisher's words, came up aces.
Now, can they can continue to make their move?