This was the test they'd anticipated, and the Anna Rockets did not disappoint.  Coming from seven points down, twice, in the second half, they caught Marion Local to win at the end.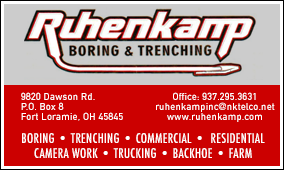 Anna – Clearly, and until someone proves this statement wrong, the Anna Rockets are the best boys team in area Division III or IV basketball after beating a determined (and a little beat up) Marion Local team, 68-67, Saturday night, in front of a packed house in Anna's cozy, claustrophobic gym.
Clearly?
Well, the 9-0 Rockets have now won in just about every conceivable fashion (except overtime) – blowouts mostly.  And Saturday night the defending Division IV champ Marion Flyers made them trail for nearly the entire game – three and a half quarters – before Anna could catch them at the end and finally take the lead for good with 32 seconds left on a corner three-pointer from junior Riley Huelskamp.
Marion led at the end of the first quarter, 19-15…at the end of the first half, 36-33…and at the end of the third quarter, 53-50, despite having turned the ball over 17 times due to the Rockets' full-court pressure defense.
And twice in the second half, Marion led by as many as seven points, but they could not put Anna away.
They tried, hitting five three-pointers out of seven attempts in the third quarter (and three in as many possessions).  But Anna kept pace at the other end, as Griffin Doseck (7 points in the quarter), Bart Bixler, and Carter Elliott all came back to score enough to keep the deficit manageable.  They trailed by just three points entering the fourth.
Marion again went out to a seven point lead in the fourth, and with four minutes remaining actually led comfortably after three-pointers by Nate Bruns and Max Albers.  But Anna kept chipping away, and that frenetic pressure kept forcing Marion into turnovers, rushed shots, and missed opportunities (bunnies) at the rim.  The Flyers missed no fewer than a half dozen point-blank shots, layups and putbacks, for the game.
With two minutes left, and Marion leading 64-58, the Flyers turned the ball over three times in four possessions, and on each Anna was able to come away with points at their end – on layups at the rim by Bart Bixler and free throws by Bixler, Doseck, and Huelskamp.  They cut the lead to 64-63, and with 32 seconds remaining Huelskamp found himself in the corner,  with an open look at the rim.  Why not?
He gave it a heave…and it found nothing but net.  They took the lead, 66-64, and crowd roared as Marion had one last possession after a taken timeout.  The Flyers got the ball across the time line, but Max Albers traveled under the heat of Anna's pressure and turned the ball over again.  Forced to foul, Marion sent Bixler to the line where he hit a pair to extend the lead to 68-64 with eleven seconds left.  With no possible way to win, Nate Bruns hit a three-pointer at the buzzer to cut the margin to a single point, but Anna had survived, 68-67.
It was exciting, yes, if not ugly from the standpoint of mutual execution.  Marion turned the ball over more times than they could stand, and for much of the first half Anna didn't play as well as they would have liked.  The pace was breath-taking, and part of the ugliness stemmed from the fact that Marion simply didn't have much left in the tank after Friday night's exhausting win over St. Henry.  Or, perhaps, for the fact that Anna was off on Friday, and hadn't played in a week.
But it was breath-taking for both teams, and afterwards Marion coach Kurt Goettemoeller leaned back against the locker room wall, closed his eyes from his own personal fatigue, and praised Anna's comeback effort.
"They're a really, really good basketball team,"  he said.  "It was super competitive tonight, and win or lose this will help us down the road.  We lost some late leads like tonight last year, the same way, and that's disappointing right now.  But my message to my team was we have to stay positive and learn from it."

Anna's pressure, and pace of play, something they've featured throughout their now 9-0 start, threw Marion into disorder, causing the turnovers, and too many lost possessions and opportunities to score.
"I take some of the blame for that,"  added Goettemoeller.  "Because we need to have a second, third, or fourth option when things get tight like that.  We were relying on our all-conference player (Bruns) to get the ball up the court, and he can do it because he's a good ball handler.  But their guards are quick, and they double you up and get up underneath, and that makes it tough.  What you need to do in that situation is attack the pressure and go get layups, and we weren't able to do that.  They made it difficult, and give them a lot of credit.  They won the war of attrition."
Bruns, notwithstanding the turnovers, was fantastic, scoring a game-high 28 points.  But the tandem of Bixler (20 points) and Griffin Doseck (19 points), for Anna, was equally impressive, scoring 39 of the Rockets' 68 points.  Riley Huelskamp's game-winning three-pointer capped his own 11-point effort.
"This was the longest we've played from behind all year,"  said Anna coach Nate Barhorst.  "But our kids always play with relentless effort and it look like that caught up with them at the end.  To see us overcome the big margin like that, and get turnover after turnover after turnover, we were eventually able to cash in with some free throws at the end…and Riley's three-pointer was huge.
"And Bart Bixler, when we switched him onto Bruns at the end.  Bruns can do a little bit of everything and Bart's quickness, and what he did against him, was just phenomenal."
Bruns' 28 points was game-high for both teams, but he was joined in double figures for Marion by Nick Tangeman, with 10 points.
"I'm very proud of our effort,"  added Goettemoeller, whose team now stands 4-3 for the year.  "Because last night was so physical and tonight was much of the same – and probably more athletic than physical.  I'm proud of the kids because this whole weekend they've given a tremendous effort and some of them have logged a lot of minutes.  Three or four of our starters were out there both nights for the whole time.  I give them a ton of credit for how hard they played.  We just have to learn how to close out games better.  If we do that we're going to be good."
In the other locker room, Nate Barhorst was crediting his own team in similar terms.

"You know, the way they came out and shot threes in the third quarter…Rethman hadn't shot like that when we've seen them…and you wonder if it's just not your night when that happens,"  he said, smiling.  "We never saw them shoot like that on film, or any the games that we went to.  And it wasn't just one guy, it was multiple guys (Bruns, Rethman, Kyle Francis, and Max Albers accounted for seven made threes in the second half).  It was good for us to get through that, and sometimes you're left speechless because you don't know how you did it.
"Did they're having to play last night help?"  he added.  "Well, maybe, but on the other hand we hadn't played for eight days and maybe we had a little rust because we hadn't played.  We didn't hit some shots we normally hit, and that's the way it goes sometimes.  Maybe we weren't ready to play because of the time off.  But to see us do what we did in the second half was a great sight to see."
With apologies, of course, to those who watched with a heart condition.  The Rockets are still unbeaten, and 'til someone proves otherwise…still the best!