Jackson Center's stingy man defense held Fairlawn to a season low in points in the Tigers' 47-27 SCAL victory on Friday night.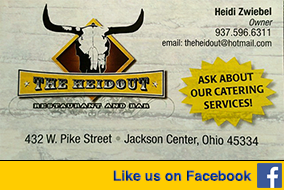 Jackson Center – Aggressive man-to-man defense has been a staple under Scott Elchert's boys basketball program at Jackson Center. This season, the Tigers have also emphasized a next-man up philosophy to compete in the tough Shelby County Athletic League.
When junior defensive stopper Calvin Winner was lost for the season with a dislocated shoulder during a scrimmage, it rearranged Jackson Center's starting lineup and defensive assignments. The Tigers miss Winner's 6-foot-4 height and wingspan in the middle of the lane. But his teammates have combined to keep opponents off balance.
The Tigers did it again Friday night at home, holding Fairlawn to a season-low 27 points in Jackson Center's 47-27 victory.
A young and scrappy Fairlawn team that starts two juniors, two sophomores and a freshman trailed 8-7 after the first quarter. The Tigers defense then took over.

Jackson Center – led by three-pointers from Aidan Reichert, Christopher Elchert and TJ Esser – blitzed Fairlawn with a 13-2 run to take control. The Tigers (7-2, 5-1 SCAL) turned that 8-7 advantage into a 21-9 lead midway through the second quarter.
"They just clamp down on you," Fairlawn coach Justin Tidwell said. "They're aggressive in the first half but they come out in the second half and they suffocate you. They do a good job. When you make mistakes offensively they slap your wrist."
The Tigers' defensive pressure helped hold the Jets (4-5 overall, 2-3 SCAL) to three field goals in the second half on 3-of-14 shooting. The Jets shot 9-of-30 overall.
Sophomore Ashton Piper scored nine of his team-high 13 points in the first half to keep Fairlawn close. But Jackson Center limited Fairlawn to two rebounds in the second half – the Jets unofficially had 10 overall – with that defensive mindset.
With Winner out the Tigers have relied on 6-4 sophomore Reichert, 6-2 junior Jerron Reese and 6-0 junior Garrett Prenger to do the often overlooked and hard-nosed work as stoppers inside. Reichert also came up big offensively with a game-high 19 points, including 11 of his team's 23 points in the first half.

Trent Platfoot scored 10 points, Elchert added eight points, Esser six and Reese four. The Tigers shot 15-of-27 overall.
"Aidan had a very solid game at both ends of the floor. He had a tough defensive assignment and he did a lot for us offensively," coach Elchert said. "That's his role on this team. He does a nice job as a sophomore in particular."
In addition to Piper's offense, Skyler Piper added five points, Caleb Puckett three and Garrett Kramer, Isaac Ambos and Jackson Jones two each.
The Jets are dealing with the loss of a key player, too. Sophomore point guard Drew Maddy broke his finger last week. He could return the final week of the regular season.
"Any time you lose a starter it changes the whole dynamic of the game, especially losing a kid like Maddy who was running the point for us and doing a nice job," Tidwell said. "He was kind of our defensive effort guy that we knew could put on someone to contain or control them. It hurts your defense and that was pretty evident tonight."
Fairlawn travels to Indian Lake on Saturday and returns to SCAL action next Friday hosting Fort Loramie.
Jackson Center, which travels to Waynesfield-Goshen on Saturday, hosts Russia in a key SCAL game next Friday. To keep pace with undefeated Anna in the league, Jackson Center will need to clean up some uncharacteristic fourth-quarter turnovers it had against Fairlawn.
The Tigers finished with 14 turnovers overall, including nine in the second half when they led by double digits.
"We respect the heck out of Fairlawn's program. When you take the lead above 15 points or so we probably let our guard down because that's not what we expected," coach Elchert said.
"(But) I do like the way this squad continues to progress. The biggest thing I like about them is their chemistry as a collective 13 guys. … (Winner) is as much as a part of this group as the other 12 guys. To watch them work and interact with one another tells me this group has something good going. I always feel chemistry is the No. 1 thing and they have it."
To a man, you could say.