They hit their first five shots and never looked back.  Division IV defending champs handled rival Fort Recovery Thursday in a manner that might send a message to all would-be contenders.  The Division IV title this year, come March, probably has to go through Minster again.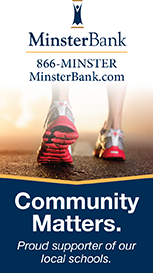 Minster – It was impressive, really.  They got the opening tip, sophomore point guard Ivy Wolf slashed to the rim to score the game's first points, and the state's defending champs in girls Division IV basketball then proceeded to hit their next four shots, and six of their first seven in route to a 25-14 first quarter lead.  Wolf, herself, would score almost half of those 25 points, with eleven.
From that point it was a veritable psunami, a tidal wave of points on one end and defense on the other that looked like a wall of water…as the Minster Wildcats (11-0) ran out to a 37-16 halftime lead, and an eventual 54-24 win to hand a tall, and talented Fort Recovery team (4-5) its fifth loss of the season.
But as good as they started, the most impressive thing to observe was…that this same Minster team that won last year's Division IV title so convincingly – is back to defend in 2019, bigger, stronger, wiser, and far more confident in themselves.  In the manner in which they've run off eleven straight wins to begin their season – and in the manner in which they handled a Recovery team that will not be an easy post-season out come tournament time – they served notice with Thursday's romp that the Division IV title will likely go through Minster again, come March.
"I won't say that we always shoot the ball that well at the start of a game,"  said coach Mike Wiss, afterwards.  "But here of late, we've brought that kind of energy that we had tonight, and the ability of our guards to create some havoc on defense – we played really well tonight."
And they've been playing really well.  They don't shoot 60% from the floor every night, as they did in the first half Thursday…but Minster always, ALWAYS, ALWAYS plays defense, and the manner in which they shut down Recovery means that they won't have to shoot 60% from the floor, over even 50, or 40, to beat good basketball teams between now and March.
For example, after limiting Recovery to just 14 points in the first quarter, thanks to three made three-pointers by Val Muhlenkamp, they really got serious in the second quarter, allowing just two free throws by Alli Vaughn in a near-shutout eight minutes.  They then allowed the generous total of five points in the third, and in the fourth, as both teams substituted freely, they tightened up their effort by giving up just three more.
And as to how they did this, their swarming man-to-man defense, a staple of last year's title team, created 36 deflections of Fort Recovery passes for the game.
"We wanted to make it difficult, of course, to enter the ball into the post (where 6'1″ Olivia Patch played),"  said Wiss.
Mission accomplished!
"And second, we wanted backside help when the ball was on the wing, and our guards really helped Courtney Prenger when she was trying to front the post,"  he added.
Prenger had a great defensive game with their interior defense, limiting Patch to just one point.  But just as impressively, for historic note, her mid-range jumper in the second quarter netted the Xavier-bound senior her 1,000th career point at Minster, joining Lauren Shenk as the only other female to do it, and Shenk did it before Prenger was probably born.
"Honestly, I never imagined four years ago that I would score a thousand points,"  said Prenger.  "But when you consider that only one other player has scored a thousand it says a lot about how we do things here.  I wouldn't have a thousand points if it weren't for my teammates.  It's a great accomplishment, but it's an accomplishment for all the girls I've played with over the past four years, too."
"She's very unselfish,"  said Wiss, talking about his milestone player after the game.  "And shooters have to shoot, I know that.  But the impressive thing is that Courtney has averaged about eleven points a game in her four years here.  So divide a thousand points by eleven points and it gives you an idea about how consistent she's been."
But good as Courtney Prenger has been during that time, the unquestioned leader and indefatigable force of this basketball team now, as a sophomore, is Ivy Wolf, who shot lights out (8 of 19 from the field) and connected on four of seven from three-point range to ring up her game-high 21 points.  In addition, Prenger would finish with just 6 points, while Jessica Falk had 9, Courtney Ernst had 8, Demaris Wolf had 7, Karly Richard had 2, and Jenaye Hoying finished with 1.
Val Muhlenkamp led Fort Recovery with 11.
"We wanted to come out and get off to a good start, get a big lead, and play with a lot of energy,"  said Wolf, of her and her team's start.  "That put them back on their heels and really got us going."
Just ten months removed from her impressive debut as a freshman, the Wildcats' point guard is far from being the same player she was then.  Like the rest of her teammates, she's bigger, stronger, and wiser.
"The off-season was big for us,"  she admits.  "Time in the weight room and time playing AAU basketball, then volleyball and track, it really helped with conditioning for basketball.  And we're a totally different team than we were last year.  We've had to move some players because of the girls we lost last year, but we're quicker and more able to run the floor than we were last year.  That's nice."
"They're really good,"  said Recovery coach Brian Patch, whose team undoubtedly felt the psunami effect.  "And their pressure just absolutely killed us the whole game.  We couldn't get anything, we couldn't run anything, couldn't get the ball inside to Olivia…we did hit some shots early on (Muhlenkamp's threes)…but for the most part they took everything away from us.  They're really good."
Good, yes.  But the most notable attribute in comparing them to last year's team…is their confidence.  They play like a team committed to defending a title, committed to doing the work necessary – just bigger, stronger, and better.
"We look pretty confident in what we do,"  adds Wiss.  "I like our unselfishness, we share the ball really well, we work hard on defense, but in my humble opinion it speaks to the program that Nann Stechschulte created here.  That's what you're seeing.  I know I'm the one in those shoes now, but I'm trying to carry on what she created.  There will be nights when we don't shoot like we did tonight, but the one thing we preach is…offense comes and goes, but defense never leaves you.    And right now our defense is pretty good."
"Really good," in the words of Brian Patch.  And in total, a good eyeful for those there to scout on Thursday.  It's not the same team that won that last year – not the same Ivy Wolf, Courtney Prenger, Demaris Wolf, and Jenaye Hoying.
Better!