The most talked-about evolution in bowling is not the color of the ball, or the style of shoes and shirts.  No, it's whether you bowl with one hand, or two.  And those who have made the switch to two-hand bowling say it's just right for them.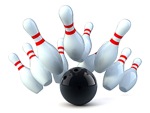 When Australian PBA professional Jason Belmonte won his first career title in 2009, using a two-hand style of rolling the ball, it opened some eyes and immediately became the subject of controversy.  And since, Belmonte has become a household bowling name either as a hero, or a villain, depending on whom you ask.
"It's something that kids have been doing now for several years,"  says Coldwater High School coach Rick Hartings, acknowledging the normal copy-catting of something that works for someone, somewhere.  "It's different, and some of the kids like it.  I actually had a bowler a few years ago win an individual state title bowling two-handed, but it's not something that's easy.  You do get more spin on the ball, and more pin action, but you also have to have good technique to be sure that you're consistent with it every time."
What Hartings, as others would tell you is…it's not for everyone.  But to a growing number of bowlers in the West Ohio High School Bowling Conference it's something that's definitely for them.  Two of Hartings' current rollers, Derek Seifring and Kendall Homan, have adopted the style and are using it to their professed advantage.
"I had no choice,"  says Homan, a tall, thin bowler who's probably 6'2″ in height and has to really bend to facilitate the two-hand technique.  "I tried to bowl one-handed and it looked terrible.  I couldn't do it.  So when I started bowling two-handed I got better.  It felt right and I kept doing it."
Others noticed, including teammate Seifring, who Saturday in New Bremen rolled nine strikes in a game to total a 223…and could have scored fifty pins higher had it not been for an open frame early,  and one in the tenth frame.
"I copied the style from Kendall,"  says Seifring, who's about 5'9″, and imparts tremendous spin and speed on the ball when he starts it down the alley.  "I saw him do it, I started playing around with it, did pretty good, and decided to keep bowling that way."
Others, like St. Henry's Noah Stammen are doing it, getting high pin counts, and scoring with consistency.
"It gives you a lot more torque and pin action,"  claims Seifring, a senior at Coldwater.  "It allows me to get around the ball more (more spin) and throw more strikes."
But it looks painful, and something that your dad would never have tried in a bowling alley.  As they say…all the advantages seem to favor the young.
"Well, when I'm old I guess I be bowling from a wheelchair,"  smiled Seifring.  Apparently, he has no plans to change.
And why should he when the PBA tour is now littered with those who have followed the lead of Jason Belmonte – Anthony Simonsen, Jesper Svennson, and Kyle Troup, among others.  And just five years ago, and three years after winning his first tour title, Belmonte was credited for being the best professional bowler on tour.
But sports evolve. Basketball adopted a 3-point line, then eventually became more of a shooting game as opposed to a physical battle underneath the rim.  Football has become more of an aerial game and is continuing to break away from Woody Hayes' old style of three yards and a cloud of dust.  Bowling is no different. The game has undergone a change, and it doesn't seem to be going anywhere anytime soon.
That said, here's some words for the traditional, and sophomore bowler Tyler Gehret, from Versailles, who used the conventional one-hand style Saturday at Speedway Lanes in New Bremen to bowl a match-best 243, followed by a 221, for a two-game series of 464, the best of the day.  Gehret strung together eight strikes in his last nine frames to gain his 243, and could have topped his all-time best game had he thrown one more strike in the tenth frame.
"My high game has been 256,"  said the diminutive Gehrett, who started Saturday with a spare in the first and an open in the second.  But from that point on he was…money!  "But I started that game the same as today.  I wasn't very good at the beginning."
And another word for the growing popularity of high school bowling…as tiny Speedway Lanes was jammed to capacity to watch Saturday's action.  It was energetic, loud, and the kids, like Derek Seifring, Tyler Gehret, and Matt Meinerding (with a high game of 202) responded.  They're not doing it the way Dad would have done it in his day.
But Dad never saw the day when he could pack a bowling alley at 9:45 in the morning.