UD fell prey to their alarming trend of streaking out to a comfortable, only to lose it in the second half.  Fortunately, they won again, over Georgia Southern, and were so entertaining that hardly anyone noticed.
DAYTON — With no apologies to Sir Winston Churchill, the University of Dayton basketball team needs to apply what Great Britain's former prime minister once uttered: "Those who fail to learn from history are doomed to repeat it."
The Flyers seem to be following the same script in recent games, establishing their own history, one that does not please coach Anthony Grant.
They did it three games ago against Tulsa. They did it two games ago against Presbyterian. And on Saturday afternoon in UD Arena they did it again against Georgia Southern.
What do they do? They play a solid first half, construct a comfortable lead. Then in the second half they back off. They permit the other team to scramble back into the game.
On Saturday, they outscored GSU, 25-9 in the final 8 1/2 minutes of the first half to lead at intermission, 47-34.
But, oh, another woeful final 20 minutes for the Flyers. They led by 10 with five minutes left, but Georgia Southern pulled with one with 2:43 left and it was a Mad Hatter scramble down the stretch run.
Jalen Crutcher hit two free throws with five seconds left to protect a 94-90 victory.
Coach Anthony Grant was a bit glum after the Slim Jim escape that pushed the Flyers to 8-and-5 on the season, their last game before Atlantic 10 Conference play begins.
"Just being honest, the pattern that we're showing here is not the identity that we want to have as a basketball team," he said. "You look at the last three games, it is a concerning trend with the way we compete, the way we hold ourselves accountable in what we do.
"As we prepare for the conference, we have to be better," he added. "We have to understand that, we have to recognize that. We have to grow up as a team."
And with no apologies to Charles Dickens, as far as individual play it was a Tale of Two Prettys.
There was the pretty play of Josh Cunningham in the first half. He scored 19 points in the first half on eight of nine shooting.
But he finished with only 25, taking only five shots in the second half and making two.
Then there was the pretty play of Obi Toppin in the second half. He scored seven in the first half, but dropped in 15 in the second half and finished 9 of 10 from the field.
And there was a Toppin dunk that was unbelievable, a dunk one only sees in a slam dunk contest. And it was one that did not please his coach, even though within an hour of the dunk it appeared on one web-site and had 25,000 hits.
After the game was over, ESPN, Bleacher Report and Sports Illustrated requested video of it.
And here is how it happened:
With 6:05 left and UD up, 77-68, Jalen Crutcher stole the ball near mid-court. Toppin was sprinting toward the basket, all alone.
Crutcher hit him with a pass near the foul line. As Toppin left his feet, he put the basketball between his legs on his way up and slammed it home. The 13,147 fans went bonkers and even Georgia Southern radio broadcaster Danny Reed leaped from his court-side chair and screamed to his listeners, "I just saw something I've never seen in a basketball game, not even in the NBA."
During an ensuing timeout, coach Anthony Grant lectured Toppin on basketball decorum.
After the game, he said, "I'm happy it went in. As a freshman, you have to understand the time, the score and the situation. Because it went in it is a play the crowd gets excited about.
"Those are potential momentum-swinging plays," he added. "It was only a three-possession game at the time. A little risque for my taste. But not many people on this earth can make that play, so I know it is a highlight play and probably will be on SportsCenter. But at the end of the day, as a competitor, you play to win. You put that in the forefront of everything else. That's what it is about as being part of the team."
Toppin was a bit sheepish after the game when he talked about it, but it WAS the highlight of the game, the only part of the game that was on SportsCenter, the only part of an exciting game that fans left babbling about.
"I just felt good leaking out and getting the pass from Jalen," he said. "I felt good, like jumping."
But why put the ball between your legs while jumping?
"I do it a lot in practice, so I just had the confidence to do it," he said after his 35th dunk of the season. "Coach told me to make sure, next time, that I look at the clock and see the situation. I didn't know it was a close game."
Asked what Grant might have done had he missed the dunk, Toppin said, "Whew. . .I don't think I'd be playing any more."
And asked if it was his favorite dunk, No. 1 of all-time, he smiled and said, "Oh, by far. Yeah. By far."
Georgia Southern, 8-and-5, came in with some impressive numbers and even though the Eagles lost, they lived up to the numbers.
—They averaged 87 points a game. They scored 90
—They had scored 80 or more eight times, 90 or more four times and 100 or more two times.
—They were seventh in the NCAA in field goal percentage at .508. They hit .556 (35 for 63) against the Flyers.
—Tookie Brown, a 5-foot-11 guard leads the Eagles with a 16.7 average. He scored 20, 14 in the second half when GSU outscored the Flyers, 56-47.
Georgia Southern began the game without one of its starters, out with injury, and lost another just 16 seconds into the game. Montage Glenn, averaging 10 points and seven rebounds, crumpled to the floor and left, never to return.
So the Eagles could not stop Cunningham under the basket and he scored 19 in the first half.
Asked about Toppin's dunk-of-the-decade, Cunningham said, "When he did that, I asked myself, 'Did he really just do that?' It was shocking to me that he did it when the game was so close. It was very brave to do that.
"And I told him, for sure, don't do that — just a regular dunk or lay the ball in," said Cunningham. "Because if he had missed, that would have been a big swing."
GSU outscored the Flyers 7-0 late in the game to draw within 85-84.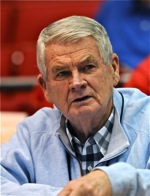 Cunningham scored in the paint with 2:16 left and it was 87-84. GSU's Brown hit a short jumper to make it 87-86.
Jordan Davis buried a '3' at 1:52 and UD led, 90-86. Brown hit a layup at 1:37 and it was 90-88. The Flyers missed two shots, but after a GSU missed Jalen Crutcher made two free throws to push it to 92-88. Quan Jackson scored against at 0:06 to make it 92-90, then Crutcher finished it at 0:05 with two more free throws.
"We made some plays down the stretch that secured the win for us," said Grant. "Trey Landers got two rebounds late in the game that were huge. Jalen Crutcher stepped to the line and went 4-for-4 to preserve the win. Jordan Davis made a big three down the stretch to give us a two possession lead. The guys did make plays down the stretch."
Grant then went into his dissertation about his team's propensity for second half laxity, something the Flyers need to fix before embarking on the Atlantic 10 trail.