Minster escaped its three-game losing streak with a formidable size advantage, hot shooting from the perimeter, and a ton of points in transition.  The Wildcats ran past Russia, 68-46.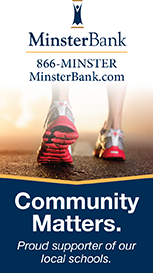 Minster – Minster coach Mike McClurg needed a win Friday night.  He didn't make a big deal about it, but a three-game losing streak (3-3) is hard to swallow in December when in just one week conference play begins in earnest.
Why?
Well, expectations, when your post player is 6'9″ (Jarod Schulze) and you return experienced talent from last year's 15-8 team (6-3 in the MAC).  And, the issue of losses to quality programs like St. John's, Wapakoneta, and Legacy Christian raises the inevitable question of what happens against other prime time opponents to come after New Year's – St. Henry, Marion Local, and Anna.
If you're Russia coach Dave Borchers, you might claim to be the quietest 6-1 team in area Division IV, having lost only to Jackson Center while knocking off St. Henry in the season's first weekend, by 14 points.   Since, however, the wins have been more pedestrian…against Arcanum, Botkins, Riverside and Fairlawn.  But Borchers, like Mike McClurg, was no doubt looking for a good effort.
So yes, they were both looking for a win Friday, but as is usually the case…only one can pull it off.  And it was Minster who did it impressively, escaping the three-game schneid with a 68-46 win in front of a home crowd counting the made three-point shots while they counted down the days to New Year's eve.  Because…Minster hit a bunch of them.
Three point shooting, the Wildcats formidable size advantage inside, and Russia's inability to find a rhythm defensively ultimately made the difference in what was undoubtedly Minster's best outing of the year.
They shot 51% from the floor, but more impressively, 47% from three point range (9 of 19) to quickly pull away to a ten-point advantage in the first quarter, and a deficit Minster would carry into the halftime locker room, leading 26-16.  And by no coincidence, four of their eight made shots in the first quarter, and eleven total for the first half, came from behind the three-point line.  Senior Noah Enneking hit a pair, and Mike Ketner and Jacob Salazar each connected from long range, and those twelve points were the difference in the first half.
"It's easier when you have the size inside that we have,"  said Enneking afterwards.  "We were going inside-out with the ball, and when they collapsed down we had some wide-open looks."
True enough, but the difference in Friday and their three previous games was a matter of cashing in on those wide-open looks.
"We shot it well tonight,"  added Minster coach Mike McClurg.  "The last three games we didn't shoot very well, and the bottom line is we hit three pretty tough opponents (Delphos, Wapak, and Legacy Christian).  Tonight we knew what we needed to do.  The difference was we were able to execute better.  In the three previous games we had too many turnovers and we took some bad shots."
And while they were shooting the ball better in the first half, their size inside – Cody Frericks (6'6″), Jarod Schulze (6'9″), and as it turned out, Justin Nixon (6'3″) – blocked four Russia shots in the first half that seemed to throw the Raiders out of their normally principled offense.  Instead of sharing the ball and finding open cutters to the basket, their offense became helter-skelter, and when an open cutter did get to the basket Frericks, Schulze, Nixon, and company were waiting to contest the shot.
It became a tough night for Russia, a team that usually prides itself in making nights tougher for the other team.  Poor shooting, contested shots, and Minster's ability to score repeatedly off transition in the second half became an exercise in frustration.  Still, after Minster had swollen its lead to 16 points in the opening minutes of the third quarter, Russia was able to go on a 6-0 run of its own to cut the lead back to ten…41-31.  McClurg and Minster called a quick timeout to redress themselves, and that break in momentum seemed the turning point of the second half.
"They started to make some runs at us in the second half, but tonight we were able to manage those stretches better," said McClurg.  "And because the fouls were kind of lopsided in both halves, we had to sit Jarod (Schulze)…it seemed about 90% of the game.  So even without him on the court I thought we played better together, we hit some shots, and we played better defensively, because Kearns is scary and they have shooters around him.  But we were able to handle him (them) with our length."
Schulze, to be exact, sat out approximately 18 of the game's 32 minutes, which only magnified the job that Frericks, Jack Heitbrink, Nixon and company did to clog the middle and force Russia to take, and hit, tough shots.  And no one took more of them, and played tougher, than senior point guard Mason Dapore.

After going scoreless for the game's first sixteen minutes, Dapore put it upon himself to play his team back into the game in the second half, scoring a team-high 15 points – nine in the third quarter and six in the fourth.  The kid with the goggles played hard, but it wasn't enough…because Minster started to rain more three-pointers in the fourth quarter, two more by Enneking, two by Mike Ketner, and one by Ethan Lehmkuhl.  By the four-minute mark left in the game, the issue was decided.
"Defensively, we just weren't what we could have been tonight,"  Dave Borchers said quietly after the game.  "Minster played well tonight and deserved to win by the margin they won by.  When we got some momentum they knocked down some big shots to take back the momentum.  And offensively, we didn't share it as well as we have been last couple of games.  Too much one-on-one and we didn't have very many assists.  So tomorrow morning we'll go back to the drawing board.
"Mason Dapore plays hard, he really does,"  added Borchers when asked to comment on his second half effort.  "He's quick, he throws his body around, and he gets after it.  He's pretty good at hitting the mid-range shot, which he did in the third quarter, and he's capable of hitting the three, as well.  He does everything I ask him to do."
Minster finished with three players in double figures – Frericks with 17, while Enneking finished with 16, and Mike Ketner had 13 – while Schulze and Nixon had 6 each, Ethan Lehmkuhl and Jacob Salazar 3 each, and Trent Roetgerman and Jack Heitbrink had 2 each.
Russia finished with Mason Dapore's team-high 15 points, while Jordan York had 9, Daniel Kearns had 8, Evan Monnier, Carter Francis and Adam Dapore had 4 each, and Michael York had 2.
While coaches aren't prone to admit it before the fact, Mike McClurg confessed afterwards that the prospect of losing four in a row was pretty powerful motivation.
"It was," smile McClurg.  "Any time you lose three straight it's not good, but I think we grew a lot as a result of the situation we were in. There's a lot of things you need to learn throughout the season, and it's easy sometimes to say we've got to have a win, but our focus is to be really good in March.  We're competin' every game to win, but we also want to grow and get better and I think the three games we lost really helped us do that."
Translation:  They really needed a win over Russia on Friday night.  They shot well, they defended well, they played well together…and they got it.  That, and a happier New Year's weekend!