They made it look easy…vintage Fort Loramie basketball with defense, speed, and points off turnovers.  In case you haven't noticed, they're 8-1 and looking like another deep post-season run.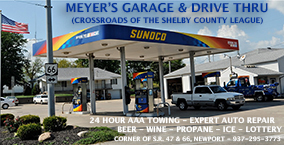 Fort Loramie – Yes, Virginia, it's too early to be taking anything for granted – too early to be talking about sectional, district, and regional rounds of the tournament.
But let's cut to the chase and admit…that at 8-1, and playing the way Carla Siegel likes to play her basketball, this 2018-19 edition of the Fort Loramie girls looks an awful lot like teams of the past that did win league, sectional, district, regional, and yes…state titles, twice.
Their latest victim?  New Knoxville, Thursday, who staggered out of the gate, fell behind early and trailed 14-6 at the end of a quarter – and 36-12 at the end of the first half – and were never a threat in the second half, despite Siegel substituting liberally throughout.  Loramie won it by 27 points, 55-28.
Junior Marissa Meiring, a 5'8″ junior, led all scorers with 15 points, but she had lots of help.  Ten different Redskins scored – Meiring (15), Dana Rose (10), Kennedi Gephart (9), Taylor Ratermann (6), Ava Sholtis (4), Jadyn Puthoff (3), and Caitlyn Gasson, Riley Heitkamp, Corynn Heitkamp, and Kenzie Hoelscher each scored 2.
But it was the way they scored that reminded you of teams past – high energy, swarming defense, turnovers created, and athletic enough to turn turnovers into easy points at the other end.  Outrun 'em, and score on layups.
"I just think that when someone does something good our whole team feeds off that," said Marissa Meiring.  "Our whole team seems to rise up when that energy is there, from the court and our bench."
And never more evident than on Thursday against a New Knoxville team (6-2) that had never beaten Loramie in 19 previous meetings.  Meiring, Ratermann, and Gephart all scored off early turnovers…and they were off to the races.  Despite the efforts, and presence, of the Rangers' senior guard Erin Scott, there was little they could do about it.
"Scott's a really nice player,"  said Siegel afterwards.  "She gave us fits when we played them last year."
But despite Scott's team-high nine points, the only fits on Thursday were the ones dished out by the Redskins' defense – the turnovers that started to mount up throughout the second quarter, and the subsequent points.
"Our energy was good,"  admitted Siegel afterwards.  "And we had had a great game on Saturday (against Versailles), so you worry about how you will come back and play after three days off.  You wonder if they'll come back with the same energy.  But when I walked in tonight they had that look in their eyes, and I knew we were going to be OK.

"Tonight was vintage basketball for us, even though it's early in our season and we have a lot of things to improve,"  added Siegel.  "But what I'm seeing is really good – changes in some of the girls, getting hands on passes and creating deflections.  If we can do that we get into our transition game and easy points.  But there's other things we have to fix and we're getting there.  We didn't box out as well against Versailles as we wanted, but we really worked on it in practice and tonight we did a much better job on the boards."
To her point, it was largely one and done in the first half, as New Knoxville had but four offensive rebounds, and just four points off those rebounds.  The misses?  They turned into more transition opportunities for Loramie as Gephart, Ratermann, Rose, Sholtis, Gasson and company were off and running to the other end.
"This is a very athletic team, and I remind them of that all the time,"  says Siegel.  "We're not necessarily the smartest basketball team at this point, but athletically we get after it.  Their footwork is good, their hands are active, we just need to keep in mind to do the things we need to be successful.
"[Erin] Scott is a great point guard, and Megan Jurosic is a fine inside player, and I was really concerned before the game about how we would defend those two.  But Kennedi Gephart and Caitlyn Gasson did a great job of playing defense on Scott, and Dana Rose and Kenzie (Hoelscher) did a great job on Jurosic.  And when we go to our bench there's no drop off with the level of our athleticism.  It's a great comfort level for us to have."
Their average margin of victory during their eight wins has been about 25 points – their lone loss of the season came early against West Liberty-Salem (44-43), a good learning experience in Siegel's words.
But since…vintage Loramie basketball that's highly reminiscent of Carla Siegel's two title teams in 2013 and '15.  They do get after it, they run like deer, and Thursday they made it a point to finish at the other end – 20 of their 55 points came off turnovers.
And, who's surprised?