Like most of you, I was glad to see the Reds finally get off the 'prospect' train with the Homer Bailey trade.  But the major leaguers they acquired come with some questions…and baggage.  In Norwood they're already preparing for the coming of Puig.
It's the week between Christmas and New Year's and there's not much going on.  A few holiday basketball tournaments just to keep the sneakers warm, but otherwise, everyone's attention is going to be on Alabama and Oklahoma…or why the Buckeyes got screwed even after they beat beat up on Michigan.  As if Michigan were the '85 Chicago Bears!
So, some thoughts on baseball (what else), the Reds, and the trade that all you die-hards are probably way too excited about.  I don't have a 'man cave', mind you, but just for fun you can compare what I think with Hal McCoy…and see if great minds really do think alike!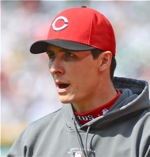 I always liked Homer Bailey, and I'm not alone.  Hal likes him, too…because he's a Texan, a straight shooter, and was bold enough to benefit from 'the game' behind the game that is major league baseball.  That is, he got paid before he got hurt.
But Homer had seen his day in Cincinnati.  And sadly, he'll be remembered for just two things.  He pitched two no-hitters for the Reds;  and he was 1-14 in his final year.  Someone on Facebook has already posted they were sorry to see him go, because…"He was just about to win a game."
So now he's gone to the Dodgers, who say they'll release him because they want to create salary flexibility in hopes of signing the boy wonder from Washington.  We'll see.  For their troubles the Reds get Matt Kemp, Alex Wood, Kyle Farmer, and Yasiel Puig.

Wood is a lefthanded pitcher that reminds me of Tom Browning with a better curveball.  Doesn't throw frighteningly hard, throws strikes, has had injury history and probably won't hold up for 200 innings of starter work in Cincinnati.  Plus, when you throw the curve as much as he does you hang the curve, proportionately, and I expect a bunch of them to land in the Ohio River.  I grade it a mild upgrade from Homer, for freshness sake alone.
Kyle Farmer is a catcher, so that hints to me that they either plan to shop Tucker Barnhart for something better, or they're not that happy with Curt Casali as a backup.  And I thought Casali was wonderful in the playing time he got last year.
Matt Kemp is something old, something blue (he came from the Dodgers), and something borrowed, as the trade rumors are flying already that the Reds have no intention of keeping him.  He's a leftfielder and they already have people for out there, with more on the way.  And by the way, he has a reputation for being unhappy, regardless of his circumstances.
And then there's Puig.
Yasiel Puig, talent-wise, is this Cuban Adonis who reminds me of the great Roberto Clemente because he can run, he's got a cannon for an arm, he occasionally hits for power…but he swings at too many bad pitches and it's reported that he can be a bona-fide, US Grade 'A' knucklehead that's also moody and hard to get along with.  He's so talented athletically that it looks like he's not running hard even when he is…so it's just a matter of time before they start yelling at him from the 'moon deck' in right field, and some guy from Norwood, brave on Budweiser, challenges him to a fist fight.  Odds are Puig will accept the challenge.
Overall, I'm OK with the trade because I don't watch the Reds that much – not until they dump their present look for a more classic Reds look from the 60s and open the park two hours before game time.  And the 6:45 start time is 'BS', too.  But at least they got some new faces to second guess if the trade doesn't work.  And if you question me over this, let's get together in September and talk again.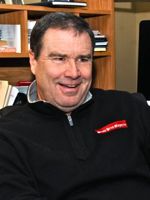 They gave up two recent draft choices, Jeter Downs (an infielder at Dayton in 2018) and Josiah Gray (pitcher), both of which need a lot of minor league work before they can help anyone.  So they might come back to haunt the Reds, or they may never be heard of again.
I actually watch the Dodgers on the major league cable package;  and I'm probably more familiar with the day-to-day attitudes of the Dodgers last year than the Reds.  So I boldly say if they can keep Kemp and Puig and make them happy enough to play…they're going to bust the walls of GABP.  If they can't, we'll be back here next winter saying once again, "What next?"
Is it hard being a Reds fan?
Just ask a Bengals fan.