He has more career wins than any other area coach still standing, but it took 603 wins for everyone else to figure out that Lehman's Dave King is worthy, and has done it all this time for all the right reasons.
Every now and then something happens that's right, and for all the right reasons.
Such was the news recently that Lehman baseball coach, Dave King, will be inducted into the Ohio High School Baseball Coaches' Association Hall of Fame on January 18, joining the likes of men like Jim Hardman, Chuck Harlow, Rick Gold, and my old coach at Ohio State University…Marty Karow.
How Karow got in there I don't know, because he never coached the first high school game in Ohio.  Another discussion for another time….!
But for Dave King, aka 'Kinger', his being recognized is proper and fitting, if not a few years late.  He's a 'throwback', passionate about baseball and the kids he's coached.  He's competitive.  He funny, and sometimes a little self-deprocating.  He takes his duties seriously – always has – even if he doesn't always take himself seriously.  But best of all, he's always been a good guy, plain and simple!
He's coached good baseball for 38 years – at Sidney High School, briefly at Jackson Center, and since 2008 he's averaged 20 wins a season as the leader of the Lehman Cavaliers.  He's had good players, if not great baseball talents.  He's had a couple of draftees, but never a future major leaguer;  but that's not how you judge, because about three percent of all high school players ever get to the big leagues.  And yet, Dave King is one in a million!
"I think I coach for the right reason," King said this week in Sidney Daily News column. "I like to field a good team, and I still relate to the kids. If you don't relate to kids as a coach, you'll probably get out of coaching soon. When that time comes, I'll know. But as long as I've got support from the schools and the players and my family, I'll coach."
His record speaks for itself.  He's won 603 games in 38 years of coaching.  And yes, some of the last hundred have come against suspect competition in the Northwest Central Conference.  But even in some of those run-rule games against Waynesfield-Goshen and Ridgemont, King has always insisted that his kids play the game the right way.  After all, unlike football and basketball, baseball is a game of executing against the game itself.  If you execute well the game dictates that an opponent respond in proportion.  Field the ball and throw it accurately – get a bunt down and advance the runner. Height and weight have no advantage.  And like Hardman, Gold, and Harlow, this is how King has always taught the game.
"I've never had what you would call really great players,"  he said to me a couple of years ago.  "I've never had enough pitching, realistically, to go all the way.  But I've had good players and I've had good pitching, like Alex Smith.  But you gotta' have a little luck, too, and we haven't always been lucky."
And his luck has usually run out in the district and regional tournaments, where King has made the Cavaliers a yearly fixture since taking over in 2008.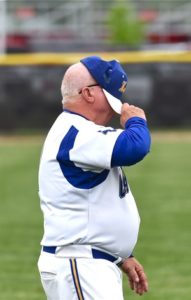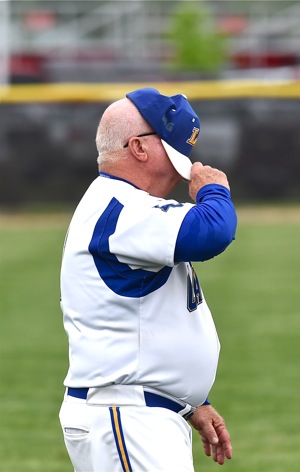 "But it's not because the kids haven't played hard and given it the best they had,"  he said last spring.  "Every year we start out expecting to win, and somehow a couple of arms always seem to emerge."
He'll start again here in a few weeks for the 39th time, doing those all-too-familiar things that people who have played for him – people who love Dave King – recognize and expect to hear.
"Code red,"  he'll yell when he wants a hitter to be more aggressive at the plate.  And occasionally you get a bit of Casey Stengel, about whom his current players have no idea.  Baseball needs 'throwbacks', guys who take the game seriously, if not always themselves – guys who aren't afraid to show their emotions, a little silliness, and admit…you gotta' be good to get anywhere in baseball, and life.  But a little luck never hurt, either.
Congratulations, 'Kinger'.  Even if it's come a bit late.  You ARE one of my favorites.
And "code red" to the OHSBCA Hall of Fame!