At seventeen Covington's Morgan Kimmel has already done something that most deer hunters wait a lifetime for, and never do.  Brought up in the outdoors and a veteran before her time, a month ago Kimmel scored her 'dream buck'.
Covington, OH –  This is a story that former colleague and outdoor editor Jim Morris would have loved to have written – a story about a young person brought up with a respect for wildlife and the environment.  And one, even so young, experienced in the proper perspective for hunting.
But Jim Morris passed away earlier this fall, so in his absence…I'll do my best to share the story of Covington teenager Morgan Kimmel, who a month ago, prior to the Ohio gun season for whitetail deer, shot a buck with her crossbow that brought on the worst case of 'buck fever' imaginable.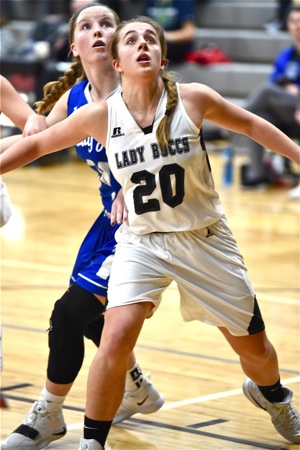 Kimmel, seventeen, is like many other area teens – she plays varsity basketball and is very active in her school community at Covington.  But there's another side, and a side that's been cultivated by a family tradition.  She's grown up a hunter, mentored by her dad Ray, her grandfather Kenny, and various uncles and cousins.
She started hunting at age four, and took her first whitetail at age seven.  Last year she harvested her biggest buck ever, a nine-pointer that scored 135 inches of antler that she proudly displays on her bedroom wall.  But that pales in comparison to what she experienced earlier this fall.
While hunting on private family land just west of Covington, Kimmel had an encounter with a deer so big as to bring tears to her eyes as she waited in anticipation for a shot from a mounted tree stand.
"It was a deer that we knew was in the area,"  says dad, Ray.  "It was a deer that a neighbor had seen just the week before on his trail camera, so we knew it was there.  We just never thought about it being Morgan who would get the opportunity to shoot it."
Back in 1994 renowned whitetail artist Michael Sieve came to Miami County for Troy's annual Presentation Weekend wildlife art show.  It was shortly after he had painted and released a limited edition print entitled 'Dream Buck', a scene that depicted every deer hunter's fantasy, and one the most popular whitetail prints of all time.
"It's about the deer most hunters never get a chance to see,"  said Sieve, whose print has long since sold out.  "It's a deer so big, and so perfect, that hunters can only dream about actually seeing one in their lifetime.  It just never happens."
But it happened to Morgan Kimmel.
Sitting in a tree stand mounted in a maple tree back in early November, she heard noise of something approaching from her right, and out of sight.
"The leaves were still on the tree so it was hard to see,"  says Morgan.  "I kept hearing stuff down the tree line but I didn't know what it was.  When it was about 30 yards away I could see antlers, and then I began to get nervous.  And when he stepped out in one of my shooting lanes I wanted to bawl.  I was so nervous.  I knew immediately that it was a shooter and I just started freaking out.  People who don't deer hunt can't understand it.  You can't not get nervous and shake when you're in that situation."
Veterans hunters know it as 'buck fever'.  And while Kimmel watches the outdoors shows on TV regularly, and other hunters who experience that once-in-a-lifetime moment, it hardly prepares you for when it's YOUR time.
"Every situation is different,"  she says.  "So it's not the same when it happens to you.  I can still see the scene over in my mind.  He stepped out at about 25 yards and knew something was wrong.  So when he turned around to look my way I just took the shot."
But bow hunters know…that unless it's an absolutely perfect shot, whitetail deer rarely drop in their tracks.  This one was no different, and Kimmel's case of nerves was about to get worse while her biggest source of experience, and support, wasn't even there.  Ray Kimmel was in Columbus attending a horse show.
"I got this phone call and Morgan was screaming on the other end,"  says Kimmel.  "My first thought was something bad had happened…there had been an accident or something.  'But when she calmed down a little I heard her say, Dad, I just shot the biggest buck of my life."
But Morgan and family members couldn't find it. They had to wait as night fell and resume their hunt for the buck the next morning.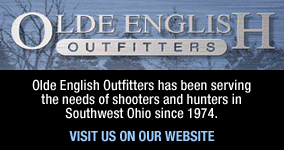 "I was a wreck.  I couldn't sleep,"  says Morgan.  "I was freaking out.  I thought it was a good shot, but you never know.  So because my dad wasn't home my Uncle Rodney and my cousins Garrett and Hunter went with me in the morning to look for it.  I was walking the cornfield, Garrett was walking the creek and Hunter was in between us.  Hunter was the one who found it and when he yelled I just started shaking and bawling my eyes out.  I ran down there and couldn't believe it when I saw it."
They took the buck to local taxidermist Rick Busse, who unofficially scored it at 206 inches, a "monster" buck, probably in the range of five years old, typical in is conformation, but with plenty of non-typical character.  And while it isn't a state record…it is a Kimmel record.
"Our family has taken a lot of whitetail bucks over the years, and we had some other good ones this fall," says Ray.  "But this was the biggest."
"Our living room is full of whitetail mounts,"  says Morgan, who already has her previous biggest hanging above her bed.   "So this one's definitely going out in the living room."
There's another Kimmel family tradition that may make her hunting challenge tougher in the future.
"We always let the kids take any deer they want when it's their first,"  says Ray.  "But once you get your first you have to shoot a bigger one each year.  That way it makes them be patient and it gives young deer a chance to grow and mature.  It's our way of managing the resource and keeping them on the property."
That being the rule, it may be years before Morgan Kimmel shoots her next.  But if she longs for a case of 'buck fever' while she waits, all she has to do is look up at the wall.  At seventeen her 'Dream Buck' came years before its time – years before it ever comes for most hunters.
"I'll never forget it,"  she says.
With the good dreams, as Jim Morris would say…you never do!
Our comprehensive selection includes over 1500 guns, a full line archery "Pro Shop", shooting & hunting clothing, boots, ammunition, reloading equipment, gun cases, holsters and a multitude of other shooting & hunting accessories.
Olde English Outfitters meets the needs of serious sportsmen and casual enthusiast alike. This is truly a store for all your shooting and hunting needs.
Open this year's hunting season with a trip to Olde English, proud to sponsor outdoor adventures on Press Pros Magazine.com!