They played with balanced scoring and suffocating defense to win their eighth straight game.  And the question remains after Saturday's impressive win…who's gonna stop Anna?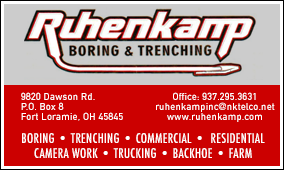 Anna, OH  – Let's not be coy about it.  The Anna Rockets are good, and they demonstrated it again Saturday night with a 70-40 non-conference romp over the New Bremen Cardinals.  And there were no ifs, ands, or buts about it!
New Bremen played them close for the first four minutes, but then Anna's pressure turned the Cardinals over, resulting in transition opportunities to score.  The lead became 4, then 8, and by the end of the first period it was 12…22-10.
The Rockets kept up the pressure, harrassing the Cardinal backcourt – more turnovers, indecision, frustration.  And all the while Riley Huelskamp, Bart Bixler, and Griffin Doseck were raining in shots from all points on the court, as well as 'threes' from Isaac Lininger, Doseck, and Carter Elliott.  By the end of the half they had increased their lead to 33-17.
There was no good news for New Bremen, given that New Bremen coach Brad Francis, a veteran of the Shelby County League had no doubt shared with his team how tough it can be to play at Anna.  No doubt they had prepared in the week since their last game with Fort Loramie.  It didn't seem to make any difference.
For the half Anna (7-0) hit 58% of its shots, while the Cardinals (2-3) shot less than half that.  And to exacerbate things, they missed no fewer than four layups or point-blank opportunities at the rim.  Nothing was going right.

Anna finished the night with Griffin Doseck scoring 19 points to lead both teams, while Bart Bixler added 12, Riley Huelskamp had 9, Lininger and Kamren Steward each had 7, Justin Murray had 6, Carter Elliott had 5, Bryce Meyer had 3, and Ben Kovacs added 2 more.  Nine different Rockets scored, and of their 70 points total 22 came in the third quarter when one turnover after another resulted in layups and 'can't miss' opportunities.  By the end of the quarter it was 55-26…and liberal subbing by both teams pretty much led to an even fourth as Anna wrapped things up.
It marked their seventh straight win, and in those wins there's yet to be a team to hold the Rockets under 65 points.
New Bremen did finish with ten different players having scored, but Nick Wells was high man with just 8, while Nolan Bornhorst added 7, and Patrick Well had 6.  It was a tough night, one when nothing came easy for the Cardinals.
"We've talked about it this season, where we knew we had the potential to put pressure on teams, and tonight was no exception,"  said Anna coach Nate Barhorst.  "We think we have the athletes that can do it, we think we have the balance to play inside and out, and this is how we want to continue to play.  That said, we do need to improve in some areas.  We don't want to become complacent, or satisfied.  But I gotta' give to my boys tonight…they really came out and established tempo, especially midway through the first quarter."
Through the first month of the season, the Rockets have had by far the most impressive start among teams in area basketball, confirming what more than one coach said prior to December…that Anna is good enough to play a long way into March.  Nate Barhorst isn't saying that, mind you, but he also concedes that his team 'knows how' to play, or knew how, from the first day of practice.
"As long as they're playing within the constraints of our program, focusing on everything we need of them, sometimes the best thing you can do as a coach is step back and stay out of their way,"  he said Saturday.  And no argument from Botkins, Fairlawn, New Knoxville, Houston, Bethel, Jackson Center…and New Bremen!
They have the requisite size with Griffin Doseck (6'5″) and Carter Elliott (6'4″), and they have the experience of having three starters who played significant time last year – Bixler, Huelskamp, and Doseck.  But what might set them apart from most is the fact of having Bixler's and Huelskamp's experience from a winning football campaign, as well.  Size is nice in basketball, yes, but most coaches will tell you…give me a pair of experienced guards and I'll take my chances with size.
And guards Riley Huelskamp and Bart Bixler are involved constantly…on both ends of the court.
"Between them they touched the football about 90% of the time,"  smiles Barhorst.  "They made plays, and it's the same thing here on the court.  They're gonna' have the ball in their hands 90% of the time, either bringing the ball up the court…or giving pressure against people trying to bring the ball up the court for the opposing team.  They have that competitive edge, that grind, and that's something you can't always coach."
Griffin Doseck got his 19 points rather quietly, but the impressive thing was to look at the post-game scorebook and see how many other players scored as easily…as a result of the pace of the game, the pressure of the Rockets' backcourt, and their ability to outrun the opposition to the other end and score.
"On a given night anyone on our roster can step up,"  adds Barhorst.  "But Griffin (Doseck) has had a great weekend, including last night at Jackson Center, and tonight he played the same way.  His motor's been 24-7.  That's what we were hoping for, and that's what we need from him."
No one has held them under 65 points yet, but there's a lot of basketball to play, which Nate Barhorst knows, and he's not about to let his 7-0 start, or what anyone else says,  go to their heads.
"We're not going to take anything for granted.  It's one game at a time,"  he assures.  "This is Loramie week and our guys get up for that game.  We'll look forward to that one now, and we know we need to have a helluva' week of practice."
So at least for another week, the question…who's gonna' stop the Rockets?  Or who can?