Behind Sammi Whiteman's 32 points, the Covington Buccs continued their march Thursday towards D-IV recognition in girls basketball.  And if anyone hasn't caught on to them yet, it's just the way they like it.
Covington, OH –  Covington girls basketball coach Jim Meyer smiled at the suggestion of it…this just minutes after his Lady Buccs had improved their season's record to 8-1 (4-0 in the Cross County Conference) with a 59-47 win over the rival Franklin Monroe Jets (5-3, 2-2 in CCC).
But first…some details on how his team passed what he called a month ago the third in a series of testing challenges from area teams prior to the Christmas holidays – a 46-43 win over Troy Christian (12/8), and a 43-38 win over Bradford last week.  Thursday, they took down Franklin Monroe, a team with size and shooting ability that on most nights mirrors the individual and collective attributes of Covington.  But not on this night.
Senior standout Sammi White torched FM for 32 points, while freshman apprentice Claudia Harrington caught fire from three-point range for another 15, and at one point in the early moments of the fourth quarter Covington actually led Coach Abby Moore's Jets by 24 points.  FM carved the final margin to twelve with a significant bench presence on the court for both teams during the last four minutes of the game.
Senior Kennedy Morris led Franklin Monroe with 19 points.
"It was a good win for us,"  added Meyer afterwards.  "FM can throw a lot of stuff at you and we handled it all pretty well."
But what FM didn't handle well (and most people don't) was the omni-present spectre of Sammi Whiteman, whose whirling dirvish style of plays puts pressure on opposing teams at both ends.  Open looks on offense become easy buckets for her on the average night, and her defensive presence creates turnovers that quickly become points OFF turnovers because most defenders can't run her down in the open court.
When we last saw Whiteman and the Buccs, it was on a night when Twin Valley South was simply no match in 66-34 loss to Covington on December 3rd.  "We'll get a better idea of who we are over the next three weeks,"  said Meyer, who lost some significant firepower and leadership from last year's 20-win team with graduation.  And following Thursday's win, we followed up to get his mid-term summation of just how far they had come since TVS.
"Well, I think we're getting better,"  he said.  "I don't think we're what we want to be, or can be, but to be in big games against good teams like Troy Christian and Bradford – to win those games shows that we're getting there.  I don't think we're ever going to be as good as I think they can be, but we're working hard and when you can win close games against better teams the confidence factor begins to set in.
"We're growing, and we throw every possible scenario at them that we think they might see…and the kids have been able to listen, learn, and take it out on the floor.  And understand, we're running two freshmen who really aren't freshmen anymore ( Harrington and Makenzee Maschino), but a lot of situations are still new to them.  But they're playing big and we're going to need that, because you have to have other people [contribute].  Sammi's not going to get 32 every night.  She got 14 against Bradford."
Thursday, Claudia Harrington, who reminds you a bit of 'Peppermint Patty' from Charles Schultz's Peanuts gang, confidently served notice to back up the words of her coach.  She hit a pair of back-breaking three-pointers in the closing moments of the third quarter that extended Covington's lead at the time to twenty one points.
"Claudia's game has been evolving, and the three-point shot is part of that,"  added Meyer.  "Last year we had Jordan Crowell who was our three-point ace and always seemed to hit big shots at the end of a quarter.  Tonight we ran the same play we ran for Jordan for Claudia at the end of the third…and she stuck it.  Claudia's a shooter, it's a part of what she does, and that confidence to take big shots and hit them really helps.  If they're going to double Sammi teams will have to worry about where the 'Redhead' is.  She had 15 against Bradford and 15 again tonight."
Still, like most teams learning on the job, there are those moments that drive coaches to distraction.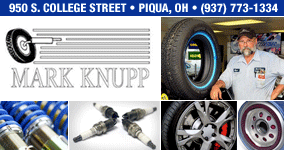 "We also showed tonight how not to play with a twenty point lead in the last four minutes of the game, and I'd like to have that back,"  said Meyer.  "But it was also a rivalry game for us because last year they (FM) smoked us pretty good over there, and then we came back and beat 'em in the sectional final.  So this was big tonight for this particular group of kids."
They're 8-1 at Christmas time and Meyer's team will not play again before their holiday tournament on December 28.  But as we wrote about on December 3 (TVS), their record is likely to go under the radar in area Division IV basketball as attention is focused between now and the end of the regular season on Minster (defending Div. IV champion), Fort Loramie (two-time state champ and perennial regional contender), Fort Recovery and New Bremen – teams west and north of Covington's sectional and district tournament.
"That's fine.  I would love to do that,"  said Meyer with the smile we noted in the opening paragraph.  "There's a lot of good D-IV teams down here, and we come back from the holiday tournament with Newton, Arcanum and Tri-Village.  So we're going to be in the fire for a while."
As young as they are…they're going to be a headache for anyone who overlooks the potential of Covington simply because they can double-team Sammi Whiteman.  Claudia Harrington showed Thursday that she can be at least half the scorer of Whiteman on a given night.
And she's just getting started.