Injured in the Division VI football Final, the Marion Local senior and leader of the reigning champs in Division VI basketball had for a moment the most famous knee in area high school basketball.  And he wants everyone to know…it's just fine!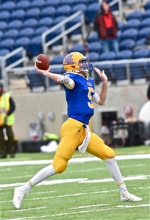 Maria Stein – In symbolic terms, it was Marion Local's 'Grinch' moment for the holidays.  On the third play from scrimmage in the Division VI title game with Kirtland three weeks ago quarterback Nathan Bruns attempted to run for a first down…and didn't get up after he was tackled.
Somehow in the course of going down he took a hit on his right knee and had to be helped to the sidelines.  Weakened, he eventually returned to the field to play, but he was never the same Nate Bruns, and the Flyers were never the same Flyers.  He couldn't run or plant to pass in his usual manner;  and his limitations had a devastating impact on Marion's pursuit of a record-tying 11th state championship.  They eventually lost that game, 16-7.
If that wasn't enough, concern immediately arose over his availability for basketball.  And just nine months removed from leading Marion Local to an unexpected, and thrilling win in the Division IV title game last March, people wondered…would Nate Bruns miss part, or all, of basketball season, too?
The answer for all is a resounding no.  The recent injury amounted to no more than a severe bruise, and when you're eighteen you heal pretty fast.  So Saturday night, in their season-opener against Celina, Bruns showed everyone (in case you were wondering) that the knee, and the Flyers' prospects for defending their league and state title are going to be just fine.  The Flyers won that game 76-45, and Bruns led them in scoring with 20 points.
His return to the court Saturday amounted to a classic Alfred E. Neuman moment of, "What, me worry?"

"I'm fine," said Bruns last week, prior to Saturday's game.  "There was no tear or damage to the knee…just a bad bruise."  Which is a load off the neck of Flyers head coach Kurt Goettemoeller, as well as University of Findlay coach Charlie Ernst.  Bruns committed to play college basketball for the Division II Oilers last summer after averaging a bit more than 15 points a game for the Flyers in his junior season.  He scored 18 points and had 14 rebounds in that title game win over Cornerstone Christian in March.
And despite all the press and notoriety about Marion Local football,  Nate Bruns the quarterback wants it understood (as he said after the title win over Cornerstone) that they play basketball at Marion, too;  and it's obviously his sport of choice.
"There's no question that he could have played quarterback in college at a pretty high level,"  says Flyer football coach Tim Goodwin.
But instead Bruns chose to follow his brother Ryan's lead to play college basketball, not football.  Ryan is a Division III All-American candidate presently for Ohio Northern University and averaged 24 points a game as a junior.
"People don't expect it from us because of our success in football,"  Bruns said last March.  "But we work on basketball all summer, we even shoot during football.  No one recognizes us for basketball, but we can compete in that, too."
No one's questioning that for the present, as the Flyers return a solid core of contributors from last spring's champions, headed by Bruns and fellow senior swingman, Nick Tangeman.  And their size (Bruns is 6'6″ and Tangeman is 6'4″) and championship experience make the Flyers a favorite to repeat as league champions in conference full of basketball challenge this winter – from Minster, St. Henry, Fort Recovery and Delphos St. John.
But back to that moment, three plays into the football game in Canton, and how one moment can change prospects and lives in domino effect…..
"It's always your biggest concern because nearly all of our basketball players play football,"  says Kurt Goettemoeller.  "They usually play fifteen games a year and through fifteen games you always have a fear that something is going to happen.  And when that happened…not just me but I think the whole community's heart sank and felt bad for him, personally.  We were hoping for the best, but fearing the worst.  And then we had to wait for four or five days to find out, but thankfully we got the good news that there was no serious injury.  In fact, when we found out that he was OK Nate was back in practice that same day."
At the time – right after the game and in the post-game press conference – Bruns courageously maintained that the injury had no effect at all on his play once he was cleared to go back on the field.  But it was apparent to all who watched…that he couldn't run, couldn't throw the same, and it wasn't the same Nate Bruns.  And had he not gotten injured, the jury's still out on whether or not the Flyers would have gone on to win their record-tying eleventh.
"I don't know about that,"  Bruns says.  "Lots of things can happen, and you never know."  But he said that without a lot of conviction, and with that look in his eye that all Marion quarterbacks have.  You know he liked his chances, all things being equal.  But that was not to be.
"It was the lowest my heart's ever sunk,"  he said this week.  "The doctor and trainer were checking me out on the sideline and started to make some faces, and I thought, 'This can't be good.'  And then they put a brace on it and asked me how it felt.  I started to cut on it and and it felt good enough to give me some hope.  And yes, I said a lot of prayers and just hoped that something wasn't torn again."
Previously, he had missed all of his freshman year and much of his sophomore season with another, different knee injury.  But his play in last Saturday's game with Celina should be all the evidence anyone needs that Nate Bruns is sound as a dollar – good news for him, but a competitive issue for the rest of the MAC and the Flyers' non-league schedule.  His impact on Marion basketball, and area basketball at large, is incalculable.
"Nathan's improved so much since last March,"  says Goettemoeller.  "He's stronger, he quicker…he's better off the dribble and more confident.  He can score in a variety of ways, but what separates him from others is he doesn't have to score 20 points to dominate a game.  When he gets double-teamed he's so good at facilitating the game, both sides of the ball.  He's a great passer and defensively he does so much because he can guard all five positions.  He'd also tell you that he doesn't love the attention, so all that makes him a really good teammate."
Which is good for all, especially for Bruns, who will openly tell you that he likes to play football…but he LOVES to play basketball.  And having signed early to play at Findlay last spring, he looks forward to his senior year with the opportunity of having fun, competing, and honing his game for the next level.  Ask him which is more special – a title in football or a title in basketball – and Bruns is well-equipped to give you the answer.
"Football here is special and I was fortunate to get two titles playing in my four years,"  he says.  "But it had been a while since we won in basketball (2003), and last March was really special to win because I enjoy the sport so much.  Now I get to play my senior year as a state champion, and the reason I signed so early was to get it out of the way.  I knew Findlay was perfect for me…so I could just focus on my senior year and play with my classmates."
He has a 3.5 GPA at Marion and plans on studying education at Findlay;  he'd like to teach and coach someday.
But for now he, his teammates, Kurt Goettemoeller, and truthfully…the entire MAC community breathes a sigh of relief that one of the truly good kids and great competitors in area basketball can just play and enjoy what he does best.  Like his coach says, you expect the worst and hope for the best over things like this.
And there's absolutely nothing wrong with Nate Bruns.