It was a game in which you can rightly say the only offensive highlights were defensive highlights.  But somehow Fort Loramie found a way to score more points than New Bremen in a route 66 free-for-all.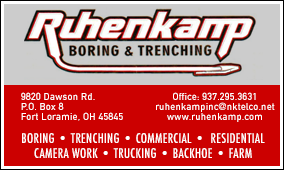 New Bremen –  In the course of his pre-game introductions the public address announcer at New Bremen high school usually refers to it as, "protecting the nest", a euphemism suggesting a hoped-for Cardinal home win.
What that means, of course, is defending the opposition so well as to render them unable to score.  And if you can't score you can't win.  Simple enough.
Little did he know that those words would come back to haunt Saturday night as the Fort Loramie Redskins came to "the nest" with defensive ideas of their own;  because in a veritable slugfest of defensive wills Loramie (2-1) outdueled New Bremen (1-2), 37-33, in a game about which it can be said…that defense amounted to the only offensive highlights!
It was grim, it was gritty – two teams so well prepared to render the other scoreless as to make every possession as precious as pepperoni is to pizza.  Loramie led 10-8 at the end of the first quarter, and only then because Nick Brandewie hit one of his two three-pointers for the game – the only three-point shots made all night by Loramie.
Loramie would come back to tie, and go ahead briefly in the second quarter, but full-court pressure, and turnovers, would allow Loramie to retake the lead by halftime, 21-17.

There were no easy points – each team having to run extended offense as a result of the other's defensive intensity.  And the longer the possession, the greater the risk of turnover.  And so it was.  New Bremen actually outscored Loramie, 7-5 in the third quarter, but still trailed by two, 26-24, going into the final eight minutes.
They traded baskets and New Bremen tied the score at 31-31 as guard Patrick Wells hit one of New Bremen's two three-pointers for the game.  And coming out of a timeout with five minutes left to play neither team had any idea about how it might score.  Each had pretty much exhausted the playbook by that time.
But Loramie pulled the ball out near the half court line and ran time off the clock, and effectively, but remember the part about the longer the possession the greater the chance for turnover.  And that's what happened.  New Bremen's Mitchell Hays stole the ball and found himself alone on the other side of the timeline with an apparent layup in front that would have put the Cardinals ahead…only to have Nick Brandewie run him down and force a miss of what looked to be certain points.
It seemed an omen.  For on an ensuing possession the Redskins somehow found Eli Rosengarten on the baseline alone and he rolled in a shot from point blank range to give Loramie the lead, some badly-needed mojo, and eventually the win.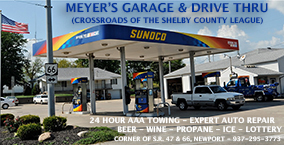 Twice more Bremen had chances at the rim from point blank range – and twice more they came up empty.  In fact, they would not score again until the last two seconds of the game, and then off an offensive rebound.  But too little, and too late.  Loramie had sealed the deal on Rosengarten's bucket and made free throws by Brandewie and Grant Albers.
Coming off a disappointing loss to Jackson Center the night before (40-34), when Corey Britton's defense had played magnificently, but offense was missing, it was nothing less than a redeeming win for Britton's young team.  Playing without Tyler Siegel in the lane and long-range shooter Dillon Braun, both graduated, they're learning how to win with a 'less is more' approach.
"That's two straight nights were we've done an excellent job on defense," said Britton.  "We just didn't finish the job last night, and coming back tonight with a bunch of kids that have never played varsity basketball – to rebound, and battle, and fight and claw like they did to win…I'm really proud of our kids.  They're tough-minded and they're winners, and that's what carried us through tonight."
And there really is no way of describing it in terms of play-by-play.  It was simply a matter of pressure, pressure, and more pressure – make it hard for the other team to set up shop and do business.
In the New Bremen coaches' office, Brad Francis shook his head over his own kids' effort, and the outcome.
"Except for two possessions in the first half we did everything we wanted to do on defense,"  said Francis, in his first year as the Cardinals' coach.  "We felt like we had a good game plan defensively…we just couldn't come through offensively to make it pay off.  I told the kids at half time…the bad news is we didn't play very well and turned the ball over a lot, and the good news is we're only down four points.  But we were in position [at the end] to do what we wanted to do.
"This is a pretty unique team because they're twelve individuals and they fight for each other tooth and nail.  They don't care who gets the glory, and they know for us to be a good team this year they have to defend.  They know we're not going to put 75 points on the board every night, so we have to defend."
And yet, you have to be lucky, as well.  And the missed opportunities in the closing moments – the missed layup and chances from point-blank range were no doubt haunting.
"I don't want to say too much about it…the kids are pretty beat up,"  added Francis.  "I just told them we shot some shots that we make about 98% of the time and tonight they happened not to go in.  That's the way the orange ball goes through the orange cylinder sometimes."
Or not.
Nick Brandewie led Fort Loramie and all scorers with 15 points for the game, while Eli Rosengarten added 7, Mitchell Berning had 6, Grant Albers 5, and Collin Moore and Nate Meyer had 2 points each.
For Bremen…Patrick Wells had 11, Bryce Blickle had 7, Mitchell Hays had 6, Nolan Bornhorst had 5, and Nick Wells and Logan Suchland had 2.
To follow up on Francis's good news/bad news suggestion…the good news is that when you play with that much dedication and intensity you're going to win a lot of games.  The bad news is – there has to be some luck with it, too.  Like the man said, 98% of the time………
"I hate playing New Bremen," muttered one Loramie player as he walked to the bus for the short trip home.  "You know they're going to press, and that's how they always play."
That's the idea, at least this year.  They have to defend that nest!