Parkway's Coby Jones and Versailles' Haddi Treon captured individual honors, while Coldwater took top team in Saturday's WOHSBC bowling in Minster.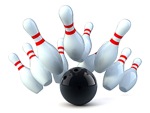 Minster – They say one could actually buy the bowling alley;  and without question the area's best chicken salad is just a block away at Wagner's IGA, if you do.
But the area high school bowlers who showed up at Community Lanes in Minster Saturday morning for weekly MAC competition had other bits of business on their minds.
Versailles' senior Haddi Treon captured the top female honors for the morning round with a high game of 201 and a series of 365 – while on the boys side of the alley Parkway's Coby Jones sparked with an individual high of 243, just edging Coldwater's Mike Schoenherr (241).  Schoenherr, however, finished with the best two-game series of the day with a 442.  Jones finished second in that category with a 421.
Overall, Coldwater finished first in the six-team boys competition with a total of 1,921 pins.  Fort Recovery was second with 1,789.  Parkway was third with 1759, Marion Local had 1,689, Versailles had 1,672, and Minster had 1,427.
Other 200 games included Fort Recovery's John Knapke (218) and Jared Timmerman (224), Coldwater's Derek Seifring (202) and Matt Meinerding (223), Parkway's Tom Etzler (206) and Cody Graham (203), and Marion Local's Matt Prueter (215).
243 happens to be Jones' best this year, but it comes a few short of his high game ever.
"I had a 278 once,"  he shrugged.  Apparently he has still bigger plans for the future.
But the one who perhaps threw the ball with the most consistency all day…while having the least to show for it was Haddi Treon.  After stringing five strikes in a row in her 201 game she entered the tenth frame with an opportunity to really cash in…in the 230 range.  That didn't happen as she opened, missing a 3-pin spare.
She started out well in her second game, but then got stuck with what seemed like one 9-pin spare after another as she routinely hit the 1-3 pocket, only to leave the 7 or 10 pin.  She finished with a 168, but that's bowling!
Treon's profile is interesting, and she has had a family full of inspiration to keep her going in bowling since she started in the seventh grade.
"A lot of people in my family bowl,"  she says.  "My dad bowls, my aunt, sisters, step-brother and cousins…they all bowl.  I enjoy it a lot, but it takes a lot of practice, too.  I pretty much bowl year-round and now it pretty much comes naturally."
Her biggest influence?
"My cousin Stacy,"  admits Treon, proudly.  "She bowled for Versailles and then went on to bowl at Wright State;  and she still bowls a lot.  She's my biggest encouragement."
In a school with great sports traditions, bowling is not for everyone.  But it fits Haddi Treon.
"I feel like a lot of people underestimate the sport,"  she says.  "I don't think they understand how cool a sport it is, and it's a sport made for people who have a strong mental approach.
"I try not to get mad anymore, because I would when I was in junior high.  Now I've learned to let [the frustration] go and move on to the next shot."
She's a 3.5 GPA student at Versailles who's planning a career in the United States Air Force.
"I'd like to be a translator, and I already know some other languages, (Korean for one), or know enough to say hello and good-bye,"  she smiled.
But until then she bowls, and likely will throw a lot of strikes because she has a few coming.  Bowling owes her a few after Saturday!