After a surprise Indian uprising to open the game, Sidney came on to outscore and overwhelm Piqua, and frankly…they put on a pretty good show.
Sidney – It's a rivalry game, at least that's what it says on MaxPreps  – the official statistical and information online web partner of the Ohio High School Athletic Association.
But these are not the days of Bill Kennon basketball at Piqua – of his suffocating matchup zone defense with Dave Gallagher and Ted Davis protecting the rim at old Roosevelt Field House on Ash Street.
It's not even the days of Dave Zeller basketball, with Bernard Newman and Mark Mathews, one of which was always good for at least 20 points a night.
And in Sidney (4-1) it's hardly the days of T.C. Johnson and Zach Yinger anymore.  But it is the day of Andre Gordon, and the 'Jackets' senior guard left little doubt to that fact Friday, as he torched the nets for 23 points in a 74-46 Sidney win…and set fire to Piqua's hopes for a surprise win, what would have been their first of the season.
Piqua (0-4) did start out like a house afire, jumping out to a quick 11-1 lead in the first quarter, thanks to Mick Karn's three-pointer and a pair of buckets from Zach Tillman.  The Indians hit five of their first seven field goal attempts, and just as impressively, stymied Sidney for the first four minutes by playing zone defense…forcing the 'Jackets to operate from the perimeter.  Sidney coach John Willoughby quickly called a timeout to…..
"He told us to play defense,"  said Andre Gordon, talking about it after the game.
And simple as that, as from that point on they got into Piqua's collective grill and closed the deficit to a 11-10 Piqua lead after one.
They pressured, they substituted, and all those fresh legs coming off the Sidney bench created havoc for Piqua ball handlers in the open court.  Turnovers turned into to points off turnovers, and a thunderous dunk by Gordon off one of those turnovers (one of his five for the game) set off a literal feeding frenzy over the final four minutes before halftime.
Their athleticism began to wear on Piqua, the zone became porous, and Sidney reversed that 11-10 deficit to outscore Piqua 23-9 for the quarter…and never looked back.  They led 33-20 at the break, highlighted by Gordon's 13 points…and a 360-degree dunk off a midcourt steal just as the clock struck zero.  The Yellow Jackets had the crowd buzzing, and it was 'showtime'!
"Not bad,"  John Willoughby would say later.  "But, this was the third time in four games when we've gotten off to a slow start like that, and we've got to get over that.  And, we're getting into that mindset where we have to put on a show rather than finishing our defensive possessions, and when it comes to some tougher games coming down the line…we're going to have to buckle down."

Piqua played hard.  Anchored by athletes like football quarterback Mick Karn, they never let up their effort.  But the fact was…Sidney simply had more athletes, more depth, and their constant pressure allowed the Indians little margin for error.  Qurri Tucker scored a team-high 12 points, while Zach Tillman joined him in double figures with 10.  Riley Hill finished with 6, and Karn chipped in 5.  Eight different players scored, but defensively they simply couldn't get between Sidney and the basket.  The difference in speed and quickness was the difference in the game.
Sidney outscored them 19-10 in the third…and with mostly subs on the court for the fourth the 'Jackets got three-point happy, hitting five of eight attempts, to close the scoring with 28-point winning margin.
"The defense was our difference tonight,"  said Willoughby.  "It's hard for high school kids to understand that, but I believe your defense feeds your offense, and if you're playing well on offense you get better by playing better defense.  Again, this is three out of four games when we haven't started well, and that's a big concern."
Andre Gordon is the focal point of every Sidney opponent.  And to Willoughby's concern, he didn't start that well, either, missing his first four field goal attempts.  But to his coach's point about defense, he conceded that the game got much easier for the 'Jackets once they began to turn up the pressure.
"Coach just told us we had to pick it up, to play like we practice,"  said Gordon.  "When we got into the full court defense we started picking up the steals, and when you get the steals that led to the dunks and that gave us the 10-0 run to tie the game at 11-11."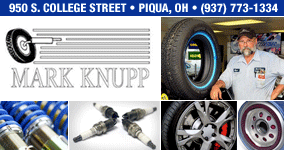 The 'Jackets made no effort to conceal their ability or enthusiasm for playing above the rim, throwing down seven dunks for the game – by far the most impressive being Gordon's 360 to close the first half.  And the obvious question – was that the first time he had done that in a varsity game?
"I did it a lot during the summer,"  he smiled.  "But tonight was the first time I've done it in a high school game, other than scrimmages…second time, actually."
Outside the Piqua locker Mick Karn was gracious to talk about the experience, disappointing as it was, of starting strong…only to lose by 28 points.
"They're a good team and they know what they're doing,"  said Karn.  "They've been together for a long time playing basketball, so they definitely have a relationship.  Some of us…we've only been together for a couple of years, trying to get together as a family and make things work.  It's a lot harder when you've been together for two years and they've been together since they're six years ago.  They're great athletes."
And the spectre of playing against Andre Gordon?
"He's a good athlete…I'm a good athlete.  I play football and I'm good at it, and he's good at basketball.  That's how it works, and he was the spotlight tonight."
Gordon's 23 points led all scorers, but he had lots of help.  Ratez Roberts had 9, Dominick Durr had 8, Trey Werntz, Lathan Jones, and Jace Conrad had 6…Darren Taborn and Josiah Hudgins each had 5, while Keith Lee and Darius Boeke each had 3 points.
It was a show, and a good show before a packed Sidney gym that's anticipating bigger and better things while this 'era of Gordon' lasts…beginning with what John Willoughby calls 'a test', on Tuesday, against undefeated Butler.
"We're going to get into the part of the season where people don't care about what we did tonight,"  said Willoughby.  "Right now our mindset is not that we're going to have to dig down deep and battle things.  It won't always be easy and we're going to have to play with a different mindset."
To which Andre Gordon readily agrees.
"But we just have to play basketball,"  said Gordon before leaving the gym Friday.  "We're capable of it.  We just have to take what we do in practice and put it on the floor during games.  We have one of the top three most athletic teams in the GWOC, so we're capable of playing however [we need]."
There probably won't be seven dunks on Tuesday…but then there may be.  It's just basketball, according to Andre Gordon.
And the 'Jackets believe they're capable of playing like they practice.  Whatever it takes!