It's so recognizable, and yet hardy anyone knows anything about who, where, and when the them to a Charlie Brown Christmas was born. A break from sports for some season's trivia we hope you'll listen to, and enjoy.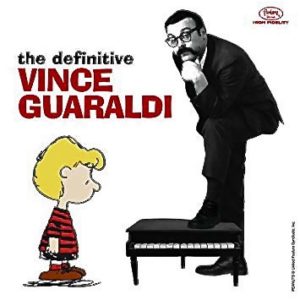 It first appeared on CBS in the winter of 1965 – a cartoon Christmas special featuring Charles Schultz's Peanuts characters, Charlie Brown, Lucy, Linus, Schroeder, Pig Pen, et.al, and since has become one of the all-time most-watched holiday favorites by both young and old alike.
It was distinctive for that time…when Schultz penned his cartoon characters in a script that decried the commercialization of the Christmas holiday, in his words, "in a manner that would touch the souls of every age and every socio-economic dynamic – something that would symbolize hope for all."
The concept was distinctive, sure enough, but the producers of the show wanted a song – a theme – that would pair with both the show's theme and the personality of its characters. They turned to the popular instrumental genres of the day and after listening to countless hundreds of charts, the found a little-known jazz pianist (at the time) from San Francisco named Vince Guaraldi. Ironically enough, just a decade prior Guaraldi was serving in the United States Army, in Korea…as a cook!
The producer of the 1965 A Charlie Brown Christmas show was Lee Mendelson, and Mendelson stumbled upon a recording of a Guaraldi track entitled, Cast Your Fate To The Wind, while riding in a taxi cab. He liked it for its simplistic and playful tune, and immediately contacted the jazz columnist for the San Francisco Chronicle to put him in contact with Guaraldi.  When he found him he offered the young musician the opportunity to score the upcoming TV feature and Guaraldi eagerly accepted. It launched his career, and Vince Guaraldi was little-known no longer.
The song, like the Peanuts' special, was an instant hit…played to death on American radio stations in every market, and Guaraldi would go on to write the scores for seventeen more Peanuts television specials, and the 1969 feature film, A Boy Named Charlie Brown.
Tragically, at the height of his popularity, and career, Vince Guaraldi died suddenly of heart attack on February 6, 1976. He was just 47 years of age. However, his music has lived on, recorded popularly through the years by giants of the industry – Dave Brubeck, Wynton Marsalis, David Benoit and George Winston.
It would be a similar tragedy to consider Guaraldi a one-hit wonder, because if you like jazz his name is synonymous with some of the most popular and imaginative music of his generation.
But for sheer grins, and the anticipation of the holiday season, Vince Guaraldi's well-known theme is also synonymous with peace on earth, and good will toward men.
A Charlie Brown Christmas!