They surprised almost everyone by winning twelve games in a row before falling in the state semi-final round of the tournament. But Fort Loramie head coach Spencer Wells made good on a pre-season promise that they would surprise…and for that he earned our COTY honors.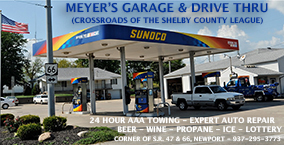 On a hot August evening back in the summer I introduced myself to Fort Loramie first-year coach Spencer Wells.
It was during a break during two-a-days, a grueling practice of repetition and correction – of patience and frustration on the part of coaches and players alike. And though tired at the end of a long day, Wells wore a broad smile as he talked about things like attitude, enthusiasm, and his expectations for the Redskins.
"I think we could be a pretty good football team," he assured. "We've got a great group of kids – some great seniors – and I think they want to be successful. A lot of things can happen in football, of course, but if we stay healthy I think we can surprise some people."
And surprise they did after losing their opening game to rival Minster. Because starting the next week they would go on to beat Division V Madeira, then Covington, and sweep their way through the rest of the Cross County Conference on their way to a 9-1 regular season finish and league champions.
Then, as the #1 seed in Region 28 (Division VII), Wells and the Redskins would shut out New Miami and Lehman in the opening two games of the playoffs, and pummel heavily-favored Convoy Crestview before losing to another favored team, McComb (the eventual Div. VII state champions) in their first-ever state semi-final appearance.
So, for his belief, and for defying some odds – for simply taking a program to heights never before attained – Fort Loramie's Spencer Wells earns the highest marks as our Press Pros Coach of The Year in area football.
His pedigree, perhaps, gave glimpse of his success in 2018. He played high school football for Todd Schulte at Delphos St. John, and later he served as an assistant coach with Tim Goodwin at Marion Local. So it should be no surprise that Spencer Wells won immediately with Fort Loramie in such quick fashion…except for one thing. He did it in his first attempt at being a head coach!
"Actually, I'm honored to have coached this team," he said with a disappointed smile, after his season came to an end in the state semi-final game.
"What they did this year…they made history.  We asked them to leave a legacy and our twelve seniors no doubt did that.  We'd never been to this point, and that's a credit to those seniors. These kids bought in from day one, they did everything we asked, and they fought their tails off. And I know going forward they're going to continue to do that."
They set records in 2018 for most points scored by a Loramie team, while pitching three late-season shutouts on defense.
But more, they made history, in Wells' words, by going where no other Loramie team had ever been. They made good on his expectations – they surprised everyone.
And more words to ponder, he's promised that they're going to continue to do that.
For his accomplishment, and with best wishes for future success, we pleased to select Fort Loramie's Spencer Wells as our 2018 Press Pros…Coach of The Year in area football!