One team's drive to stay perfect…Some familiar names are at the top of the MAC Girls standings…three area teams make their season debuts this week…and there is a new single game scoring leader at Franklin Monroe.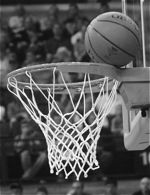 Welcome to This Week in Basketball, Volume 2 – sponsored as usual…by the 'Buschur Home Improvement Company' and Richard Perkins, of Dayton.  There is a lot to get to and little time to get there, as the saying goes, so lets get started.
The Tippecanoe Lady Red Devils have an impressive winning streak that few know about. The Red Devils have won 32 straight American Conference games in the GWOC; more impressively, they have NEVER dropped a conference game!
Andy Holderman's team is one of the most inexperienced teams in the area. The Red Devils have been to four straight regional titles, and suffered heavy graduation losses. Ashleigh Mader, a 5-8 sophomore, is the only Red Devil in double figures, but four others score between five and nine points a game. The Red Devils also play defense, allowing 39 points a game. Tipp is 3-1 overall and will look to extend their streak against 1-3 Greenville Wednesday before traveling to Troy to meet the 4-1 Trojans on Saturday.
Along with Troy, Piqua is 4-2, the Indians best start in memory. However, the Indians have dropped both conference tests, to Tipp and Vandalia, by a combined 47 points. Butler is also 3-2, so there will be plenty of challenges to Tipp's unbeaten streak  in the weeks ahead.
The MAC race is shaping up as wide open, with four teams still undefeated. Minster and Versailles are both 6-0, while New Knoxville and St Henry are both 5-0. Minster has won 18 straight games and the Wildcats have held two opponents to under 10 points in a game already this season. No head to head matchups this week, but all four have interesting conference tests Thursday night.
Minster hosts Delphos St John's before getting a nine day break. New Knoxville is at 3-1 New Bremen, St Henry travels to 2-2 Coldwater, while Versailles is on the road at 2-1 Marion Local. All four unbeatens should stay that way, but nothing is a given in the MAC.
In Shelby County League, Fort Loramie and Anna are both off to 4-0 starts. The senior-laden Rockets got a big road win at Russia Saturday and travel to West Liberty-Salem Thursday before hosting Houston Saturday.
Carla Siegel's Redskins advanced all the way to the regional final last year with one of the youngest teams in the area. This year, the Redskins are winning by an average of 35 points per game heading to West Liberty Monday night before  hosting Jackson Center on Saturday.
Anna and Fort Loramie won't meet for the first time until January 3rd at Anna.
Finally on the girls side,Covington, Miami East, Arcanum and Tri-Village are all 2-0 in Cross County Conference action. The Lady Buccs are 5-1 after an impressive road win at Troy Christian Saturday, while East is 4-2 after a narrow loss at Versailles Saturday. The big games this week are Saturday when East travels to Arcanum and Covington takes a short bus ride to play 4-1 Bradford.
For the boys..Delphos St John's and Minster are both 3-0 in the MAC and meet Friday night in Delphos. Defending D-IV state champion Marion Local makes its long-awaited debut Saturday night at Celina. Kurt Goettemoeller's squad has plenty of talent returning, but has a huge question mark in the health of 6-5 senior Nate Bruns. Bruns injured his knee in the state championship game and may not be ready to go this week.
Early results indicate the Sidney Yellow Jackets and Vandalia Butler Aviators will battle for the top spot in the GWOC North. Andre Gordon has been as advertised for the 3-1 Jackets, who host winless Piqua Friday night. Butler has crushed four opponents by an average of 28.5 points per game and have a tough test at 3-0 Northmont Tuesday before traveling to 1-1 Troy Friday. The Jackets and Aviators meet for the first time this season a week from Tuesday at Butler.
Anna has been the most impressive Shelby Count League team thus far, but there will be plenty of challenges ahead for Nate Barhorst's veteran squad. Anna has averaged 74 points a game during a 3-0 start, but has a huge test Tuesday night at Russia before hosting Houston on Friday.
Russia is 2-1, Jackson Center is 3-1 and we haven't yet heard from the Fort Loramie Redskins. The Redskins open their football playoff delayed season at Houston Tuesday, host Jackson Center Friday, and travel to 2-1 New Bremen Saturday. The Redskins suffered huge graduation losses from last year's regional finalist, and may need a while to find their footing.
The third area team to make its debut this week is the Lehman Cavaliers. Lehman has a new coach in Patrick Carlisle and has a double weekend to open the season. Lehman will host Marion Elgin in conference action Friday before entertaining long-time rival Springfield Catholic on Saturday.
Finally, congratulations to Franklin Monroe senior Ethan Conley, who set the school single game scoring record Saturday night with 54 points against Houston. The Ashland College recruit scored 30 points in the first half as the Jets won 92-80 to improve to 2-1 on the season.
Bethel has been impressive in getting off to a 3-0 start, and National Trail blew out Preble Shawnee Saturday night for their fourth win without a loss. The Bees host Graham Tuesday and Mississinawa Valley Friday, while Trail plays at 1-2 Arcanum Friday before hosting Greenon on Saturday,
That's it for this week. There are plenty of opportunities to get out and see a game this week…and we will see you at the gym.