A big second quarter burst put Versailles in front to stay, and an easy winner in non-league action over Covington.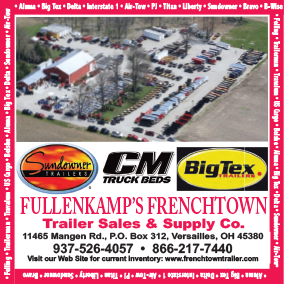 Versailles – For fourteen minutes and forty seconds Saturday night Matt Pond's Covington Buccaneers (1-2) played toe to toe with Versailles, one of the perennial basketball powers of the MAC.  Sixteen minutes and forty seconds, that is.
But tied 15-15 with minute twenty seconds remaining in the quarter, Versailles scored on a layup and a three-pointer at the buzzer by junior Nate Johnson to take a 19-14 lead.  And then…Travis Swank's Tigers (2-1) went on a 22-0 run before Covington would score again – the final four points before halftime – to take a 37-19 lead at the break.  It was game, set, match…Versailles wins.
In reality they did play the second half before Versailles wrapped up their second win of the season by a 54-35 margin.  But for all intents that fateful thirteen minutes in the first half was the story of the game.  Pond put things in simple perspective.
"I really can't fault the effort of my kids,"  said Matt Pond afterwards.  "They played hard, and I told them after the game…if we play hard and don't make shots that's part of basketball.  But tonight…we didn't make shots, and they did."
To emphasize his words, the Buccaneers would finish the game having shot just 33% from the floor, and just 27% from three-point range.  They can thank Kleyton Maschino for that.  He hit three of them and finished with 17 points, the only Covington player to finish in double figures.  Tyler Frayley was second to Maschino, with 5 points.
Well, better nights are hopefully ahead for Covington, and for Versailles…Travis Swank is retooling in the aftermath of reality, and the devastating graduation losses from last year's 20-win team, including the twin towers, inside and out, A.J. and Justin Ahrens, the latter now playing as a freshman in the Big Ten for the Ohio State Buckeyes.
That's going to take some adjustment, and these days Swank and staff are preaching team play, defense, and buy in.
"Defensively, the second quarter was a game changer tonight,"  said Swank.  "Actually, we played pretty even throughout the rest of the game, and we locked down and did some things on defense in that quarter – switched some things.  But our kids are really buying into a defensive mentality this year, and you can always play good defense."
But buy in as they might, losing thirty points a night is hard to overcome – the average of the two Ahrens brothers – and Swank's biggest challenge, defense notwithstanding, is to develop that kind of confidence and leadership out of the next group of Versailles basketballites working to extend at least some part of the legacy created over the past eight years – years of Kyle Ahrens, Justin, and A.J.
"Justin was an elite player for us,"  said Swank.  "No question, and here in Versailles we've been blessed to have two Division I basketball players come through over the past decade.  So now we really don't have that kid that can go out and get his (points) like Justin could.  So now all five have to play complimentary basketball on the offensive end.
"And really, through the first three games we've had several kids step up and scored in double figures for us.  We're not getting twenty points a game, but we're getting good contributions."
Saturday it was Ryan Martin (13 pts), Michael Stammen (12 pts), and Kody Naftzger with 10.
"If we can get ten to twelve from four different guys, great.  We need that to win ballgames this year.  I like our attitude because so far we've been willing to share the ball and get everyone involved."
It's early, of course, and the power of the league has switched away from Versailles, assumably towards St. Henry, Minster, and defending state champion Marion Local, challenges that Swank acknowledges.
"Tough," he laughed.  "That's a really tough road for us.  But the MAC always prepares you for about anything because every team is well-coached.  You see different styles every night, so we have to just prepare and be ready to go.
"But,"  he added.  "If we can play defense the way we have lately we'll be in those games."
Such is life after Ahrens at Versailles.  They're talking defense these days – complimentary basketball.  They way it should be, and the way it was before Kyle, Justin, and A.J.