Brothers Nick and Spencer Alig combined for a 463 and 450 series, respectively, to pace New Bremen in Saturday league action at Woodcrest Lanes.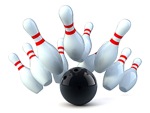 Union City – If you ask them, brothers Nick and Spencer Alig, of the New Bremen Cardinals bowling team, will tell you that bowling is a family affair.  After all, their dad, Brian, owns his own bowling alley, the Speedway Lanes in New Bremen.
And if you ask them if they enjoy competing, and competing against each other, they quickly agree that sibling rivalry includes the occasion 7-10 split.
Even ask them which one is the better bowler, and that might surprise you.  Nick , a freshman,  is two years younger than Spencer (a junior).  And yet, as is often the case with individual competition, age is no advantage.  Between the two, Nick had the individual high game in WOHSBC league bowling Saturday at Woodcrest Lanes, in Union City…237 over brother Spencer's 227.  And as a brother act they were pretty tough to beat, as well.  Nick had a two-game series of 463 and Spencer rolled a 450 – high for the day's competition between teams from Bremen, Marion Local, Versailles, Ansonia, St. Henry and Fort Recovery.
But…ask them who the best bowler is in their family, and they mutually agree, "It's dad,"  says Spencer.  Obviously, there's competitive advantage when you own your own alley.
"It's something we've always done as a family,"  Spencer Alig adds.  "Started in the fifth grade and bowled in family leagues, summer leagues, just bowled all the time.  Our whole family bowls, but Dad has been the biggest influence on us.  Bowling has always been there for us."
And if you're privileged to drop in on a WOHSBC league match on a Saturday morning you quickly get the idea that there's more family at these events than there is room, in some cases.  Woodcrest Lanes was packed Saturday to see New Bremen take the high honors for the match, scoring 1,919 total pins to closes competitor, Versailles, with 1,842.  St. Henry finished third with 1,775.  Fort Recovery finished fourth with 1,725.  Marion Local finished fifth with 1,574, and host Ansonia, the least established of the four programs was sixth with 1,489 pins.
"Bowling is something that I'm very passionate about for the opportunity it offers our kids,"  says Ansonia assistant coach, Mary Beth Bozarth, an ICU nurse at Miami Valley North Hospital.  Bozarth teams with Tyler Studebaker (teacher at Ansonia) to coach the Ansonia team.
"These are the up-and-coming athletes in the school and I couldn't be prouder of the support members of our community have given to see they have the equipment necessary to bowl and compete.  These are the kids that fall through the cracks for football and basketball, and bowling is THEIR sport, and it teaches the same lessons of teamwork, respect, and sportsmanship, like the other sports.   These kids will grow up with new skills and good ethics because of bowling."
And no one has stepped up more prominently than Woodcrest owner Willie Powell, who bought a tired building and business about five years ago, put nearly a half million dollars of personal money into renovation of the Woodcrest facility, and now it provides a focal point of community activity for Union City, Mississinawa, Ansonia, and other neighboring communities.
Woodcrest has an outstanding dining room, restaurant, gathering room for local teens…and perhaps best, Powell has a B-B-Q business that features the best ribs, loins, and brisket within driving distance.  General Manager Kyle Ramjattan runs the smoker 24-7 and the rack of ribs I had for lunch was second to none.
Powell, who operates another eatery in Greenville and Miami Valley Vending Services, looks at bowling, and his investment in the Union City community as an opportunity to pay forward.
"I saw this as an opportunity to provide a positive – a place for people and families to gather, have fun, eat good food, and just generally have a good time.  And it's caught on.  On Friday and Saturday nights it gets pretty interesting around here."
And the bowling was interesting on Saturday, as well, and owing the nature of the sport, competition comes in all shapes an sizes.   While form is important, it doesn't always guarantee a winning score.  For no one threw the ball with better form than Marion Local's Tana Bruggeman, who's about the size of your next breath, but she finished the day frustrated with her cumulative score of 242.
"I can't play basketball and volleyball,"  she admitted quietly.  "So I like to bowl."
And she's pretty good at it on most days, her high score in league competition being in the mid 170's.
Other high scores Saturday included Versailles' Landon Henry, with a 231.  "And he never smiles,"  laughed a teammate.  That's how serious bowlers can be.  Henry finished with a two-game series of 443. Teammates Sam Bensman and Derek Morris had 200 and 212, respectively.
Peyton Thomas grabbed honors for St. Henry with a 413 (207 and 206).  Derek Wendel had a 212 for Fort Recovery.  And Evan Moeller had high game for Marion Local with a 208.
As for what bowling offers, every participant had family, friends, or both there to witness.
"I come to watch my grandson (Jay Mumaw)," said Denny Mumaw, from Versailles.  And given his size, bowling is the perfect size sport for Jay Mumaw, who's about 5'8″ and maybe 140 pounds.
And there were a lot of Denny Mumaws…who came jsut to watch, have fun, eat some good food, and have a good time.
Just what Willie Powell had in mind!