There good and bad with Urban Meyer leaving Ohio State, but mostly good.  Ohio State fans like macho, and that's what Meyer gave them. His players were strong and tough and had just the right amount of arrogance. And, boy, could he recruit.
Columbus – Now we know why Shelley Meyer was sobbing to the point where she had to bury her head in a friend's chest on the sideline during the closing minutes of Ohio State's victory over Michigan.
At the time, we all assumed that the emotion was seeing her husband leading the Buckeyes to a seventh straight win over the Wolverines and to the Big Ten championship game despite all the ugly fallout from that toxic spill known as Zach Smith.
What she knew was Urban Meyer was close to pulling the plug on his $7.6 million per season dream job because of a combination pain from an arachnoidal cyst on his skull that often made his life on the field miserable and the Smith debacle.
It became official Tuesday when Meyer announced his retirement after the Rose Bowl in order to give way to a rising star, 39-year-old co-offensive coordinator Ryan Day. Athletic director Gene Smith wanted a decision from Meyer shortly after the crack of dawn because at least one NFL team and several colleges were sniffing around ready to ask permission to talk to Day. There also is national letter of intent day looming on Dec. 19, and recruits want to have certainty about their future head coach.
Those who live Ohio State football 365 days a year and digest every bit of information on the team will look at this as one of the saddest days in team history. It was their second coaching funeral since Jim Tressel resigned before the 2011 season.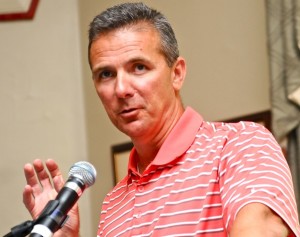 But, really, they had to think the clock was ticking on Meyer.
Today, Meyer can walk into any restaurant or tavern in the city and not have to reach for his wallet. That's' what a national championship, three Big Ten championships and 82 victories in 91 games bring. For a lot of fans, the Zach Smith situation was something law enforcement flubbed. Meyer, they say, is a football man and not a policeman.
Of course, the national media correctly wrote and said that Meyer's legacy will be checkered for all time. ESPN pointed out that more than 30 players were arrested when he was head coach at Florida and that he gave the stars favorable treatment. (Read: Percy Harvin). Gator fans call him "Urban Liar'' because he resigned citing burnout and after a one-year hiatus reappeared as the white knight to save Ohio State in 2012 after Tressel's "Tattoo-gate.''
Rightly so, journalists have painted Meyer to be an enabler in ignoring evidence that Smith was guilty of domestic abuse against then wife Courtney in 2009 while he was an assistant at Florida and again in 2015 at Ohio State.
Meyer did look the other way out of loyalty to Smith's grandfather, Earle Bruce. Meyer viewed Bruce as something of a second father and hired Smith as payback for giving him a job as an Ohio State graduate assistant in 1986 and '87.
Then Meyer blew any remnant of credibility he had when he lied about the timeline of his knowledge of the domestic abuse. He compounded that by failing to mention Courtney Smith in his first mea culpa. During his second apology, Courtney Smith was mentioned only later in his statement.
In Ohio and, more precisely, Columbus, a majority of fans, students, boosters and alumni will put Meyer right up there with Paul Brown, Woody Hayes and Tressel on their Mount Rushmore of Buckeyes football coaches.
Meyer was a college football analyst for ESPN when Tressel had to step down after he, too, was caught in a lie. Tressel was revered for delivering a national championship in 2002 and two other appearances in the BCS championship game and going 9-1 against Michigan. Fans had endured 13 years of ace recruiter John Cooper having no clue how to beat Michigan or win a top shelf bowl game.
Do you remember the fear and uncertainty fans had after Tressel left? The NCAA put the Buckeyes on probation and they finished 6-7 under assistant Luke Fickell.
Then Meyer came out of "retirement'' in what was supposed to be a rebuilding season. But the Buckeyes went 12-0 with what might have been their lowest level of talent since Cooper's first season in 1988 and Meyer was on his way to favorite son status.
Ohio State fans like macho, and that's what Meyer gave them. His players were strong and tough and had just the right amount of arrogance. And, boy, could he recruit. He didn't show up at a recruit's school or home to close deals at the end. He enjoyed picking his own groceries.
The fan base expects no less than a serious run at the national championship at least every other season, and Meyer almost pulled that off. Here are his teams' records: 12-0, 12-2, 14-1, 12-1, 11-2, 12-2 and 9-1 this season.
There's sadness in their hearts with Meyer leaving, but there are no harder graders than Ohio State fans. Some sensed that he was slipping. There was a humiliating 31-0 blowout loss to Clemson in a 2016 national semifinal, a 55-24 blowout at Iowa last season and a 49-20 dissection at Purdue this season.
The fan base is smart enough to know that Meyer, 54, had a shelf life the day he was presented as coach. He is so tightly wound that admitted waking up each day in fear of letting down for even one day at the cost of the program. He said he didn't want to be a CEO overlooking because being hands on is the only way he knows.