Urban Meyer leaves Ohio State with far more pluses and than minuses, and is saying by retiring at 54 that he has other priorities without making football and coaching his god.
I'm happy for Urban Meyer today. Sad for Ohio State fans and what his next seven years could have been like if they came close to approaching the previous seven. But glad Meyer made the decision to walk away.
He put his health ahead of his job. He put his family ahead of his career. He put peace of mind and balance in life ahead of the rush of success and winning, which are great incentives to push us toward excellence but lousy pursuits when we turn them into gods. Meyer is saying by retiring on top at age 54 that he has other priorities and isn't going to be make those his god.
I'm also shocked it's come to this. I'm sure the off-field drama he endured the first two months of the season were contributing factors, and that's disappointing.
I thought Ohio State should have had his back through the Zach Smith saga, instead of lumping him in with that mess because he didn't get more involved in an assistant's screwy marriage. Meyer didn't do things perfectly, and his biggest failure was probably not answering truthfully on what he knew when asked about the situation at the Big Ten media days this year. But to expect him to do more than he did, which was to wait on the police investigation to conclude before deciding Smith's fate, was unfair and unrealistic.
I bristle at the self-righteousness in the national media, who act as if the standard should have been higher than that. I understand that domestic violence is a serious issue, but why is a football coach in that situation supposed to do anything besides letting the police do their job? And there were never any charges in the end, though you probably missed the media's diligent follow-up on that.
But be prepared for some negative reporting to accompany Meyer's exit. Those kinds of people are all too happy to wield their platform to try to take down someone who has reached the pinnacle of his profession and done it, as far as we know, the right way. They have their reasons. I'm happier ignoring those folks, and I'm sure you would be, too.
And don't buy for a second that the Smith scandal is part of his legacy. It should be nothing more than a footnote, not something that's put in the lead of his retirement story. There's a statue outside Ohio State football headquarters of Woody Hayes, and there soon will be one on those grounds of Meyer, too.
He was everything the Buckeyes could hope for — and even more. One example: His Real Life Wednesdays program where players are prepared for careers after football by having workshops with CEOs and actual internships at companies goes way beyond the norm. The cynical might say it was all done because it was a great recruiting tool, but the players who have benefited from it would simply say, "Thank you."
The Big Ten has him to thank, too. He raised the stature of the conference by changing the intensity of recruiting.
In his first year, he hotly pursued a high school prospect who was committed to Michigan State and flipped him to Ohio State. Coach Mark Dantonio whined that the league had a "gentlemen's agreement" that coaches didn't do that. Meyer's response was something akin to, "I never agreed to that." Now, everybody does it.
The need to keep up with such a recruiting dynamo is what elevated the Big Ten in national perception. Hard to remember the conference was considered vastly inferior to the SEC and a couple of other leagues when he arrived. But Michigan State and Penn State have won major bowls during his time here, and other teams are ascending — even Michigan with Jim Harbaugh, though they still have a couple of rungs to climb.
It's a destination conference for hot young coaches looking to move up — Jeff Brohm, P.J. Fleck and Scott Frost were the big names on the coaching carousel the last couple of years, and the Big Ten landed them all. That wouldn't have been the case B.U. (Before Urban).
The Big Ten went 7-1 in bowls last season. That wouldn't have been the case B.U. either.
You can find the nuts and bolts of his coaching career elsewhere today, but here's a couple of things in his bio that wow me: He's got a career winning percentage of .853. Only two coaches in history with a minimum of 10 years have done better: Knute Rockne and another Notre Dame legend, Frank Leahy. That's pretty exclusive company.
His win totals for each season were 12, 12, 14, 12, 11, 12 and 12 (with one game to go). No one in Big Ten history had won even 10 games in seven straight years before Meyer.
I thought nobody would be able to top what Jim Tressel did in his decade as coach, but Meyer managed to exceed those lofty standards.
I was watching Utah play Washington in the PAC-12 championship Friday and made a comment to my wife that the impact of Meyer could be seen on that field. She looked at me perplexed.

The only reason the Utes were in that game was because Meyer had lifted the program to such a degree while he was there that they were a slam-dunk addition to that prestigious conference when it was time to expand. Of all his many feats, that won't rank near the top. But there's a school now playing at college football's highest level because of him, and that's no minor achievement to its fans.
I don't know what kind of relationship he had with the media in Florida. Sounds like it could have been antagonistic. But he's been nothing but a gentleman with the press since he's been at Ohio State.
I always said Tressel never belittled those who covered him, never made them feel as if they asked a dumb question — and, believe me, there were plenty of dumb questions. Take a snippet from Nick Saban's press conferences to see how obnoxious coaches can be.
Meyer was the same as Tressel. He gets nothing but high marks for how, at least as far as I could see, he treated others.
Buckeye fans need not panic about the 39-year-old Ryan Day taking the wheel of such a marquee program. If Lincoln Riley can take over for the retiring Bob Stoops at Oklahoma and win two straight Big 12 titles and reach the playoffs each year, who's to say Day couldn't do the same with the foundation Meyer has built?
He's an offensive wizard. How fun has it been to watch that passing attack this season? Dwayne Haskins is deservedly a Heisman finalist, but Day's system, not Meyer's, is what allowed Haskins to thrive.
Letting Day take over is a means to keep the coaching staff together, the recruiting classes intact (though expect some defections) and, quite likely, the program chugging along.
There's no way someone with his experience would ordinarily get a job of this magnitude. He did prove, though, how high his ceiling is with his 3-0 record as interim coach.
I'm OK with that decision. Any coach outside the program would always be a crap shoot. There are no sure things. Might as well give someone inside the building a shot.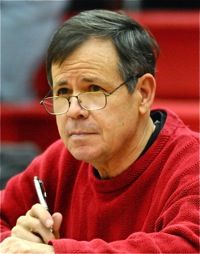 Michigan fans are probably silently celebrating right now. Well, maybe not quite so silently. But there is still massive talent at Ohio State. The freshmen and sophomores came in as the second-ranked recruiting classes in the nation. The drop-off expected by Wolverine fans may be a long time coming.
We've often heard Meyer talk about his love for the Buckeyes and wanting to do well enough as caretaker of the football program to make "the great state of Ohio proud."
As he goes into early retirement to enjoy his wife, children and grandchildren and facets of life he's had to put on hold, he can leave knowing he's done what he's set out to do: He made his home state proud.